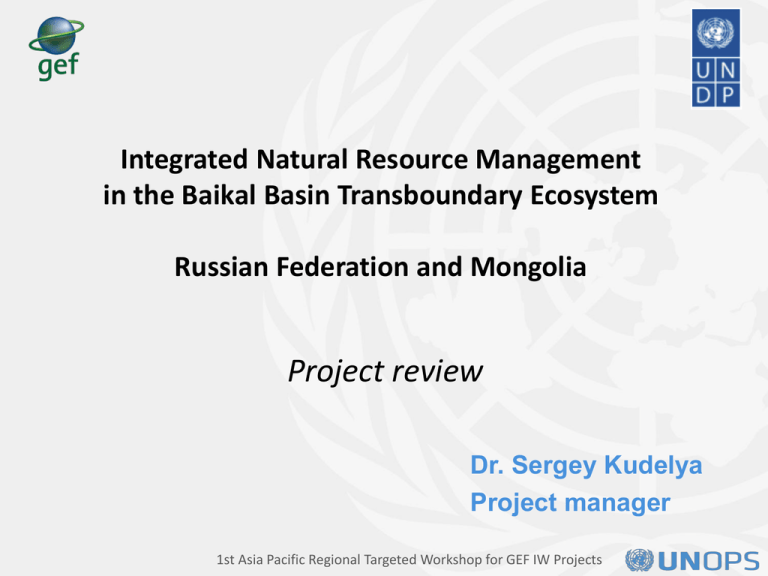 Integrated Natural Resource Management
in the Baikal Basin Transboundary Ecosystem
Russian Federation and Mongolia
Project review
Dr. Sergey Kudelya
Project manager
1st Asia Pacific Regional Targeted Workshop for GEF IW Projects
The project's objective
to spearhead Integrated Natural Resource
Management of Baikal Lake Basin and Hovsgol
Lake ensuring ecosystem resilience, reduced
water quality threats in the context of
sustainable economic development.
Executives and donors
• Financed by : Global Environmental Facility (GEF).
• Co-Financed by : Governments of Russian Federation and
Mongolia.
• Supported by: United Nations Development Programme
(UNDP).
• Executed by : Nations Office for Project Services (UNOPS).
• Responsible partners: Ministry of Natural Resources and
Environment (Russian Federation) and the Ministry of
Nature, Environment and Tourism (Mongolia).
Threats
•
•
•
•
•
intensive economic development;
rapidly increasing demand in water recourses;
climate change;
pollution and sedimentation;
nutrient loading and habitat destruction;
Barriers
•
•
•
•
policy and regulatory gaps;
institutional weaknesses;
poor utilization of BAT/BEP relevant to key issues;
low levels of awareness of transboundary BB issues.
Outcomes:
Under International Waters (IW)
•
•
•
•
•
•
•
•
TDA/ SAP.
Enhancing transboundary cooperation.
Joint harmonized monitoring program.
Baikal Informational Center.
On-line GIS model of Baikal Basin.
Ecological atlas of Baikal Basin.
International ecological NGO network.
Awareness, education, science, cinema.
Outcomes:
Under Biodiversity
•
•
•
•
•
•
Sub-basin management plans.
Pilot project in mining industry.
Strategy for (dead) livestock disposal.
Ecological tourism.
Approaches of shoreline cleaning
Sport fishing.
Current activity:
Under Biodiversity - partners
•
•
•
•
•
•
•
•
Baikal State Nature Biosphere Reserve
Zabaikalsky National Park
NGO "Baikal Eco Tourism Association"
Project "Save Baikal"
International Baikal Shore Volunteer Service (MBBVS)
Youth Artistic Theatre of Ulan-Ude
Buryat State Agricultural Academy
Individual consultants
Current Baikal Project Activities:
Under International Waters – partners
(Green color – scientific organizations)
•
•
•
•
•
•
•
•
•
•
•
•
•
•
•
•
Baikal Institute of Nature Management SB RAS (Russia)
Irkutsk State University SB RAS (Russia)
Limnological institute SB RAS (Russia)
UNESCO
University of Dundee (Scotland)
Center of International Projects (Russia)
Institute of Geoecology (Mongolia)
Federal Service for Hydrometeorology and Monitoring of Natural Environment
(Rosgidromet) (Russia)
Hydrometeorological Institute (Mongolia)
BI "Burpriroda"
Moscow State University (geographical faculty) (Russia)
Moscow State University (Russia)
Buryat State University (Russia)
Zabaikalsky State Humanitarian Pedagogical University (Russia)
NGO's (Mongolia and Russia)
Individual consultants (Mongolia and Russia)
Thank you very much.