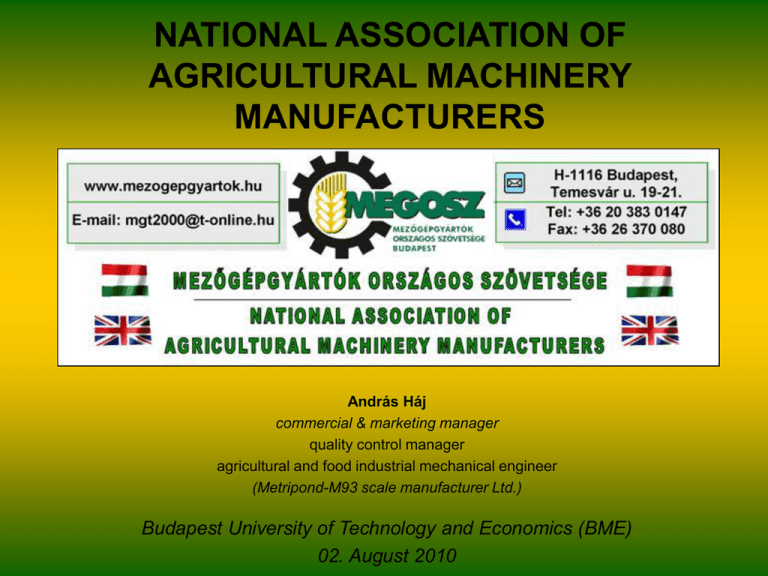 NATIONAL ASSOCIATION OF
AGRICULTURAL MACHINERY
MANUFACTURERS
András Háj
commercial & marketing manager
quality control manager
agricultural and food industrial mechanical engineer
(Metripond-M93 scale manufacturer Ltd.)
Budapest University of Technology and Economics (BME)
02. August 2010
HISTORY:
-The first hungarian agricultural machinery factory established in 1848.
They manufactured TOOLS.
- In 1856 established the KÜHNE ZRt., which works in our days too.
(Visit the webpage of the company: http://www.kuhne.hu )
NOWADAYS:
• ~ 168 pcs. agricultural machinery factory
•~ 25.000 type of machine
• ~ 66-70 % for export
• GDP
NATIONAL
ASSOCIATION OF
AGRICULTURAL
MACHINERY
MANUFACTURERS
• Started to work in 1991.
Structure:
• 22 members-company
• president – Gábor Antos (mechanical engineer)
• 8 supporting members
• 2 deputy-president
• 3 members of the presidency
• secretary-general:
Dr. Gyula Fekete
(mechanical engineer)
The idea of the association:
Increase the social judgement of the research, development, manufacture and
distribution in the whole agricultural machinery sector.
Make a union to help each other.
Machines of cultivation
OMIKRON LTD.
Cultivator
Fertiliser
distributor adapter
Combinator
Hung disc
Hydraulic folding
ring roll
Heavy Grubber
Single blade
deep till
Digging
grab
Plant-protecting machines
FARMGÉP LTD.
Sprayers
Seed treating units
Sunflower & Corn harvesting adapters
OPTIGÉP LTD. and LINAMAR OROS LTD.
OPTIGÉP LTD.
OptiSUN
OptiCORN
LINAMAR OROS
LTD.
OrosSUN
OrosCORNADO
Forestry machines
BAGODI MEZŐGÉP LTD.
Crushers
Planting machines
Angling blades
Sowing machines
Earth augers
Agricultural Trailers
BAGODI MEZŐGÉP LTD. and AGROGÉP LTD.
Machines of grain technology
Tegavill LTD.
Dryer
Storage
Dryer
Dust filter
Cleaner
Scales
METRIPOND-M93 scale manufacturer LTD.
Weighbridges
Animal scales
Sacking scale
Storehouse and pallet scales
Thank you very much
for your attention!