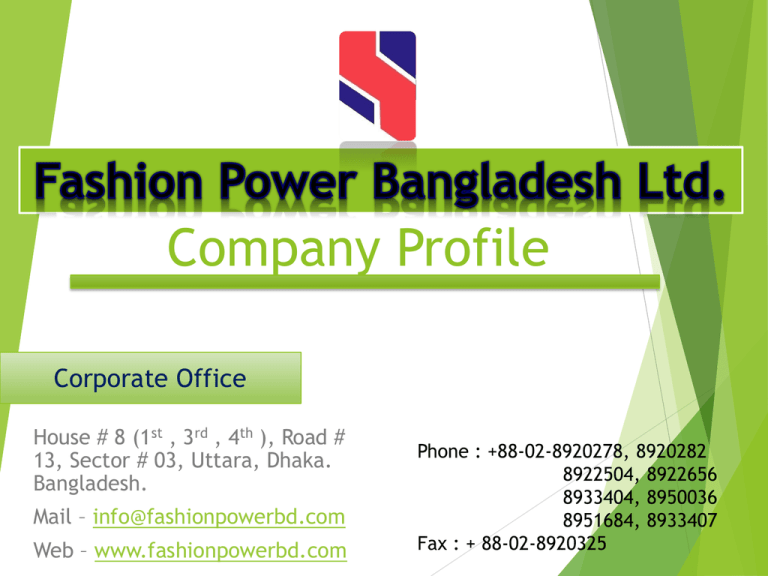 Company Profile
Corporate Office
House # 8 (1st , 3rd , 4th ), Road #
13, Sector # 03, Uttara, Dhaka.
Bangladesh.
Mail – info@fashionpowerbd.com
Web – www.fashionpowerbd.com
Phone : +88-02-8920278, 8920282
8922504, 8922656
8933404, 8950036
8951684, 8933407
Fax : + 88-02-8920325
To introduce ourselves as on of the leading and most economical export
oriented garments exporter in Bangladesh, which is equipped with
most
modern procedure to support the direct buyer. To facilitate our exports, we
are registered and enlisted with respective authorities including textiles,
custom, BGMEA, BKMEA and export promotion Bureau under ministry of
commerce. We welcome you to visit our sister concern factories as well as
associate factories with the assurance that you will certainly be satisfied
with our performance and working environments. However, prior
notification for such visit will be highly appreciated to get the new
order from your side.
Thanking you,
Managing Director.
Number of Top management
03
Number of Employee in corporate head office.
132 persons
BKMEA Membership Number
1478
BGMEA Membership Number
4827
EPB Membership Number
BD01471
Annual Turn Over
USD $ 30.00 Million
Number Of floor
03 13,500 SQ FT (OFFICE SPACE)
Major Export country
EU, Russia, Japan & Canada.
I) Fashion Power Bangladesh Ltd.
II) Fabrica Knit Composite Ltd.
III) F.S Design Printing & Packaging.
IV) Mastermind Jeans Ltd.
V) Blue Planet Knitwear Ltd.
VI) Rowa Fashion Ltd.
We operate in full compliance with the applicable laws, rules and regulations, including
those relating to labor, worker, health, safety and environment.
WORK ENVIRONMENT :
We encourage developing lawful workplace apprenticeship programs for the educational
benefit of our employee.
DISCRIMINATON :
We employ workers on the basis of their ability to do the job, not on the basis of their
personal char- acteristics or beliefs.
WORKING CONDITIONS :
We treat all our employees with respect and dignity and provide them with a safe and
healthy environment. We comply with all applicable laws and regulations regarding working
conditions.
FORCE EMPLOYEE:
We do not use involuntary labor of any kind. We do not force any worker to remain in
employment for any period of time against his or her will.
HOUSING CONDITIONS :
If a company provides housing facilities for its employees, the requirements regarding fire
safety and cleanliness under point 3 above should also cover the dormitory. The dormitory
must be separated from the workplace and have a separate entrance. Employees should
have free access to the dormitory.
we do obey all legal and social compliances guided by laws and regulatory bodies as per
local Govt. order and Global requirements. Some of our major compliance issues are:
We do not hire Employee under 18 years.
Pay Salary of each month on or before 7th day of the following month.
We provide Employer health & safety in priority basis at all time.
Sufficient provision of pure drinking water for the workers as certification of BUET.
Electric shock prevented with the help of an automatic tripping switch system.
Lightening protector with adequate lighting and ventilation.
Comply maternity leave according to BEPZA rule and Labor act 2006.
Work hours are not Excessive.
No forced Employee.
INDITEX S.A - SPAIN
LPP S.A – POLAND
SUSAN FASHIONNETHERLANDS
MANGO - SPAIN
ETOS S.A- POLAND
AST'Y INC - JAPAN
BLANCO - SPAIN
KOMEX S.A - POLAND
SUZY SHIER CANADA
OODJI - RUSSIA
REDAN S.A - POLAND
NEW DESIGN ABSWEDEN
Jamuna Bank Ltd
Banani Branch
Green Grandeur (Ground & 1st Floor)
58/E, Kemal Ataturk Avenue
Banani Commercial Area
Dhaka 1213, Bangladesh.
Tel: 9822107,9822108 Fax: 88-02-9822106
Swift: JAMUBDDH053
Southeast Bank Ltd
Gulshan Branch.
82, Gulshan Avenue, Gulshan
Dhaka 1212, Bangladesh
Tel: 9883401-5
Fax: 88-02-9883495
Swift: SEBDBDDHAGUL.