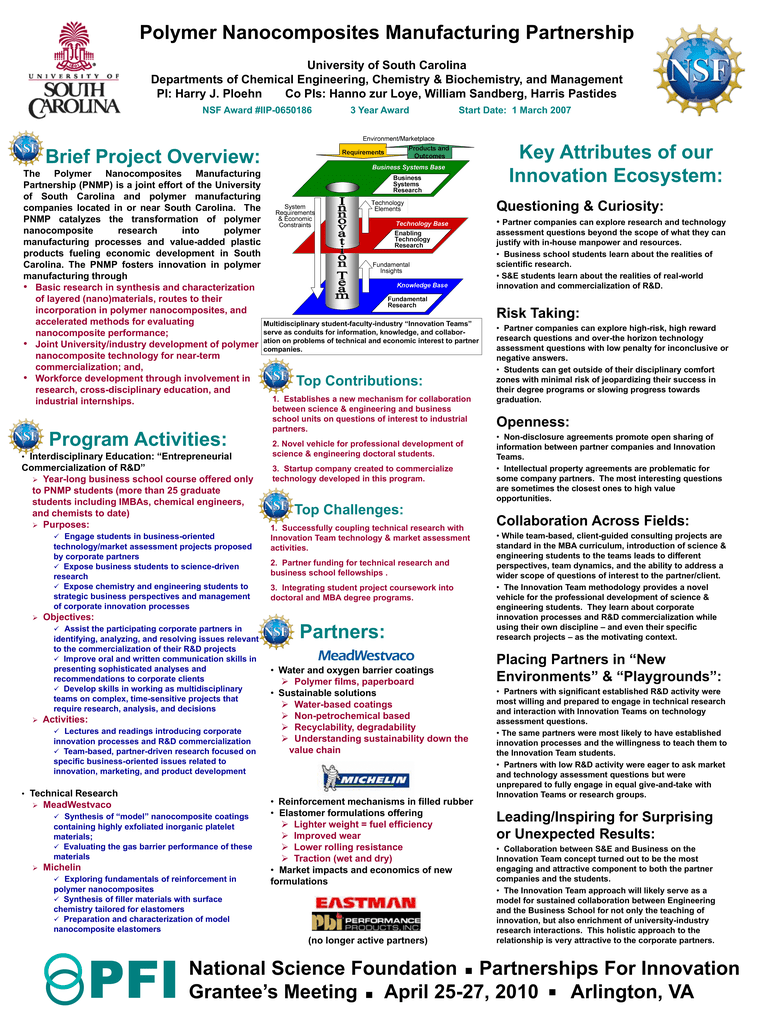 Polymer Nanocomposites Manufacturing Partnership
University of South Carolina
Departments of Chemical Engineering, Chemistry & Biochemistry, and Management
PI: Harry J. Ploehn
Co PIs: Hanno zur Loye, William Sandberg, Harris Pastides
NSF Award #IIP-0650186
3 Year Award
Start Date: 1 March 2007
Brief Project Overview:
The Polymer Nanocomposites Manufacturing
Partnership (PNMP) is a joint effort of the University
of South Carolina and polymer manufacturing
companies located in or near South Carolina. The
PNMP catalyzes the transformation of polymer
nanocomposite
research
into
polymer
manufacturing processes and value-added plastic
products fueling economic development in South
Carolina. The PNMP fosters innovation in polymer
manufacturing through
• Basic research in synthesis and characterization
of layered (nano)materials, routes to their
incorporation in polymer nanocomposites, and
accelerated methods for evaluating
Multidisciplinary student-faculty-industry "Innovation Teams"
serve as conduits for information, knowledge, and collabornanocomposite performance;
ation on problems of technical and economic interest to partner
• Joint University/industry development of polymer companies.
nanocomposite technology for near-term
commercialization; and,
• Workforce development through involvement in
Top Contributions:
research, cross-disciplinary education, and
1. Establishes a new mechanism for collaboration
industrial internships.
Program Activities:
• Interdisciplinary Education: "Entrepreneurial
Commercialization of R&D"
 Year-long business school course offered only
to PNMP students (more than 25 graduate
students including IMBAs, chemical engineers,
and chemists to date)
 Purposes:
 Engage students in business-oriented
technology/market assessment projects proposed
by corporate partners
 Expose business students to science-driven
research
 Expose chemistry and engineering students to
strategic business perspectives and management
of corporate innovation processes

identifying, analyzing, and resolving issues relevant
to the commercialization of their R&D projects
 Improve oral and written communication skills in
presenting sophisticated analyses and
recommendations to corporate clients
 Develop skills in working as multidisciplinary
teams on complex, time-sensitive projects that
require research, analysis, and decisions
Activities:
 Lectures and readings introducing corporate
innovation processes and R&D commercialization
 Team-based, partner-driven research focused on
specific business-oriented issues related to
innovation, marketing, and product development
• Technical Research

MeadWestvaco
 Synthesis of "model" nanocomposite coatings
containing highly exfoliated inorganic platelet
materials;
 Evaluating the gas barrier performance of these
materials

2. Novel vehicle for professional development of
science & engineering doctoral students.
3. Startup company created to commercialize
technology developed in this program.
Top Challenges:
1. Successfully coupling technical research with
Innovation Team technology & market assessment
activities.
2. Partner funding for technical research and
business school fellowships .
3. Integrating student project coursework into
doctoral and MBA degree programs.
Objectives:
 Assist the participating corporate partners in

between science & engineering and business
school units on questions of interest to industrial
partners.
Michelin
 Exploring fundamentals of reinforcement in
polymer nanocomposites
 Synthesis of filler materials with surface
chemistry tailored for elastomers
 Preparation and characterization of model
nanocomposite elastomers
PFI
Partners:
• Water and oxygen barrier coatings
 Polymer films, paperboard
• Sustainable solutions
 Water-based coatings
 Non-petrochemical based
 Recyclability, degradability
 Understanding sustainability down the
value chain
• Reinforcement mechanisms in filled rubber
• Elastomer formulations offering
 Lighter weight = fuel efficiency
 Improved wear
 Lower rolling resistance
 Traction (wet and dry)
• Market impacts and economics of new
formulations
(no longer active partners)
.
Key Attributes of our
Innovation Ecosystem:
Questioning & Curiosity:
• Partner companies can explore research and technology
assessment questions beyond the scope of what they can
justify with in-house manpower and resources.
• Business school students learn about the realities of
scientific research.
• S&E students learn about the realities of real-world
innovation and commercialization of R&D.
Risk Taking:
• Partner companies can explore high-risk, high reward
research questions and over-the horizon technology
assessment questions with low penalty for inconclusive or
negative answers.
• Students can get outside of their disciplinary comfort
zones with minimal risk of jeopardizing their success in
their degree programs or slowing progress towards
graduation.
Openness:
• Non-disclosure agreements promote open sharing of
information between partner companies and Innovation
Teams.
• Intellectual property agreements are problematic for
some company partners. The most interesting questions
are sometimes the closest ones to high value
opportunities.
Collaboration Across Fields:
• While team-based, client-guided consulting projects are
standard in the MBA curriculum, introduction of science &
engineering students to the teams leads to different
perspectives, team dynamics, and the ability to address a
wider scope of questions of interest to the partner/client.
• The Innovation Team methodology provides a novel
vehicle for the professional development of science &
engineering students. They learn about corporate
innovation processes and R&D commercialization while
using their own discipline – and even their specific
research projects – as the motivating context.
Placing Partners in "New
Environments" & "Playgrounds":
• Partners with significant established R&D activity were
most willing and prepared to engage in technical research
and interaction with Innovation Teams on technology
assessment questions.
• The same partners were most likely to have established
innovation processes and the willingness to teach them to
the Innovation Team students.
• Partners with low R&D activity were eager to ask market
and technology assessment questions but were
unprepared to fully engage in equal give-and-take with
Innovation Teams or research groups.
Leading/Inspiring for Surprising
or Unexpected Results:
• Collaboration between S&E and Business on the
Innovation Team concept turned out to be the most
engaging and attractive component to both the partner
companies and the students.
• The Innovation Team approach will likely serve as a
model for sustained collaboration between Engineering
and the Business School for not only the teaching of
innovation, but also enrichment of university-industry
research interactions. This holistic approach to the
relationship is very attractive to the corporate partners.
National Science Foundation Partnerships For Innovation
Grantee's Meeting April 25-27, 2010
Arlington, VA
.
.