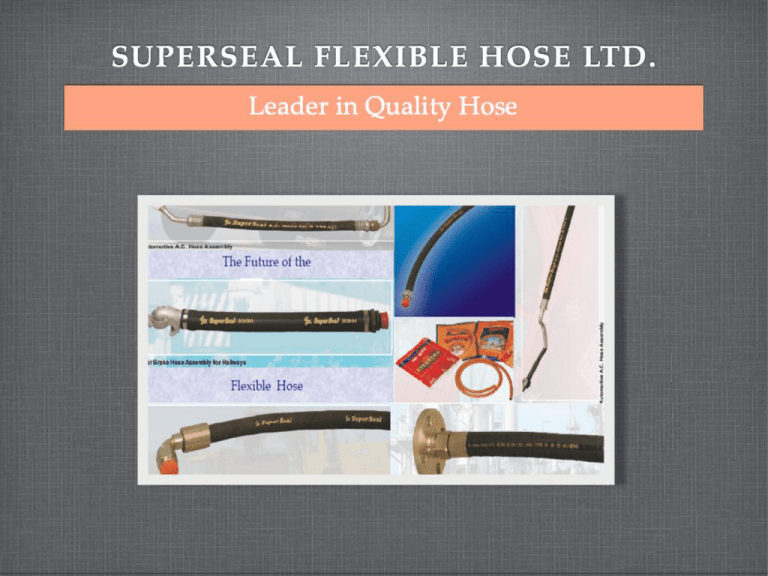 OUR HISTORY
We evolved at the year 1962, with a vision to bring innovative and safe
rubber hoses to Indian market.
Our history is full of credentials in innovation in industrial hose technology.
In 1984,we entered into JV with Aeroquip, UK for getting new technology.
Presently they are having minority stake in our Company.
Post Demerger in 2005, Superseal Flexible Hose Ltd. had filed its
Independent Balance Sheet in FY07.
Presently, we are marching forward with Industry leading technology and
modernized infrastructure.
OUR VISION
To be Global Leader in
Innovative and Safe Hoses
Our Quality Policy & Initiatives
AS A POLICY WE NEVER COMPROMISE ON QUALITY.
ISO/TS 1694:2002
Certified
We follow a stringent quality management system (Q.M.S.) for all its processes.
We have been awarded the prestigious ISO/TS 16949:2002 Certification.
Our Testing Labs are fully equipped with latest technology to test the quality and safety of Hose.
Our Chairman
Mr. Sanjay Kumar Das
Mr. Sanjay Kumar Das is a born Entrepreneur with Long term Vision. He has diversified business
interests. His business interests span Sponge Iron, Mining, Hoses, Hospitality, Healthcare, Education,
Infrastructure and IT Retailing. In the year 2010, he has strategically acquired Super Seal Flexible
Hose Ltd. and since then has been spearheading key changes in the management of the business.
His efforts have been bearing fruits lately. He has passion for Luxury Cars. He is committed to brining
major changes in the way business is done in Rubber Hose Industry in India. He is married to a lovely
wife and who assisting him in his business elsewhere.
Our Team
Our Human Capital Strength is approximately 200.
Our highly efficient Human Capital comprise of highly motivated Engineers,
MBA's, CA's, CS's.
Our Worker's Productivity is highest in the Industry.
Our Training initiatives and methodology is highly regarded industry
Our R&D team keeps on churning innovative leading products.
OUR PLANT
Our Plant is spread over 5 acres in Greater Noida, Uttar Pradesh, sharing community with leading manufacturing
companies like Honda, Rico Auto etc.
Our Plant is Built over 55,000 Square feet with focus on greenery, safety and efficiency.
OUR MACHINERY
OUR SOLUTIONS
We are committed to provide innovative and leading safe solutions to following industries :Oil and Gas
Auto-Ancillary and OEMS
Railways
Defense
Mining
Construction and Engineering
Petrochemical
OUR MACHINERY
OUR PRODUCTS
OUR PRODUCTS
OUR PRODUCTS
OUR PRODUCTS
OUR PRODUCTS
OUR PRODUCTS
OUR PRODUCTS
OUR PRODUCTS
OUR PRODUCTS
OUR PRODUCTS
OUR CUSTOMERS
OUR SOCIAL PRESENCE
www.facebook.com/supersealhose
http://in.linkedin.com/in/supersealhose
www.twitter.com/supersealhose
www.skype.com/supersealhose
CONTACT US
Toll Free No.
1800 1800 1818
chanchal@ssf-hose.com
Email
Address
Super Seal Flexible Hose Ltd.
B-7, Kasna – II , Surajpur – V,
Greater Noida (U.P.) - 201307
Would love to show you our plant.