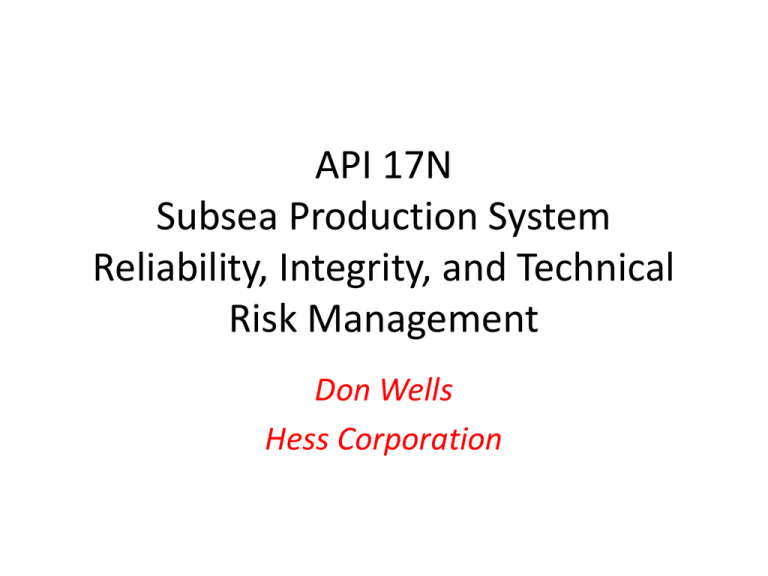 API 17N
Subsea Production System
Reliability, Integrity, and Technical
Risk Management
Don Wells
Hess Corporation
History / Status
• Document released in 2009
• Specification contains:
– Life Cycle Process (LCP)
– Define, Plan, Implement,
Feedback (DPIF) Loop
– 12 Key Practices (KP)
– Technology Qualification
Process
– Technology Readiness Level
Initial Plan / Path Forward
• Process
– Split into 5 subgroups (now 6)
– Industry Leaders
– Common Template
• Introduce IM into the scope of 17N:
– Define IM
– Expand the Life Cycle Processes
– Reassessment through remediation
– Define TRL progression
Specification Development
• Expand the Life Cycle Process
Feasibility
SIT, Installation,
& Commissioning
Operation
Concept
Selection
Manufacturing &
Assembly
Decommissioning
FEED
Detailed Design
Detail
• Change to a Dual-DPIF loop
– Add Remediation cycle
– Facilitates Integrity Management
Specification Development
(Greenfield Projects)
Define Goals and
Requirements
KP1
Feedback and Assurance
KP4
Planning and
Organisation
KP2
Core
Processes
Evaluate Results
KP3
Design and Deliver for
reliability and Integrtity
KP3
Verification and Validation
KP6
Project risk management
KP7
Supply Chain
Management
KP10
Risk and RAM Analysis
KP5
Supporting
Processes
Performance tracking and
data management
KP9
Qualification of
Technology
KP8
Management of Change
KP11
Organisational Learning
KP12
Specification Development
(Brownfield Projects)
Plan
üCorrective actions
üRemediation actions
üQualification actions
üIntervention actions
Define
Define
üCorrective actions
üRemediation actions
üQualification actions
üIntervention actions
üSegments
üRisks
üMitigations
Plan
üInspections
üMonitoring
üTesting
Feedback
üAssurance
üLessons Learnt
Operational Reliability
and Integrity
Assurance cycle
Remediation and
corrective action cycle
Are
Requirements
met?
Implement
ü
ü
ü
Intervention
Changes
Performance
improvement
Evaluate
Evaluate
üTests
üChange implemented
üAgainst requirements
ü
ü
..and
acceptance
criterion
Analyse data
Evaluate against
requirements
Implement
ü Data collection
ü Data analysis
ü Performance
evaluation
Lifecycle Application of DPIEF Cycle
Define
Feasibility
Feedback and
Assurance
Feasibility
Evaluate
• DPIEF Assurance Cycle applied
at each lifecycle stage
– Feasibility through to
decommissioning
– Normal operations
– Corrective action
Implement
Feedback and
Assurance
Concept
Evaluate
Feed
Plan
Implement
Define
Feedback and
Assurance
Feed
Evaluate
Plan
Implement
Define
Feedback and
Assurance
Detailed
Design
Evaluate
Manufacture
Assembly
Test
Install and Commission
Operations
Plan
Define
Concept
Selection
Detailed
Design
• Double DPIEF loop in
operations
.
Plan
Implement
Define
Feedback and
Assurance
Evaluate
Plan
Implement
Define
Corrective
Action
Loop
Implement
Plan
MATIC
Feedback
Define
Yes
No
Normal
Operations
Loop
Requirements
met?
Evaluate
Evaluate
Decommissioning
Define
Feedback and
Assurance
Decommissioning
Evaluate
Implement
Plan
Plan
Implement
Progress
Winter Meeting
• Workgroups Submitted Input
– Using Common Template
• Edited into a Single Document
– Astrimar
• Circulated for Comment within 17N Committee
– 3 rounds, 1,000+
– Last Comments Due Dec 10th
– Clarification Discussions at Jan 13th meeting
Key Process Changes
• Kept Same 12 KPs from the First Revision
• Updated Names and Content to Accommodate
the inclusion of Integrity Management
Annex Changes
• Standardized and Significantly Updated
Annex A – Split into Two Separate Annexes
• Annex A -Technical Risk & Uncertainty Categorization
• Annex C - Risk Based Scope of Work for Reliability Technical
& Integrity
Management
Annex B - Better Explanations and Guidance for
Management
Annex D – New This will change to accommodate reincorporation of 17Q stuff
• Integrity Management Data Collection
Issues to be Addressed at High Level
• The following Subjects have been introduced
and referenced without Full Fidelity:
– Decommissioning
– Obsolescence
– Field Life Extension
– Human Factors
– Configuration Management / MOC
– Integration with Other Standards / Regulatory
Documents
17Q History
• Last meeting, we were asked to consider
combining 17Q into 17N
• Work indicated that this was not best approach
• Rationale
– Different Subjects
– Qualification Not Unique to 17N
– Expect Revision at a Different Rate
• Qualification /Verification details from 17N will be
Incorporated into 17Q
– Accepted by Committee 17
17Q Plans/Progress
• Path Forward
– 17Q Committee reestablished to Work Plan
– Made up of members of both 17Q and 17N
– Currently Working Plan
• It was recognized and last Working Meeting
that 17N and 17Q can progress at separate
paces as long as 17N appropriately defines,
references, etc.
17N Progress
• Original Plans included a "Pre-Ballot" Workshop
– Change of Plans
• Not a New Document
• Large Active Committee
• Potential to Circulate to Washington Workshop attendees
– OK?
• OTC Paper submitted and Presented
– As part of API 17 Session
17N Plans
• Astrimar to Complete incorporation of Comments and
17Q Reference
– May require help from Working Committees
– Deliver Summary Report on Completion
• Issue Document to API
• Format, Ballot, etc.
Question
• How do we "Deliver" to Industry
– API University
– Industry Training
Schedule
• Being Worked
• Additional Comments
Options
• A – Complete 17N ASAP
– Minimum with updates of all but Qualification
• B – Complete 17N fully incorporating
Qualification / Validation
– Complete incorporation of Qualification where
current 17Q becomes annex of 17N
• C – Complete 17N and 17Q
– 17N (see A above) which refers to the new 17Q
which will also be developed
Pros / Cons
• A – Complete 17N ASAP
– Document Completed with available resources
– Qualification will happen when it happens
• B – Complete 17N fully incorporating Qualification /
Validation
– Complete document delivered
– Additional funds / time / resources needed
• C – Complete 17N and 17Q
– Complete documents delivered
– Benefits described before
• Updatable at separate paces
• Different Subjects
• Etc.
– More Additional funds / time / resources needed
Explain A-203
• We believe………….
• This will be confirmed as part of work….
Question on Definitions
• Questions re definitions of Verification /
Validation/ etc. have been raised
• API 17A will take responsibilities for
definitions
• API 17N will provide technical input /
expertise
Thanks You's
• To Everyone Involved
–
–
–
–
–
Workgroup Leaders
Participants
Workshop Attendees
Astrimar
BSEE
• Large Amount of Effort by everyone
• Large amount of detail developed, considered and
Worked
• Even with the Growth in Scope, effort continued and
quality maintained
• A great deal of quality work was completed!