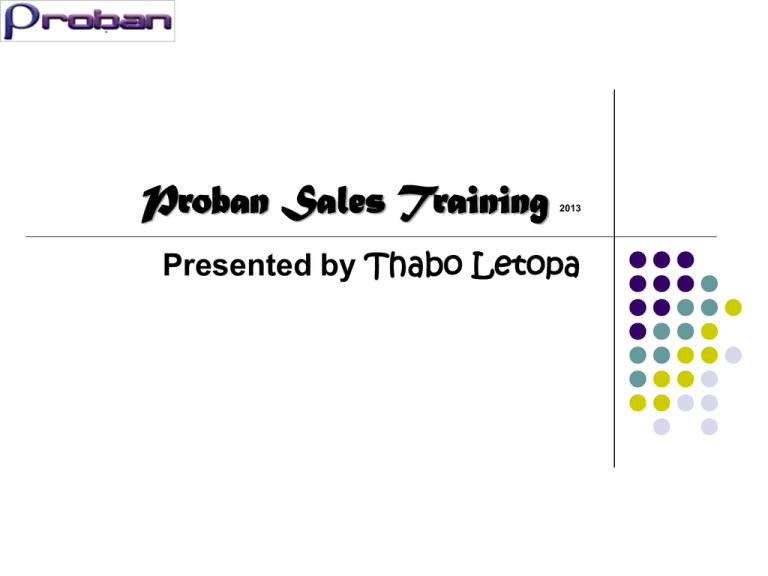 Proban Sales Training
2013
Presented by Thabo Letopa
Company overview
Job responsibilities
Company message
Competitors
Job responsibilities
•
•
Create leads, or source leads;
Cold calling and site visits;
•
Account management "Talk to your client";
Time management;
•
Drafting of Proposals, Orders and Invoices;
•
Company message
Who are we?

Our market space and our profile
What are our core values?

Our mission statement
What do we do?

Our products and services
What do we bring to the table?

Our value proposition
Competitors
Who are our competitors?
What do they do?
What do they bring to the table?
Sales process
Prospecting and lead generation
Planning sales calls
Meetings
Postcall follow-up
Documentation
Presentation
Sign-off
Prospecting and lead generation
Identify current customer base.
Identify and rank prospects.
Schedule sales calls.
Planning sales calls
Research prospect company.
Identify audience.
Define presales support (for example,
engineers).
Plan meeting agenda.
Call and confirm meeting ahead of time.
Meetings
Make introductions.
Define and then confirm prospect's objectives.
Define your objectives.
Review business need.
Identify contributing factors.
Present possible solutions.
Reach consensus
(fit, no fit, investigate further).
Postcall follow-up
Send summary e-mail message or letter
to prospect, and then follow up with a
phone call.




Thank prospect for meeting.
Recap meeting.
Review agreed-upon next steps.
State future intentions.
Notify appropriate internal resources (for
example, engineer) for next-step assistance.
Update account file or system.
Update pipeline account data.
Documentation
Prepare appropriate documents.
Review documents with prospect.
Presentation
Deliver final documents.
Present proposal.
Request the sale.
Sign-off
Sign documents.
Close the sale.