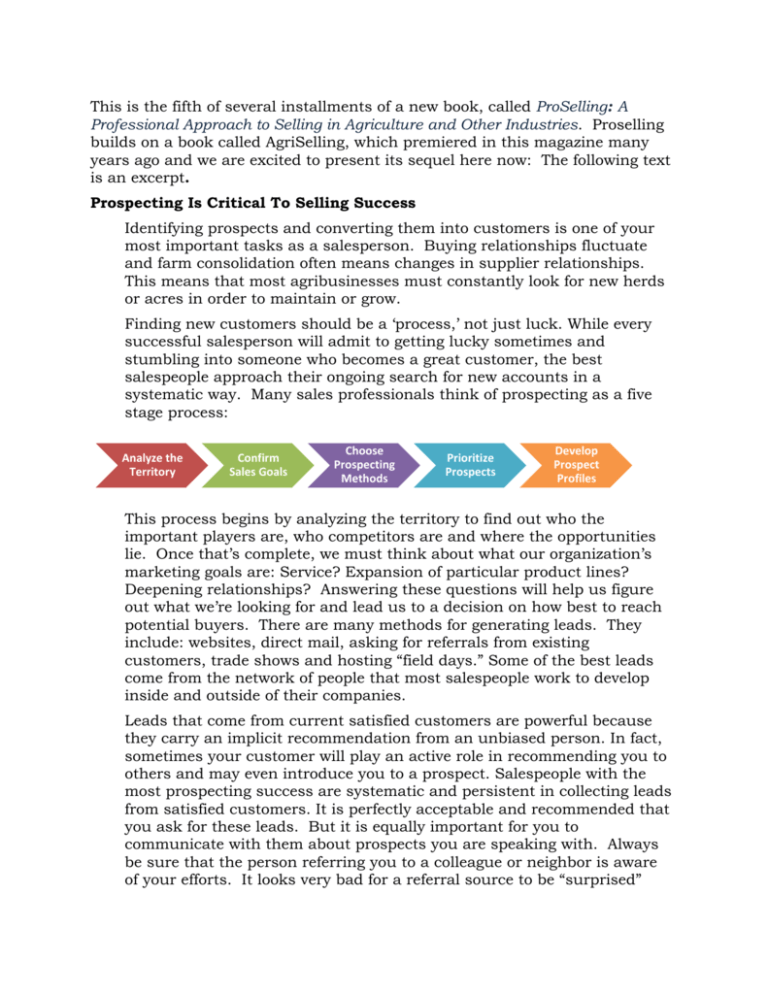 This is the fifth of several installments of a new book, called ProSelling: A
Professional Approach to Selling in Agriculture and Other Industries. Proselling
builds on a book called AgriSelling, which premiered in this magazine many
years ago and we are excited to present its sequel here now: The following text
is an excerpt.
Prospecting Is Critical To Selling Success
Identifying prospects and converting them into customers is one of your
most important tasks as a salesperson. Buying relationships fluctuate
and farm consolidation often means changes in supplier relationships.
This means that most agribusinesses must constantly look for new herds
or acres in order to maintain or grow.
Finding new customers should be a 'process,' not just luck. While every
successful salesperson will admit to getting lucky sometimes and
stumbling into someone who becomes a great customer, the best
salespeople approach their ongoing search for new accounts in a
systematic way. Many sales professionals think of prospecting as a five
stage process:
Analyze the
Territory
Confirm
Sales Goals
Choose
Prospecting
Methods
Prioritize
Prospects
Develop
Prospect
Profiles
This process begins by analyzing the territory to find out who the
important players are, who competitors are and where the opportunities
lie. Once that's complete, we must think about what our organization's
marketing goals are: Service? Expansion of particular product lines?
Deepening relationships? Answering these questions will help us figure
out what we're looking for and lead us to a decision on how best to reach
potential buyers. There are many methods for generating leads. They
include: websites, direct mail, asking for referrals from existing
customers, trade shows and hosting "field days." Some of the best leads
come from the network of people that most salespeople work to develop
inside and outside of their companies.
Leads that come from current satisfied customers are powerful because
they carry an implicit recommendation from an unbiased person. In fact,
sometimes your customer will play an active role in recommending you to
others and may even introduce you to a prospect. Salespeople with the
most prospecting success are systematic and persistent in collecting leads
from satisfied customers. It is perfectly acceptable and recommended that
you ask for these leads. But it is equally important for you to
communicate with them about prospects you are speaking with. Always
be sure that the person referring you to a colleague or neighbor is aware
of your efforts. It looks very bad for a referral source to be "surprised"
when your prospect calls them to ask about you!
Regardless of the method chosen for generating leads, these activities will
result in a list of potential customers by name. We need to choose which
of these names to call on first. Tools like estimated lifetime value or
prospect priority indexes can help with this. Finally, based on those
outcomes we can seek to gather information about our "target" prospects,
storing that information in some sort of account profile.
A good account profile should contain as much pertinent information as
possible. You won't know all this information before your first call, but
you can uncover a great deal of information by talking to others. Use
your initial profile information as a basis for you first few "back
grounding" calls with a prospect and to qualify the account.
Profiles are particularly important when prospecting for "multi-level" or
complex accounts. Many farm businesses today are geographically
dispersed, highly integrated, or have several decision makers, approvers,
and influencers.
When working with multi-level account prospects, keep the following tips
in mind:

Identify decision makers and influencers as soon as
possible - all of them.

Ask about (and keep a record of) how success is
measured, internally, by different people in the
company or business. You must meet each person's
business and personal needs. In these more complex
business units, you are always selling to a
business…but also to different individuals who play
very specific roles in the process.

Know what the approval process is like. Just
understanding the decision making process can become
very difficult. Yet to be an effective salesperson, it is
critical to understand how the decision gets made, who
is involved and what criteria they will be looking for.
Prospecting never stops. Even the most experienced salespeople still make
cold calls, because talking with the accounts you don't yet serve is the best
way to find out how you could improve your sales skills. Prospecting
requires planning and strategy, just like any other aspect of the sales
process. That's probably even truer with the challenges of consolidation
and increasing customer complexity we're facing in agribusiness today.