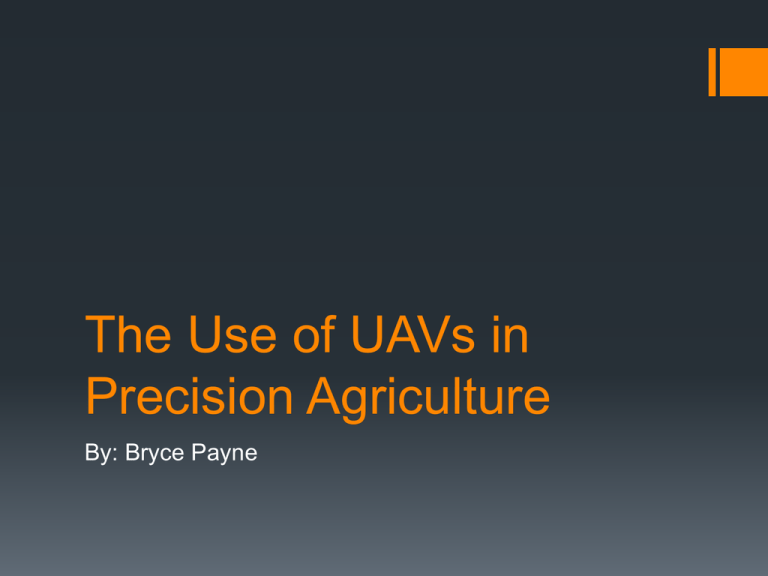 The Use of UAVs in
Precision Agriculture
By: Bryce Payne
What's a UAV?
 is an acronym for Unmanned Aerial Vehicle, which is
defined as a powered, aerial vehicle that does not carry a
human operator, uses aerodynamic forces to provide vehicle
lift, can fly autonomously or be piloted remotely, can be
expendable or recoverable, and can carry a lethal or
nonlethal payload. (U.S. Department of Defense)
Benefits
 Less manpower required
 Less maintenance
 More flexible
 Capable of doing jobs that are hard, repetitive, and
dangerous.
Current Use
 Survey
 Aerial photos
 NDVI
 Thermal images
UAVs in Agriculture
Im IV-A
Pteryx UAV
CropCam
Cropcam
 image-on-demand and is an inexpensive alternative to
satellite, or, flying an airplane over a field.
 provide images of crops, drainage, environmental, spraying,
precision agriculture, etc.
 http://www.cropcam.com/
Pteryx UAV
 flying multiple missions per day without reprogramming the autopilot
 ability to rearrange camera head interior with minimal effort
 single button operation
 no need for groundstation
 enclosing the camera for better protection against dirt
 ability to accommodate most powerful compact digital camera models, weight
range 200...1000g
 http://www.trigger.pl/pteryx/index.php
Potential
 UAV Sprayers
Yamaha's RMAX
Cost: RC $150,000~$230,000, Autonomous $1,000,000 (ground
station, antennas, computers, monitors and two complete
autonomous airframes and a four camera system)
Challenges
 Cost
 Technical Experience
 Software Crashes
 Liability
 Farming Traditions
Conclusion
 UAVs can be very effective in high value crops (fruits and
vegetables) and large scale farms.
 As the price of electronics goes down the price for a UAV will
go down as well.
 Use of UAVs will become a great tool to the farmer in
surveying and possibly in pesticide spraying.
Questions?