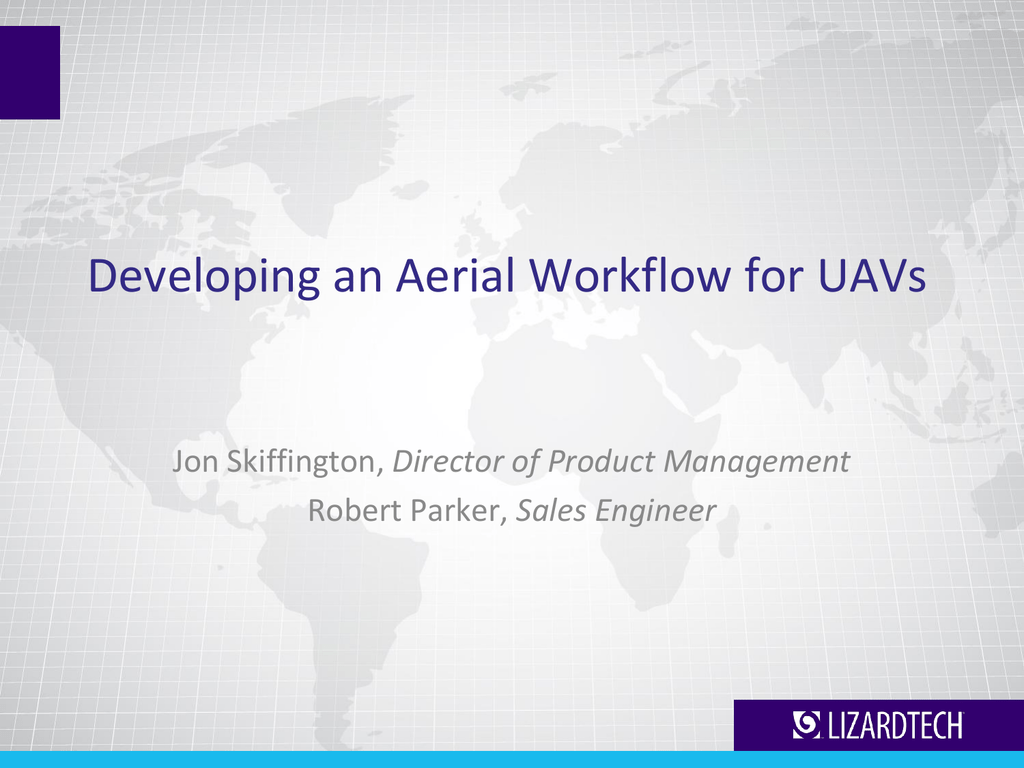 Developing an Aerial Workflow for UAVs
Jon Skiffington, Director of Product Management
Robert Parker, Sales Engineer
Overview
• Why UAVs?
• Orthoimagery
production workflow
• UAV specific concerns
• Post-production
workflow
• Storage and
distribution
Why UAVs?
•
•
•
•
•
•
Autonomy (potentially)
3Ds: Dull, dirty, dangerous
Price
Endurance
Launch and land from virtually anywhere
Potential to drastically reduce image acquisition costs
Why not UAVs?
• Airspace regulation
• EUROCONTROL has adopted general regulations
• FAA has yet to have a structured plan for US National Airspace
System
• Privacy concerns
• Varies by region and country
Orthoimagery workflow
•
•
•
•
•
•
UAV and camera capabilities
Mission planning
Launch, acquisition, and recovery
Ground control, orthorectification, and georeferencing
QC
Release image
UAVs and support software
• UAV providers
• Trimble
• senseFly
• Silent Falcon
• Eurodrone
• Many, many (many)
more
• UAV support software
• Pix4D
• Trimble TBC
• Photoscan
• Open source tools
Mission planning
• What are you trying to
acquire?
• What route will you fly?
• What airspace concerns
are in the area?
• How many passes will
be required?
• Flying remotely or
autonomously?
• How will the UAV be
recovered?
Launch/acquisition/recover
• Launch
• How much space is
required for launch?
• Acquisition
• Typically a grid or back
and forth pattern
• How long will the
vehicle be airborne?
• Recovery
Image production
• Ground control points
• Orthorectification
• Corrects for surface of
the earth, tilt of the
sensor, etc.
• Correct/warp the
image to match know
ground control points
• Digital Elevation Model
(DEM)
• Georeferencing
• QC
Now what?
• You've got your
imagery…
• Storage
• GeoTIFF, MrSID, JPEG
2000, etc.
• Analysis
• Esri, Erdas, QGIS, etc.
• Distribution
• Express Server, ArcGIS
Server, Image Server,
etc.