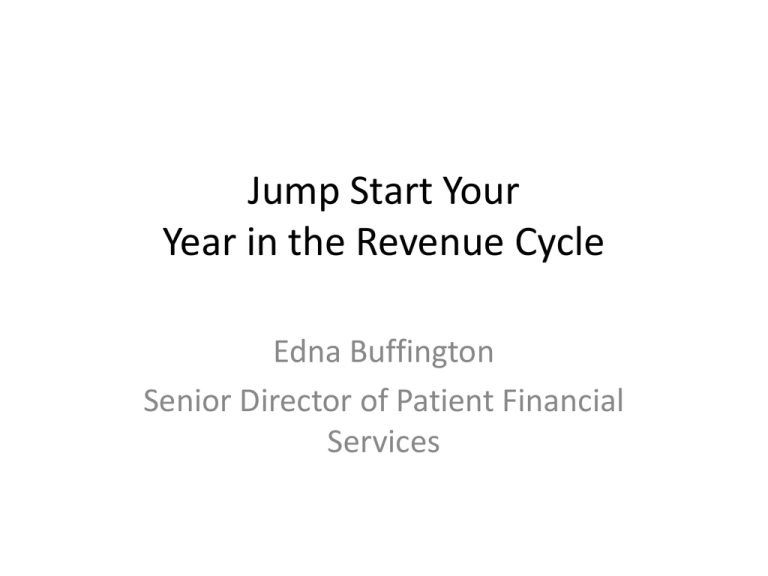 Jump Start Your
Year in the Revenue Cycle
Edna Buffington
Senior Director of Patient Financial
Services
Unbilled
• Review and work your unbilled reports daily
• Identify areas of opportunity in your Charge Master to
prevent accounts from holding on your Unbilled Report
• Identify possible Registration issues
• Look at your billing system and accounts that error out –
identify if these errors are related to Registration, Charge
Master, edits that can be put in your Host system that
would prevent claims from billing with errors to your billing
system
• Hold weekly unbilled meetings to discuss why claims error
out, discuss payers that are getting close to timely filing and
put together a plan to reduce your unbilled days
Unbilled
• Unbilled meetings
– Include HIM
– Include Case Management
– Other Departments as needed
– Remember it is a Team Effort in reducing unbilled
at every facility
HIM Requests
• Have a process to track HIM requests from
payers
• Review to ensure that these request are
processed timely – remember a lot of payers
have time lines of when these requests are
due back to them
• If you are using an outside vendor for HIM
requests review their logs to make sure they
are current
Late Charges/Incorrect Charging
• Another way to jump start the year is to track and
monitor Late Charges/Incorrect Charging from
Departments
• Identify your areas that you have opportunity in
to reduce these types of issues
• Have Late Charge Meetings with your
departments and discuss the impact of having to
rebill accounts to payers, discuss the impact on
the RAC Audits. Remember that your
documentation in your Medical Record should
match your charges and what you bill to payers
Electronic Billing
• Review your electronic billing rate to see if there are payers
that you are billing manually that can go electronically.
Normally if a claim is billed electronically it is processed
faster than a manual claim.
• Review denials on claims that passed your electronic billing
edits as a clean claim. Review to see if you can write edits
in your billing system to prevent claims from denying at the
payers. The goal is to bill each claim clean so that you get
reimbursed quicker.
• If there are payers that require Medical Records to go with
their claims, research to see if your billing system has the
capability of attaching the records electronically.
Secondary Billing
• Review to ensure that you have Medicare
accounts with secondary insurance crossing over
to payers electronically when possible
• Look at manual secondary billing and identify
areas that can assist in keeping this current, i.e.
PBX or 3rd shift registration areas that have down
time during the night
• You should look to see if your billing system has
the capability of accelerated secondary billing
modules
Medicare Remote System
• Make sure that staff is working claims in the
return to provider status daily for Medicare
accounts
• Identify the reasons for claims that are not
passing the Medicare edits and identify areas
that you can correct in your Host or Billing
systems to prevent this issue
Denials
• Track Denials
• Develop a Denial Task Force that meets and reviews the Denials for
the month
• Identify the reasons for your denials
–
–
–
–
–
Is it a Registration issue not verifying insurance coverage
Is it a Medical Necessity Issue
Is it a Charge Master issue
Is it a Pre-authorization issue
Are these denials related to off site entities
• Develop a plan to correct the denials
• Provide education and feedback to staff
– Registration
– Clinical Areas
– Physician Offices
Payer Issues
• Review your accounts by payer and identify any
issues with payers
• Look for payers that are not paying timely or
according to contract
• Schedule on site meetings with payers for
resolutions
• Contact your payer reps for assistance
• Stay in "The Know" on any new changes with
5010 billing, system issues/upgrades or contract
changes in order to eliminate any accounts not
paying timely
Summary Aging
• Review your summary aging weekly and identify
any financial class aging opportunities
• Review your past due follow up by collector and
see if there are issues with productivity
• Review your account assignments and see if you
need to make adjustments for the new year –
sometimes volumes change and you need to reassign accounts by collector
• Identify your particular payer issues or service
line issues that you need to be addressed
Vendors
• Hold your vendors accountable
• Review the line of business they are doing for
you and see if accounts are noted
appropriately
• Review their reports and hold monthly calls to
discuss their performance
• Audit their invoices to ensure they are billing
you correctly
Self Pay Screening Vendor
• Review their close and return reports to see if you
agree with how they handled your accounts
• Review the services they are screening for and make
sure they are screening for all services, i.e. PCIP, any
Minor Child coverage your state may provide, etc.
• Ask them to provide a Home Visit Report to you so you
can see if they are making home visits to patients
• Review their hours of operation to see if they are
covering your areas during peek times
• Hold monthly calls to go over their performance, issues
and or concerns
Self Pay and Self Pay After Insurance
• Look at your Point of Service Plan
• Develop tools/scripts to assist your staff in
collecting Point of Service
• Educate, Train and Monitor Point of Service
Collections
• Develop goals for staff and provide feedback
• You may want to consider adding point of
service to your yearly review of staff
Registration
• Develop a good training program for new hires in
Registration
• Review your Central Scheduling Area to ensure all services
are scheduled that can be scheduled in advance
• Make sure you are pre-registering accounts 3-5 days in
advance, preferably 10 to 14 days, completing insurance
verification, and medical necessity checks prior to the date
of service
• Develop a good QA program and provide feedback on
issues/errors to staff
• Remember that everything that registration does affects
the entire facility- this is the start of your revenue cycle.
Conclusion
•
•
•
•
•
•
•
Be Proactive and not reactive
Hold staff accountable
Know your payers and issues
Review your Summary Aging for areas of opportunity
Look at your systems and implement processes to be more efficient
Reduce your denials
Educate and give feedback to all departments that impact your
revenue cycle
• Revenue Cycle is a Team effort from all areas that begins with
Registration – to Clinical Departments – Charging – Billing and then
account resolution. It takes everyone to have a successful Revenue
Cycle.