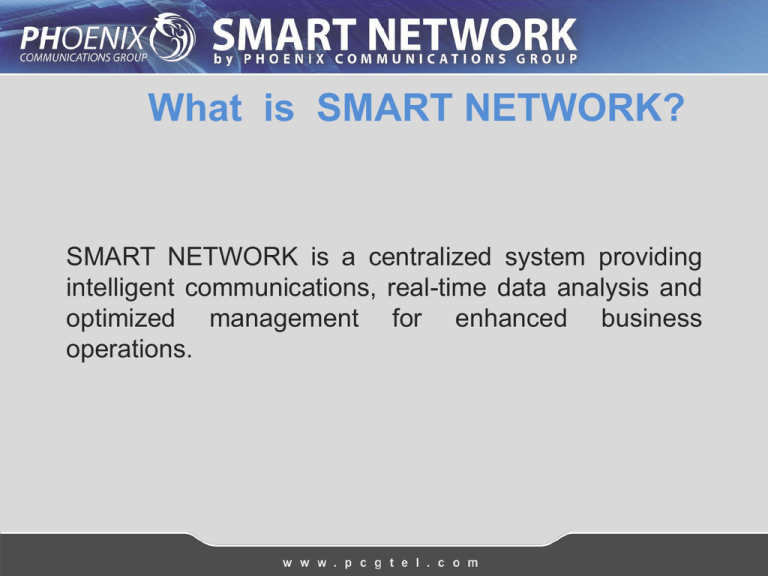 What is SMART NETWORK?
SMART NETWORK is a centralized system providing
intelligent communications, real-time data analysis and
optimized management for enhanced business
operations.
How it works?
The system accepts phone calls from any location around the
world, handling each one individually, based upon
customizable, client pre-specified factors like time of day,
caller ID, caller's location, destination availability, network
status, traffic volume, third-party systems interaction, among
other variables. This results in an optimal or "smart" routing
and termination of those calls to their final destination.
All these processes take place in a centralized environment,
offering the client total control and management of their
telecommunication network.
What are the advantages?
Some of the most outstanding advantages the system offers are:
Centralized Management
Advanced Statistics
Intelligent Call Routing
Real-time Monitoring
Call Recording
Automatic Fail-over
World-wide Connectivity
User-level Management
Multi-level IVRs
Customized Services
Diagram
Intelligent Call Routing
Our system can route the
calls according to client preestablished
filters
and
parameters of origin, specific
terminations, time, schedules,
corporate policies, call center
saturation capacity, and even
last minute emergencies, or
any other client-specific need
while at the same time
creating redundant solutions
in order to guarantee call
termination.
Multilevel IVR's
We offer the possibility of
very complex structure
IVRs,
with
many
languages, options and
levels as needed. Design
your own multi-level IVRs
with intelligent parameters
and options to efficiently
route and affect the flow of
your call volume to multiple
destinations.
Real Time Monitoring
The customized admin interface allows for real- time call
monitoring of any call, at any time. The client can see all
calls as they are running in real time, and customize a live
summary filtered by origin, destination, IVR option, calls
being recorded, answered, on hold, etc.
Advanced Statistics
The system provides advanced statistics with real-time
information about traffic tendencies at any given time,
responses generated from marketing campaigns as well as
any other statistical information as demanded by the
company.
Call Recording
Based on the origination, destination, among other
parameters, we provide the possibility to schedule
recordings of all calls meeting a defined criteria. Using the
admin interface, you can find a specific call, based on
advanced filters, and listen to the recording, or download it
to your workstation.
SMART NETWORK provides your company a better
and more ample vision of your customer base and
their responses to marketing campaigns and
customer service quality. Your company's managers
and executives will have swift and seamless
response control to changes, emergencies, and
customer base shifts, resulting in reduced
operations'
costs
and
increased
business
profitability.