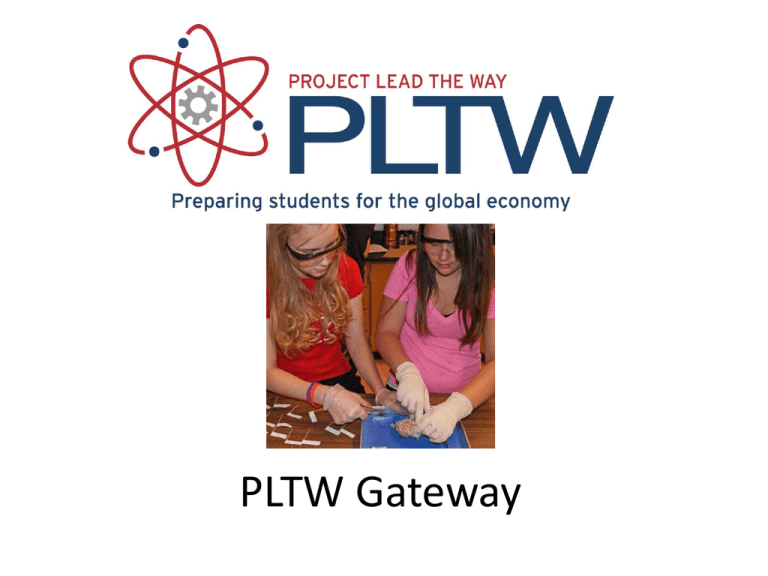 PLTW Gateway
PLTW Gateway
9 week units designed for grades 6-8
Medical
Detectives
Flight &
Space
Science of
Technology
Design &
Modeling
Required
Units
Automation
& Robotics
Magic of
Electrons
Specialized
Units
Energy and the
Environment
Green
Architecture
Unit Connections to PTE and BMS
Gateway To Technology Unit
High School PLTW Course
Automation and Robotics
Principles Of Engineering
Computer Integrated Manufacturing
Computer Science/Software Engineering
Design and Modeling
Introduction to Engineering Design
Energy and the Environment
Biotechnical Engineering
Principles of Engineering
Flight and Space
Aerospace Engineering
Green Architecture
Civil Engineering and Architecture
Medical Detectives
Biotechnical Engineering
Principles of the Biomedical Sciences
Human Body Systems
Medical Interventions
Biomedical Innovation
Magic of Electrons
Digital Electronics
Principles of Engineering
Science of Technology
Biotechnical Engineering
Introduction to Engineering Design
Principles Of Engineering
Required Units
• Design and Modeling
– Lesson 1.3 Measurement
– Lesson 1.4 Sketching and Dimensioning
– Lesson 1.5 Designing for Production
• Automation and Robotics
• Lesson 2.1 What is Automation and
Robotics
• Lesson 2.2 Mechanical Systems
• Lesson 2.3 Automated Systems
Specialized Units
• Flight and Space
– Lesson 4.1 History of Flight and Space
– Lesson 4.2 Aeronautics
– Lesson 4.3 Traveling and Living in Space
• Science of Technology
• Lesson 5.1 Applied Chemistry
• Lesson 5.2 Nanotechnology
• Lesson 5.3 Applied Physics
Specialized Units
• Energy and the Environment
– Lesson 3.1 Investigating Energy
– Lesson 3.2 Sustainable Energy
– Lesson 3.3. Making an Impact
• Green Architecture
• Lesson 7.1 Architectural Basics
• Lesson 7.2 Introduction to Sustainable
Architecture
• Lesson 7.3 Architectural Challenge
Specialized Units
• Magic of Electrons
– Lesson 6.1 What is Electricity?
– Lesson 6.2 Electronics
– Lesson 6.3 Digital Electronics
• Medical Detectives
• Lesson 8.1 What is a Medical
Detective?
• Lesson 8.2 Mysteries of the
Human Body Systems
• Lesson 8.3 Murder Mystery
Proposed GTT/Launch
Summer Training Schedule
Tentatively (End of February final schedule will be posted):
SDSU........for June 15-27: MD, GA/EE. Launch
for July 6-18: DM, AR, Launch
Cal Poly Pomona ...... for July 6-18: DM, AR
for July 20-Aug 1: ME/FS, MD
San Jose State ...for June 15-27: DM, AR
for July 6-18: GA/EE, FS/ME
Is there a need for a ST training? If so, sign
proposal sheet with your name, email, and phone number.
PLTW Gateway Academy
Summer Program Curriculum for One Week Academy
Questions?
Questions?