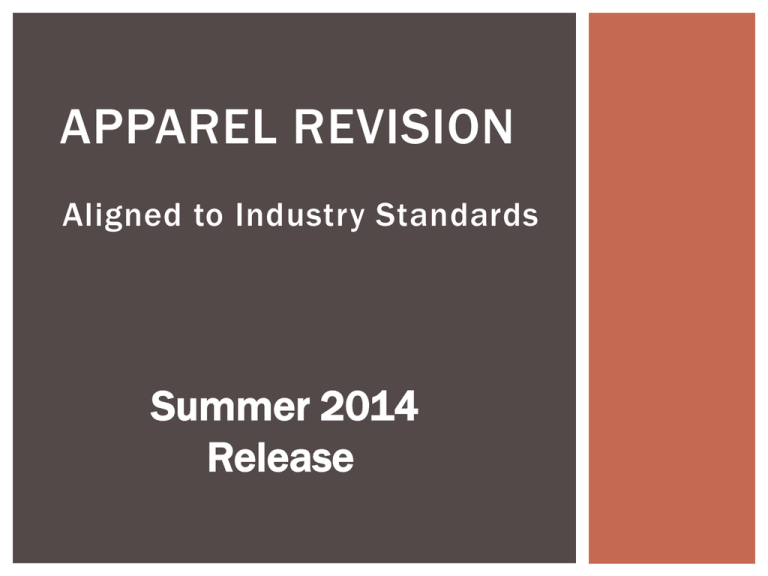 APPAREL REVISION
Aligned to Industry Standards
Summer 2014
Release
CURRICULUM TEAM
Beth Bell, Ph. D, Wake County
Kimberly Clark, Caldwell County
Lisa Harrington, Lee County
Dawn Harrison, Wake County
Malena Robinson, Yancey County
Kimberly Smith, Harnett County
Traci Steele, Rowan County
Susan Way, Carteret County
APPAREL BUSINESS AND INDUSTRY
KEY POINTS FROM BUSINESS AND
INDUSTRY
• Re-Shoring Initiative
• Multiple Skills now needed in the
Apparel and Textile Industry
•Design
•Construction
•Fabrication and Re-engineering
•Technology
NEW COURSE NAMES
FA31 Apparel and Textile
Production I
FA32 Apparel and Textile
Production II
FA31 APPAREL AND TEXTILE
PRODUCTION I
• History of the Industry
• Fundamentals of Design
• Essential Construction Skills
• Textiles
FA32 APPAREL AND TEXTILE
PRODUCTION II
Technical Design
Textile Science and Innovations
Global Manufacturing Process
Apparel Market Research and Marketing
Plan
• Labeling, Packaging and Global Markets
•
•
•
•
NC CAREER CLUSTERS
Current Cluster:
Additional Cluster:
The illiterate of the 21st century
will not be those who cannot
read and write, but those who
cannot learn, unlearn, and
relearn.
–
Alvin Toffler
BLUEPRINT
ES #
Obj #
Unit Titles/Essential Standards and Objective Statements
(The Learner will be able to:)
Local
Use
Course
Weight
RBT
Designatio
n
Integrated Skill
Areas
Core
Supp
1
2
3
4
5
6
7
Total Course Weight
100%
1.00 Understand the apparel industry and design
1.01 Remember the apparel industry
1.02 Understand apparel design
27%
12%
15%
B2
Core
A1
B2
Core
Core
2.00 Understand textiles
2.01 Understand fibers, fabrics, and finishes
2.02 Understand care of textile products
20%
15%
5%
B2
B2
B2
Core
Core
Core
3.00
3.01
3.02
3.03
53%
18%
10%
25%
B2
B2
B2
B2
Core
Core
Core
Core
Understand apparel engineering
Understand body measurements, sizing and patterns
Understand tools and equipment
Understand engineering and construction
1.00: UNDERSTAND
APPAREL INDUSTRY AND
DESIGN
1.01:
Remember
the apparel
industry.
APPAREL HISTORY





We thought it was very important to begin with
history.
In order to understand where you are going, you have
to know where you have been.
1.01 touches on the Industrial Revolution, 19 th
Century, 20 th Century, and 21 st Century.
Each section on 1.01 focuses on the most important
people, machines, and technologies of the time.
Each section in 1.01 has Powerpoints, activities,
videos, and some handouts.
IMPORTANT EVENTS

Industrial Revolution
Flying Shuttle
Spinning Jenny
Cotton Gin

19 th Century
Sewing Machine
Paper Pattern
Ready -to-wear

Ebenezer Butterick
Charles Worth
Levi Strauss
20 th Century
Standardized Sizes
World War I
World War II

Spinning Mule
Elias Howe
21 st Century
Internet
Fast Fashion
Christian Dior
Coco Chanel
1.00: UNDERSTAND
APPAREL INDUSTRY AND
DESIGN
1.02:
Understand
apparel
design.
DESIGN
Overview of Design
Design Inspiration
Sketching
Computer Aided Design
Fashion Careers in Design
Elements of Design
Principles of Design
2.00 UNDERSTAND
TEXTILES
2.01
Understand
fibers,
fabrics, and
finishes
FIBERS
Students will learn to identify natural,
manufactured and specialty hair fibers.
Students will learn to classify them according
to the following characteristics:
 Category of origin
 Source
 Traits such as absorbency, elasticity,
warmth, etc…
 Garment end use
FABRICS
Students will learn the following methods of
fabric construction:
Weaves (plain, twill and satin)
Knits (Weft, warp and seamless)
Nonwoven production
FABRIC FINISHING
Students will learn the
following dyeing and printing
techniques:
 Fiber dyeing
 Yarn dyeing
 Piece dyeing
 Roller printing
 Screen printing
 Rotary screen printing
 Heat transfer printing
 Digital printing
2.00 UNDERSTAND
TEXTILES
2.02
Understand
care of
textile
products.
PRODUCTS, PROCESSES AND
ENVIRONMENTAL CONCERNS
1.
2.
3.
4.
5.
Care techniques
Laundry detergents
Soil and stain removers
Laundry bleaches
Other laundry products
*Online laundry curriculum- "Textile Affairs"
NY Times – Lesson on product effectiveness
PERMANENT CARE LABELING RULE
1.
2.
3.
4.
5.
Fiber content
Percentage of fiber by weight
Identification of manufacturer
Country of origin
Care instructions/symbol
*Students will be learning about this rule and
designing a care label on card stock
3.00 UNDERSTAND
APPAREL ENGINEERING
3.01
Understand
body
measureme
nts, sizing
and
patterns.
BODY MEASUREMENTS
Key Terms
Measuring assessment and activity
Body measurements
Select Pattern Size
PowerPoint with Guided Notes
SIZING & FIT
Opening: Great British Sewing Bee or Project
Runway
Indicators of Proper Fit in Specific Purchased
or Constructed Apparel Activities
Indicators reinforced during construction
PATTERNS
Information found on the front and back of
pattern envelope
Symbols
Guide Sheet information
Simplified to the application of basic
information
3.00 UNDERSTAND
APPAREL ENGINEERING
3.02
Understand
tools and
equipment.
SEWING AND SERGER MACHINES
 Similar to the Apparel I
 Sewing machine parts and functions and Serger
parts and functions
 Sewing machine and serger safety and operation
 Integrate technology - videos, QR readers, class wikis,
Google docs
 Include historical information on the development of
the sewing machine
 Introduce the embroidery machine and their
implications in the development of a small business
SEWING AND SERGER ACTIVITIES
Four squares sewing
activity
Sew around the
silhouette
Small drawstring bag
activity
Customizable wristlet for
an cell phone, Ipod, or
camera.
3.00: UNDERSTAND
APPAREL ENGINEERING
3.03:
Understand
Engineering
and
Construction
KEY SKILLS
 Seams and Seam Finishes- additional include: flatfelled, slot, machine overcast, and bound
 Reducing Bulk in Seams
 Controlling Fullness-easing, gathering, casings, and
darts
 Facings- shaped and fitted
 Interfacings
 Hems- additional include: rolled
 Fasteners-additional include: nylon tape, lapped
zipper, and eyelets.
KEY PROJECTS
Seam Finish Pillow Project -
Vinyl Bag
with Hook and Loop
Tape
Covered Button
Activity
ADDITIONAL NOTES
 We have provided activities and notes as a reference
point as well as a guide to make the transition to the
new curriculum smoother for everyone. Please feel
free to adjust them to fit your student's needs.
 We have worked very hard to check for duplicates,
spelling errors and bad websites. However, things
happen and we are human.
 It is recommended to follow the blueprint as stated
during the field test year. A mid-term exam will be
given to evaluate assessment as well as curriculum
pieces so you will need to have covered the tested
materials.