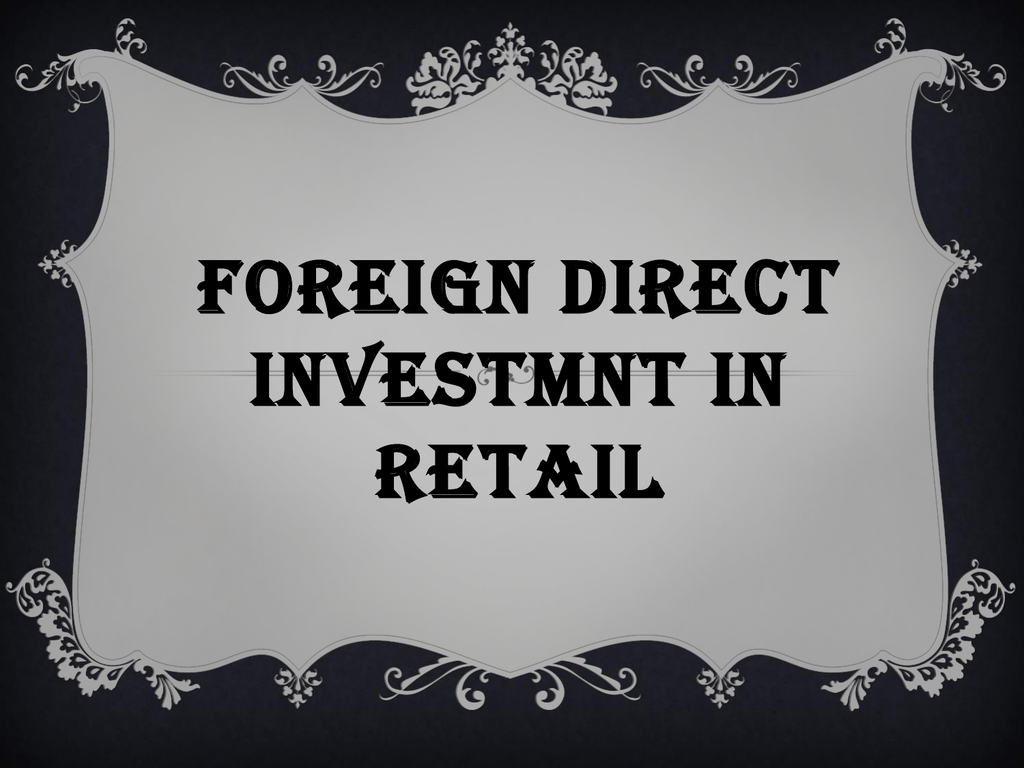 FOREIGN DIRECT
INVESTMNT IN
RETAIL
WHAT IS FDI?
 FDI or Foreign Investment refers to the net inflows of
investment to acquire a lasting management interest
(10% or more) in an enterprise operating in an economy
other than that of the investor .
 It usually involves participation in management , joint
venture , transfer of technology and expertise.
 FDI can be used as one measure of growing economic
globalization.
SINGLE AND MULTI BRAND
RETAIL
SINGLE BRAND RETAIL :
 It implies that a retail store with foreign investment can only sell
one brand.
 Eg. Nokia , Reebok and Adidas.
MULTI BRAND RETAIL :
 Retail store can sell multiple brands under one roof.
 Global retailers like Wal – Mart , Carrefour and Tesco can open
stores offering a wide range of household items and grocery
directly to consumers in the same way as the " Kirana" stores..
PRESENT SHAPE OF FDI
 Retail industry – Second largest employer ( with an
estimated 35 million people engaged by the industry).
 The Union Cabinet on 24th Nov 2011 proposed to increase
FDI in multi brand to 51%.However government was put
to hold after strong opposition from several political
parties , including UPA and Trinamool Congress.
 New policy will allow multi brand foreign retailers to set
up shop only in cities with a population of more than 10
lakhs as per the 2011 census.( there are 53 such cities)
 Foreign retailers will be required to put up 50% of total FDI in
back-end infrastructure excluding that on front end
expenditures ( land cost and rent will not be counted ).
 Big retailers will need to source atleast 30% of manufactured or
processed products from small retailers OR MANUFACTURERS .
 According to the newspaper Indo – Asian News Service ,
Washington US has said that FDI in retail tradewould be beneficial
to both India and U.S.
 In Jan 2012 SINGLE BRAND FDI hiked to 100 % from 51%.
FAVOURABLES
 INDIAN FARMERS : Farmers will be the biggest beneficiary of FDI in
retail who will be able to improve their productivity.
 INDIAN CONSUMERS : Indian consumers will get access to quality
goods at a low cost, that too at home.
 PROPER TAX SYSTEM :Tax revenue will increase like VAT and
service tax.
 PARTERNSHIP OPPORTUNITY : Indian Retailers have reason
to be happy as it involves a lot of learning that could take them to
higher profitability.
 HIGH AVAILABILITY OF JOBS
 DISTRIBUTION SYSTEM : 30-35% of India's total production of
fruits and vegetables is wasted every year due to inadequate cold
storage and transport facilities. Giant retailers will help India to
have strong storage system with highly developed transportation.
 INDIAN MIDDLE CLASS
 KNOWLEDGE ENHANCEMENT : FDI in retail will make way for
inflow of knowledge from international experts.
 MANAGEMENT EDUCATIONAL INSTITUTE BOOM : Growth of
organized retail in India will be a " sunrise" for the management
educational institute.
 INFLATION CONTROL :Inflation will be curbed.
UN-FAVOURABLES
The new system will displace the traditional shops and
petty retail shops in markets and mohallahs.
Around 38% people in rural areas and around 47% in
urban areas depend on retail trade for their livelihood ,
which will be affected. Around 14 crore people are directly
or indirectly earning from the retail sector. So this may in
turn render the people engaged there jobless and non
business oriented.