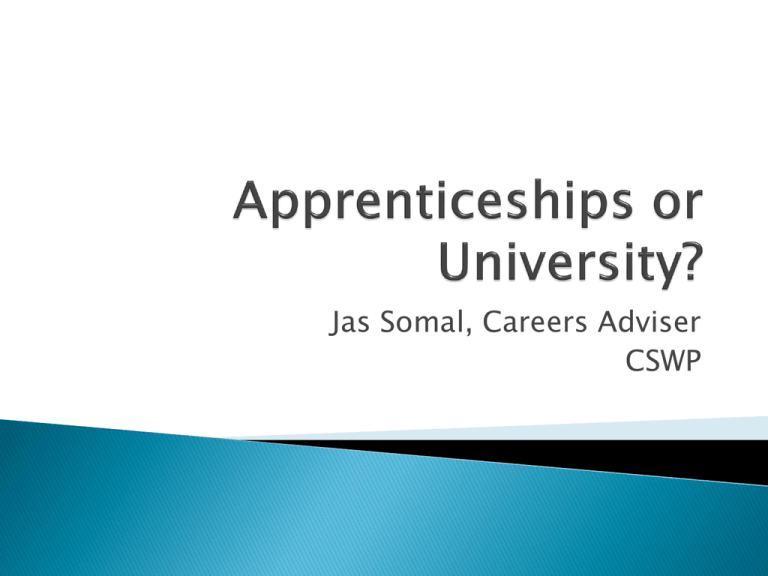 Jas Somal, Careers Adviser
CSWP



Competences qualification
Technical Knowledge qualification
Either Key Skills (e.g. working in teams, problemsolving, communication and using new
technology) or Functional Skills (e.g. Maths and
English) qualifications or a GCSE with enhanced
content (e.g. Maths and English)
l





Opportunity to earn a salary, with paid
holiday entitlement, whilst gaining
qualifications
Usually 1 – 4 years to complete, depending
on level and ability
Competition for places can be fierce
Employed for at least 30 hours per week +
attendance at local college or specialist
training centre
3 Levels of apprenticeship:
◦ Intermediate
◦ Advanced
◦ Higher


Working towards work-based learning
qualifications such as a Level 4 Competence
Qualification, Functional Skills and, in some
cases, a knowledge-based qualification such
as a Foundation Degree.
Foundation degrees (stand alone
qualification) can be topped up to a full
degree

14,300 vacancies across the UK

77 Higher Apprenticeships

1741 Advanced Apprenticeships

800,000 school leavers and graduates enter the
job market each year

On average 23 people apply for each the job in
the UK





Fully funded Masters Degree in Engineering &
Business Management, Warwick University: 4 – 5
years
£11,800 starting salary reviewed every 9 months
Firm foundation in engineering, 6 month
placements in forecasting, production planning,
supply chain design and management, &
management and development of manufacturing,
assembly and repair processes and resources.
A* to C grades at A-Level, or equivalent, in
Maths, Physics or Chemistry, plus one other.
Good GCSEs, including Maths & English







Up to 6 year's duration
Starting salary £16,000 rising to £32,000 on
completion
Fully sponsored Engineering Degree
NVQ4 Engineering Leadership
NVQ3 Business Improvement Techniques
NVQ2 Performing Engineering Operations
A level - C or above in mathematical subject
& C or above in Science, IT or Engineering
related subject, plus usual GCSE requirements





Higher apprenticeship2-year programme will heavily invest in
talented individuals to give them all the necessary skills to
succeed in the unique field of intelligence and security work. On
top of funding all the training and providing appropriate
support, GCHQ will pay successful applicants an annual salary of
£16,706,
In addition, individuals will complete the programme with a
foundation degree and a Level 4 Diploma in IT Professional
Competence, and secure a permanent position at GCHQ
Entry requirements - 3 A-Levels at grades A-C (with at least 2 ALevels in either science, technology, engineering or maths (STEM)
subjects. or
Qualifications in STEM subjects which are equivalent to a
minimum of 300 UCAS points
For further information visit www.gchq-careers.co.uk






£15,000 per annum
Opportunities in HR, Finance, IT, Supply
Chain, Brand Buying & Marketing
Online application & questionnaire
Telephone interview
Assessment event
3 A levels Grade C or above
Customer Delivery Support
& IT





3 Years' duration
C.£16,500 per annum
L4 Diploma, Key Skills & Foundation Degree
Further development & training available on
completion of apprenticeship
2 x A levels Grades A – C (+ 5 GCSEs A-C inc.
English & Maths)
Financial Services, Accounting
& Finance Sectors
 Banking - Branch and Commercial Relationship
Managers:
 Insurance - Claims, Broking and Underwriting
Technicians/ Supervisors:
 Offer Internships over the holiday period,
insight programmes



Forget where you see yourself in five years' time.
With our Trainee Retail Management programme,
you can make Commercial Manager of one of our
stores in less than two. All you need is two Alevels (or equivalent), a head for business and
heart for customer service.
So, the real question is: are you up for it? Take a
look around the site to find
www.marks&spencers.com/careers
House of Fraser, John Lewis, Tesco, Morrisons,
Sainsbury, all recruiting www.retailchoice.com







Why choose telent?
In a services company like telent, our people really are our most valuable asset.
That's why we take special care to nurture, motivate and develop the men and
women who work for us.
We value our people — so your career will get added value from us
We pride ourselves on offering creative, exciting careers in a variety of market
sectors where — for decades now — we've been applying technical expertise to
large-scale communications and network services projects.
In short - we can promise you a competitive package, a flexible work environment
and fast-paced, varied careers that will give you every opportunity to test, prove
and progress your skills as we grow and broaden our service offering.
We choose and train great sales and commercial people – those that can earn the
trust of our customers and who pride themselves on going the extra mile. We also
have a wide range of exciting business support roles.
To find out whether telent is the right place for you, read more about the rewards
and benefits of working for us, as well as our can-do, hands-on company culture
and friendly work environment, and prospects for career development and
training.





IT Apprenticeships at IBM are all about picking up new skills – and lots of
them. It's three year's of brilliant training, loads of exposure and the
kind of experience you simply couldn't get anywhere else. If you've
decided to dive straight into the world of work after college – and if
you're as fascinated as we are by technology and how it can change
business – it's one of the best learning experiences out there. What
makes the scheme so great?
You'll gain a great qualification: the Advanced Apprenticeship for IT
Professionals.
You'll be part of one of the world's leading technology companies – and
have one of the world's most recognisable brands on your CV.
You'll learn from some seriously sharp people – people who've pushed
technology to its limits and used it to do some amazing things, like
combating climate change or bringing clean water to the third world.
You'll work with some great clients, too – big names in virtually every
industry you could think of.








Do you have A Levels, then the Higher Apprentice
programme can accelerate your career prospects.
Are you...
Interested in working with technology to better
business?
An excellent communicator?
Forever curious and continuously looking to learn
new things?
An analytical thinker and problem-solver?
Attracted to multicultural, team-based
environments?
Flexible, open-minded and enthusiastic








Apprenticeship Programmes
Mace's Construction Training Programme is an advanced and higher level apprenticeship
scheme designed specifically for school/college leavers who want to start earning and gaining
real working experience in the construction industry.
The four year programme sponsors apprentices studying on day-release towards a Level 3 or
HNC construction qualification. Trainees work on site with Mace managers and subcontractors
to develop trade and technical skills. Technical education and experience is further supported
by a programme of in-house training, mentoring and site visits.
"After my A-Levels I knew the workplace was for me. I didn't want to limit myself to just fulltime work and no study, so the Mace Construction Training Programme seemed the ideal
opportunity allowing me to gain the experience and necessary construction qualifications.
Mace's high standards and will to succeed continues to challenge and obtain the best out of
me." Aaron Higginson, Construction Trainee, London
"Construction is the UK's largest industry, and we need a skilled and qualified workforce. Mace
tackles this by engaging with schools, colleges and universities directly to ensure students of
all ages fully understand the range of careers on offer." Tony Blackledge, Operations Director,
London
Mace's Construction Training Programme starts in September of each year. The minimum
criteria are:
An enthusiasm to pursue a long-term career in Construction Management.
A minimum of 3 A Levels and/or a construction-related Level 2 BTEC/NVQ qualification (or
equivalent).
5 GCSEs grade C or above including Mathematics and English
Professional Services
Higher Apprenticeship
 14% of UK workforce employed in Professional
Services
 Route into Audit, Management Consultancy &
Tax
 Audit route: ICAEW Certificate in Finance and
Business qualification alongside Apprenticeship.
 Tax: Association of Tax Technicians
qualification
 Available from Autumn 2013

http://www.pwc.co.uk/government-publicsector/issues/higher-apprenticeships-your-options-afterschool.jhtml
Supporting your application




Several areas of interest in which you can
demonstrate your achievements (for example
sports, organising a significant event, Duke
of Edinburgh Award, languages, charity work
etc. Young Enterprise)
Part time employment
WORK EXPERIENCE!
UK Student Careers - Employability
Sponsored Degrees
Partnership between Company and University – either fees
paid in full or contribution towards fees plus placement
opportunities
National Grid – contribution towards fees in partnership with 7
universities
JCB – Foundation Degrees (and higher apprenticeship opportunities)
Rolls Royce – Masters in Engineering Business Management, Warwick
University
KPMG – Accounting degree, - Birmingham Durham or Exter
Morrisons – BSc Management & Business – Bradford University
Logica – Business Management or Business Management with IT
The Environment Agency – River & Coastal Engineering Fnd. Degree UWE
Asda – Retail/Business Management
Tesco – Commercial Development & Stores Development Programmes
Armed Forces
Notoingtouni.co.uk
http://www.notgoingtouni.co.uk/
l


All about careers.com
essential springboard into the job market for
school and college leavers. If you're looking
for apprenticeships or school leaver
programmes, you're in the right place!
The Big Choice
Graduate Jobs, Graduate Scheme, Jobs For Graduate |
TheBigChoice.com
Year in Industry
Scheme that places students with 300 top UK
companies every year including National Grid,
Shell, Rolls Royce, British Energy, L'Oreal,
Network Rail and GKN.
In engineering, science, IT, e-commerce,
business, finance and logistics.
Paid placements either year before University
or during
http://www.etrust.org.uk/year_in_industry.cfm
Any questions?................