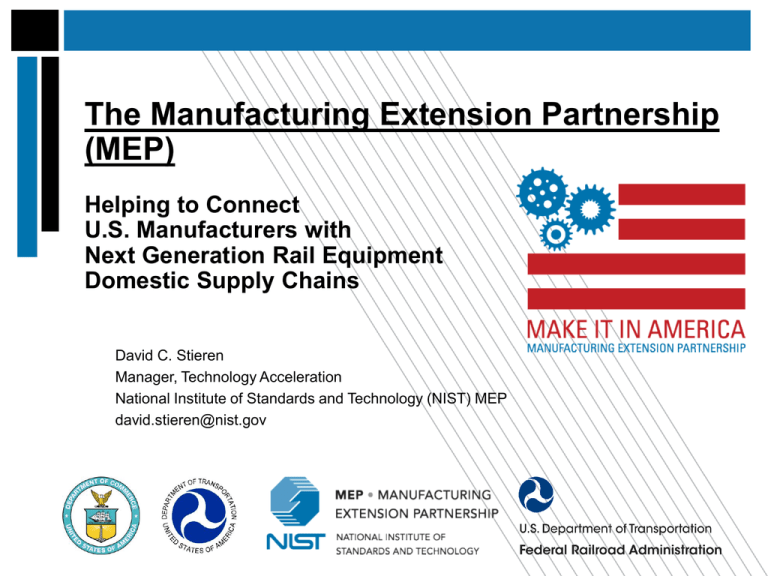 The Manufacturing Extension Partnership
(MEP)
Helping to Connect
U.S. Manufacturers with
Next Generation Rail Equipment
Domestic Supply Chains
David C. Stieren
Manager, Technology Acceleration
National Institute of Standards and Technology (NIST) MEP
david.stieren@nist.gov
About MEP
• Federal-state-private partnership that works with U.S. manufacturers
to help them create and retain jobs, increase profits, and save time
and money.
• Nationwide network of manufacturing specialists assisting
manufacturers to develop new customers, expand into new markets,
and create new products.
• MEP operates in all 50 U.S. states and Puerto Rico




60 MEP Centers with >370 field service locations
System wide, >1,300 Non-Federal staff
Managed at federal level by NIST
Contracting with over 2,300 third party service providers
• Performance Emphasis – MEP measured on impact
of center services on manufacturing firms.
60 MEP Centers Across the U.S.
800.MEP.4MFG
www.nist.gov/mep
What MEP Does
• MEP Center areas of strength across the network
 Technical Manufacturing Services for products/processes
 Growth Services – new and expanded market opportunities
 Market Diversification
 Environmental Sustainability
 Workforce Development
 Lean Manufacturing & Quality Systems
• Reach nearly 34,000 manufacturing firms and
complete over 10,000 projects per year*
*Based on FY2011 MEP Center reported performance data.
$3.6 Billion
New Sales
$4.6 Billion
Retained Sales
$1.9 Billion
Capital Investment
60,497
Jobs Created
and Retained
$1.3 Billion
Cost Savings
*Based on FY2010 Client reported data.
DOT – MEP Partnership
The Opportunity
•
Next Generation Rail Procurements have domestic content targets that
will require development of more robust U.S. supply base for rail
equipment production
•
Market diversification – specifically in production of next generation rail
equipment – represents real, significant growth opportunity for U.S.
manufacturers
•
MEP Supplier Scouting processes are proven and successful in
leveraging MEP's nationwide network of manufacturing specialists to
identify and work with U.S. manufacturers to meet sourcing needs of
federal agencies and OEMs

MEP has significant Supplier Scouting experience over past
several years serving the DOD, DOE, NIST, alternative energy
OEMs, power utilities
DOT – MEP Partnership
Working Together
• DOT-DOC Memorandum of Agreement, DOT FRA-NIST MEP
Interagency Agreement
• Connecting (small-medium) U.S. manufacturers with large
OEMs, Tier 1 Suppliers
• Using proven MEP Supplier Scouting and partnering
processes to identify capable and interested manufacturers
• Bringing rail supply/production opportunities to more U.S.
manufacturers – those with traditional rail industry experience,
as well as new industry partners
• Supporting manufacturers once connections are made
DOT – MEP Partnership
Supply Chain Connectivity
• 2 Forums held in February 2012:
 Sacramento, CA – Feb 8; Chicago, IL – Feb 14
 Participation from ~400 representatives of U.S. manufacturing entities
interested in supply chain opportunities
o Manufacturers participated on a nationwide basis from 24 U.S. states
 12 OEMs and Tier One Suppliers participated in over 300 one-on-one
meetings with prospective suppliers
• National Webcast in December 2011 w/participation from
8 OEMs, >100 representatives of the MEP System & client
manufacturing companies from across nation.
 Introduced MEP Center supplier scouting points of contact and interested
manufacturing clients to Next Generation Rail Equipment supply
opportunities with OEMs.
•
MEP Centers are working with manufacturers to help
facilitate supply connections and assist as appropriate
during supply operations and processes
DOT – MEP Partnership
Supply Chain Connectivity
• NIST MEP website operating as central, easy-to-use location for
relevant info on Next Generation Rail Supply Chain Connectivity
 2012 procurement info
 Presentation material from Connectivity Forums, webcasts
 OEM contact info
 Section 305 Committee specs and standards, other info
 Relevant rail links
 www.nist.gov/mep
• Anticipate significant opportunities to exercise FRA-MEP
partnership in conjunction with 2012 rail car and locomotive
procurements
• Potential additional Supply Chain Connectivity Forums
and/or webcasts being considered for first six months
of 2012.