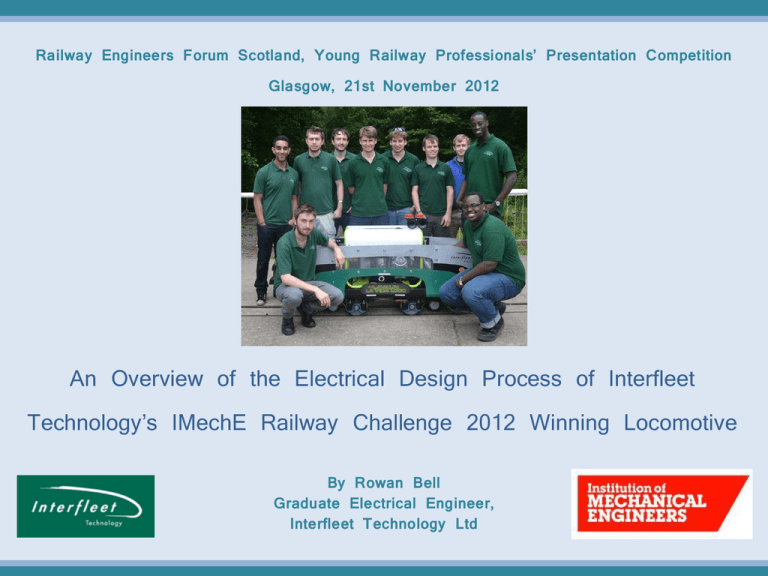 Railway Engineers Forum Scotland, Young Railway Professionals' Presentation Competition
Glasgow, 21st November 2012
An Overview of the Electrical Design Process of Interfleet
Technology's IMechE Railway Challenge 2012 Winning Locomotive
By Rowan Bell
Graduate Electrical Engineer,
Interfleet Technology Ltd
The IMechE Railway Challenge
• A competition to design, build and trial a 10¼'' gauge locomotive
• Open to universities and companies of the railway industry
• Loco to be refuelled within 90s, and meet emergency braking and gauging specs
The Challenge comprised of three tests for the locos:
10
Traction
Ride Comfort
A time trial between two
points, limited to 10km/h,
with penalties for speeding!
A test to quantify the
movement and vibration of
a loco's bodyshell during
motion
km/h
• Acceleration
• Deceleration
• Speed control
Energy Recovery
& Reuse
A test of regenerative
braking efficiency
T
regen
fwd
ω
rev
regen
ITL's Design Process: My Contribution
• Boundaries of the specifications, mechanical requirements and our timescales were tight!
• An ICE prime mover and an electrical traction system were both required..
Power Scheme:
Options:
Electrical
Traction System
Generator
The regenerative
braking function?
Energy
Storage
2Q or 4Q, BLDC, induction
motor or PMSM drive?
Aux.
Electrical
Traction
System
Energy
Storage
?
Regenerative
Braking and
Traction Facility
Rail
Brushed DC
motors with 1Q
controller
 compact
 economical
 proven!
Regenerative
Braking and
Traction Facility...
 feasible
 challenging!
Li+ batteries
Supercapacitors




high power
lightweight
safe
eco? 
The Topology
• The loco employs the following electrical topology:
Petrol
Generator
1Q DC
Motor
Controller
90V, 32A o/p
4 Brushed
DC Motors
in series
24V, 28A
Regenerative Braking and
Traction Facility with
supercapacitor bank..
110V / 230V,
50Hz, 13A o/ps
AC-DC
converter
24V, 8A o/p
Traction power
Regenerative braking power
Regen. energy traction power
4 Electromagnetic
Disc Brakes
Control Relays,
Interlock Relays
&
Safety Features
Auxiliaries' power
Armature Voltage Feedback signal
User interface signals
Regenerative Braking and Traction Facility
(1)
• Falling generated voltage + supercapacitors' charging curve + ? = practical deceleration..
• Supercapacitors' discharge curve + rising Back EMF + ? = practical acceleration..
• Two variable-output DC-DC converters in anti-parallel?
4 Brushed
DC Motors
in series
24V, 28A
Braking converter
(Flyback)
Output
Voltage
Output
Voltage
Traction converter
(Flyback)
Supercapacitor
bank
(with series
inductance)
• The driver would control braking and traction by changing the Output Voltage demand..
Regenerative braking power
Regen. energy traction power
User interface signals
Regenerative Braking and Traction Facility
(2)
• For braking, the solution was to employ PWM of the generated voltage..
• The motors may be configured in series or parallel
Added series
inductance
Generated
voltage
4 x
supercapacitors,
30,443J
PWM
58F, 16.2V supercapacitor
• For traction, the supercapacitors are simply switched onto the motors, configured in parallel
• The PWM time period was to be calibrated during testing
ITL's Performance and Success
•
ITL's loco came first in all three tests!
•
Ride Comfort was excellent!
•
Traction was good!
•
Energy Recover & Reuse wasn't great..
The braking effort was huge, and the starting torque was really small..
That 4Q motor controller is looking pretty good!
Thank you!