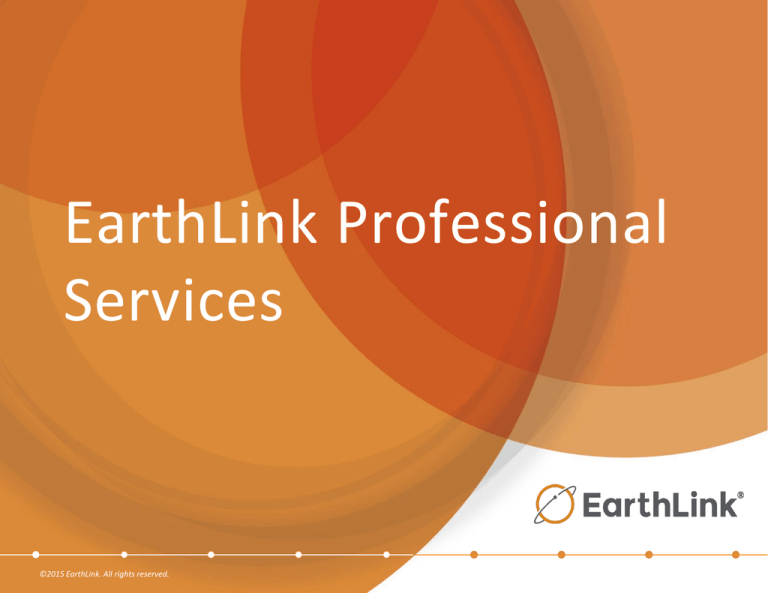 EarthLink Professional
Services
©2015 EarthLink. All rights reserved.
Today's top IT concerns — sound familiar?
Protecting highly sensitive data (e.g. client data, financial information)
from specifically targeted attacks
Preventing IT security breaches
Data protection
Ensuring continuity of service for business-critical systems
(e.g. preventing DDoS attacks)
Understanding the full range of new technologies
that are available and how to use them
Managing change in IT systems and infrastructure
Ensuring IT systems are used fully to maximize
the return on investment (ROI) of IT
Making decisions about future IT investments
Dealing with cost restraints
Planning for and recovering from failure or destruction of IT infrastructure
0%
10%
20%
30%
The Top 4 issues are security-related
Source: IT Security Risks 2014: A Business Approach to Managing Data Security Threats, Kaspersky Lab 2014
2
©2015 EarthLink. All rights reserved.
40%
IT is feeling the pressure more than ever.
• 84% of IT organizations plan to
spend the same or less in 2014
than 2013.1
• Routine network operations
("keeping the lights on") are
demanding majority of IT
resources:
– 80% of IT staff time is spent
doing routine maintenance
tasks, meaning less than 20% of
IT resources are spent on
strategic activities.2
Sources:
1. IT Spending and Staffing Outlook for 2014, Computer Economics Oct. 2013
2. Gartner Predicts, Gartner Group 2012
3
©2015 EarthLink. All rights reserved.
These headlines are all-too common…
Reported cyber-security incidents
grew 48% in 2014, with
approximately 117,339 attacks per
day. Total financial losses attributed
to security compromises increased
34% over 2013.1
48%
22%
22% of organizations will experience
a data breach of at least 10,000
customer records in the next 24
months2, and 94% of organizations
have encountered at least one
cyber-security incident in the last
12 months.3
Dec.
2013
Jan.
2014
Apr.
2014
Sept.
2014
Sept.
2014
Target hacked for
info on more than
100M customers4
Michaels Stores
loses data on 100M
customers4
Heartbleed
vulnerability in
Open SSL publicly
disclosed; left more
than 2M servers
vulnerable to
unencrypted data
leaks5
Home Depot
announces data
breach; 54M credit
cards were
breached6
Apple iCloud
accounts hacked for
celebrity photos7
4
©2015 EarthLink. All rights reserved.
Sources:
1. CIO, CSO &PWC, 2014
2. IBM/Ponemon Institute, 2014
3. Kaspersky Lab, 2014
4. NY Times
5. IBM X-Force Threat Intelligence Quarterly 2014
6. KrebsOnSecurity.com
7. CNN
Time to rethink the IT staffing model.
•
What if you could remove the burden of
routine network operations and identify
security vulnerabilities to your data
network before they become a threat?
•
EarthLink Professional Services uses
proprietary tools and customized
diagnostic tests to evaluate your
network, identify security vulnerabilities
and perform necessary migration and
configuration services.
5
©2015 EarthLink. All rights reserved.
Optimize
your
network
Free-up
your IT
resources
Validate your
compliance
with PCI DSS
regulations
Safeguard your
network by
anticipating and
correcting security
liabilities
EarthLink Professional Services Framework
Diagnostics
Network
Security
Compliance
Analyze performance
against actual business
requirements
Vulnerability Assessments
PCI DSS & HIPAA
requirements
Attack & Penetration Testing
Security Program Assessment
Migrations
Cloud Server and Desktop OS
Configurations
Design and Implementation of CPE
6
©2015 EarthLink. All rights reserved.
EarthLink Professional Services Approach
•
•
•
Analysis of WAN/LAN performance versus actual business requirements and
recommendations for optimal network sizing and configuration
Evaluation of PCI DSS and HIPAA compliance
Security diagnostics:
– External Vulnerability Assessments to identify known software and configuration
vulnerabilities
– Attack and Penetration Testing using complex hacking tests designed to identify
security risks
– Security Program Diagnostics to build an effective security monitoring program or
identify gaps in existing program
•
•
Cloud server and desktop OS migrations
Configuration assistance with design and implementation of CPE (routers,
switches, firewalls, WiFi, physical plant and cabling)
7
©2015 EarthLink. All rights reserved.
Benefits of EarthLink's Professional Services
• Optimizes your network according to your business
requirements
• Identifies threats and vulnerabilities to your network before
they turn into costly, brand-damaging data breaches
• Proprietary security diagnostic tools and techniques tailor the
assessment to provide maximum protection against known
threats
• Helps meet complex HIPAA and PCI DSS regulatory
requirements
• Removes burden of tactical network operational tasks so you
can focus your IT resources on key initiatives
8
©2015 EarthLink. All rights reserved.
How can EarthLink Professional Services help me?
Case Studies:
– A large national fitness club chain had been using self-reporting in their
attempts to comply with the PCI standard. Realizing their attempts were
insufficient to avoid costly data breaches and PCI penalties, they engaged
EarthLink to conduct a compliance diagnostic as well as vulnerability scanning
and penetration testing. The results showed only 34% compliance and
significant security shortcomings. EarthLink identified the exposures and
provided remediation recommendations to safeguard their network and
prevent a serious data breach.
– A manufacturing company was seriously impacted by variable outages with
their existing cable network provider. They also had key high availability
network equipment that was being unused, due to a lack of IT staff for design
and configuration. The customer engaged EarthLink to help with network
design, mapping out a vital secondary connectivity plan, as well as
configuration of their unused equipment. The result was redundant, high
availability connectivity to ensure a stable network environment.
9
©2015 EarthLink. All rights reserved.
EarthLink Professional Services Resources
•
Justin Piotroski, Director of Professional Services
–
•
Jeff Smith, Professional Services Consultant
–
•
Jeff has worked in IT for over 17 years, focusing on infrastructure and planning for customers. He has held consultative sales
engineering roles for Xerox and StorageTek, working directly with customers to design complex solutions. In his most recent role
as Director of Project Management for EarthLink, Jeff had direct responsibility for hundreds of infrastructure migrations and
virtualizations. Jeff is a certified Six Sigma Green Belt professional.
James Blake, Professional Services Consultant
–
•
Justin has led Technology sales & Professional Services for various companies over the last 10 years, and has consulted to both
SMB and Fortune 500 companies on infrastructure and network design. In 2006, Justin took over the Enterprise sales effort for a
managed service provider who specialized in providing engineering support for high availability IP infrastructure. It was here
Justin entered the world of IT consulting where he has since built and managed Professional Services organizations since 2008.
James' experience in IT spans more than 14 years, leading operational functions and sales for an IT Managed Services Provider
targeting compliance-driven organizations. James has his certification in Information System Auditing (CISA) from the
Information Systems Audit and Control Association. He is also certified as a sales professional with VMWare and Amazon Web
Services.
Bob Milne, Professional Services Consultant
–
Bob has over 20 years of experience in IT consulting, managed services and implementation services. Bob's track record includes
over 10 years at IBM as a Practice Leader and Managing Principal for IBM Information Technology Services, leading consultants,
architects and IT specialists to develop innovative solutions for IBM clients. Bob is ITIL certified and is an IBM Certified Consultant
and Confirmed Principal.
10
©2015 EarthLink. All rights reserved.
Why EarthLink?
Delivering value to your business
every day.
• Protects your mission-critical
data
• Right-sizes your network
• Reduces IT expenses
• Increases productivity
• Ensures compliance
11
©2015 EarthLink. All rights reserved.