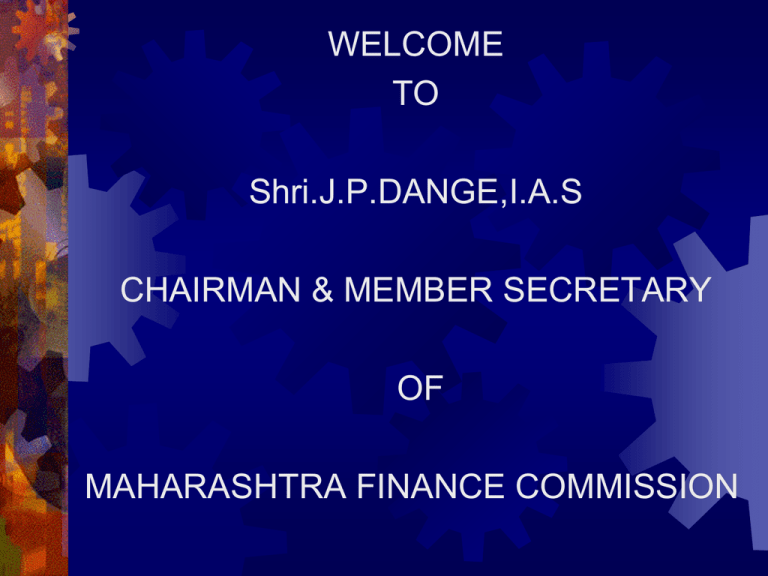 WELCOME
TO
Shri.J.P.DANGE,I.A.S
CHAIRMAN & MEMBER SECRETARY
OF
MAHARASHTRA FINANCE COMMISSION
A.M.R- A.P.ACADEMY OF RURAL
DEVELOPMENT
CENTRE FOR NATURAL RESOURCES
MANAGEMENT (CNRM)
Center for Natural Resource Management
(CNRM)- Andhra Pradesh Academy of
Rural Development (APARD) was created
within Andhra Pradesh Academy of Rural
Development through G.O.Ms.No.381, PR
& RD
(RD-IV) Department, dated
16.12.2004.
 The existing centers in APARD, viz
Centre for Poverty Alleviation (CPA), State
Resource Centre for Water Sanitation
(SRCWS) and Learning Centre (LC) are
hereby reorganized as Centre for Natural
Resource Management (CNRM)

PROGRAMMES






MGNREGS
SOCIAL AUDIT
IWMP
INDIRA JALA PRABHA (IJP)
WATERSHED EVALUATION
LAB-TO-LAND INITIATIVE(KEYCAP)
MGNREGS
 No.of districts
: 22
 No.of mandals
: 1098
 No.of GPs
: 21861
 No.of Habitations
: 69002
 No.of job cards issued
: 1,23,00,416
 No.of SSS groups
: 4,82,615
 No.of labour in SSS groups : 87,15,280
 Total
expenditure since inception
(Feb,2006 to 18-11-2011) : Rs 17,146
crores



Wages
Material &
skilled wages
Skilled wages
: Rs 12,688 crores
: Rs 3,556 crores
: Rs 902 crores
SERP
Tribal Welfare
Dept
Panchayat
Raj Dept
Horticulture
Dept
MGNREGS
Forest Dept
Minor
Irrigation Dept
RWS
Non- Negotiables
(adopted since inception)

No contractors & No labour displacing
machinery

Minimum 100 days to all demanded
Households

Wage Payment with in a week

Equal wages to men and women

Works identified by Gramsabhas, Mandal
Parishads, Zilla Parishads only
8
HUMAN RESOURCES










Project Director,DWMA
:22
Additional Project Directors : 22
Assistant Project Directors
: 171
Mate Training Coordinators : 186
Programme Officers
:1098
Additional Programme Officers:1098
Engineering Consultants
: 944
Technical Assistants
: 3539
Field Assistants
: 19230
Mates
: 4,82,615
Payment of wage system
Muster Roll &
Measurement
Book
Cash
Fixed Payment cycle
Mon
Day 1
Opening of
Muster
Disbursement
of wages in
post office
Wed - Sat
(Day 10- 13)
Sat
Day 6
Closing of
Muster Roll
Conveyance
of cash to
BPM
Wed-Fri
Day 10-11
Sat-Mon
Day 6-8
Measurement
& Check
Measurement
Handing over
cheque to
BPM
Tue-Wed
Day 9-10
Sat-Mon
Day 6-8
Data Entry in
MCC
Pay Order &
Preparation
of Cheques
Mon-Tue
Day 8-9
Shrama Shakti Sanghas

An Exclusive strategy for providing
continuous assured employment for
PoP (Poorest of the Poor) Households
and create assets for the PoP.

Each SSS will be assigned worth of 100
days work at a time, which ensures the
wage employment for the whole year.

This avoids benami names in musters

Better worksite management

Easy for data entry and monitoring
Electronic Muster & Measurement System
(eMMS)
The objective is to achieve
complete
transparency
in
implementation of MGNREGS by
obtaining LIVE data from the
Worksite to the Website on day
to day basis.
 The
mobile
technology
is
customised and deployed for the
MGNREGS field functionaries
through
different
mobile
applications like e-Muster, eMeasurement,
e-muster
verification
and
e-check
measurement.
 eMMS is designed to arrest
distortions in the programme
like Muster Fudging; Delays in
Payments; Binami Wageseekers;
Fake Measurements and Work
Duplication.

eMMS Process
FA
Muster
NREGS Server
-
E-muster
E-muster verification
E-muster
-
TA
E-check measurement
E-measurement
Measurement
E-measurement
E-Pay Order
Generation
Web- Exception
Reports
MCC
Electronic Fund Management
System (eFMS)

The eFMS is introduced basically to avoid parking of
funds with POs and DPCs. This ensured efficient
fund transfer system through online money transfers
 All the MCCs and DCCs are networked to the central
server and through that to a central fund in which all
the MGNREGA funds are lodged.
 eFMS enables electronic transfer of money to an
account of disbursing agency (post office/smart card
bank etc) where there is a requirement and allows
optimum utilization of funds.
 eFMS avoids deficiency of funds or excess of funds
at Mandal level.
 The Mandal level staff is liberated from the
maintenance of cheque books and maintenance of
detailed account books.
eFMS Process
Bank Server
NREGS Server
Fund Transfer
Order (FTO)
Reconciliation
Data Transfer of
FTOs
Acknowledgement
RBI Server
Wage seeker Post
Office A/c
Smart Card Bank
A/c
Supplier A/c
Employee A/c
CBS
System
UTR No
MPDO Office
Wage payments through Smart cards






MGNREGS payments are done in the
village using bio-metric identification
process using smart cards.
Each beneficiary is issued a biometric
smart card (finger print technology)
Banks appoints a Customer Service
Provider (CSP) in each village
identified by the banker equipped with
a smart card reader networked to the
bank server.
Each beneficiary is given a bank
account after biometric authentication
by the bank.
All
disbursements
are
credited
electronically to the accounts of the
beneficiaries.
Banks arrange cash to the CSP using
a Business Correspondent (BC).
Biometric Technology
Receipt
Generation Slot
Image
Template
Arrow Key
for starting
the device
Slot to
capture
thumb print
11001000…
F button
AXIS BANK
BLC-00-00389-01
MEKALA
NARAYANAMMA
DoB: 05-AUG-1965
D/o. Guntala Lingaiah
VILLAGE: DOMA
MANDAL: ACHAMPET
18
Slot to insert
Operator /
Customer card
Smart Card Payments -Process
Flow
CASH
e- payorder
Business
Correspondent
Block Office
BANK
Cash
Disbursement
Payment to
Labor by
Agent
SSAAT





Social audit system through a Society
for Social Audit, accountability &
transparency (SSAAT) formed with
social activists from top to bottom.
Each mandal is taken for social audit
once in 6 months
All muster rolls and the all the works
are inspected by the social auditors
before the people.
All the records are obtained 10 days
before by the functionaries of SSAAT
The reports of the social audit are read
out in the village level in the Gram
Sabha and the Mandal level public
hearing. Decisions like booking
Criminal
cases,
recovering
the
misappropriated amount are taken on
the spot.
20
HUMAN RESOURCES

State Team Monitors
 SRPs
 DRPs
 VSAs
: 07
: 65
: 700
: 1,20,000
Social Audit Follow up Action
Total Amount objected in
Social Audit
 Total Amount recovered
 No.of officials dismissed
 No.of officials suspended
 No.of FIRs booked
 Departmental enquiries initiated

: Rs 92.5 Cr
: Rs 17.57 Cr
: 4791
: 1772
: 641
: 1862
IWMP
YEAR
NO.OF
PROJECTS
Project area
(In lakh ha)
TOTAL
PROJECT
AMOUNT
(in lakhs)
2009-10
110
4.734
56812.80
2010-11
171
7.408
89304.88
2011-12
173
7.470
89654.04
Total
454
19.612
2,35,771.72
HUMAN RESOURCES










Project Directors,DWMA
Additional Project Directors
Assistant Project Directors (Tech)
Project Officers
Technical Officers
Technical Officers (I &CB)
Watershed Assistants
Vos
Watershed Committee
User Groups
INDIRA JALA PRABHA (IJP)
MGNREGA-RIDF CONVERGENCE
PROJECT
 3 YEARS PROJECT
 Rs 1800 crores
 10 lakh acres fallow and uncultivated
lands into cultivable under assured
irrigation

HUMAN RESOURCES
 Project
Directors ,DWMA
 Additional Project
Directors(MGNEGS),DWMA
 APDs (MGNREGS)
 ECs(MGNREGS)
 TAs (MGNREGS)
 Geologists
 CIGs
 BUGs
TRAININGS CONDUCTED
YEAR
No.of TRAININGS
NUMBER TRAINED
2005-06
22
847
2006-07
79
2785
2007-08
48
2065
2008-09
43
1802
2009-10
130
4539
2010-11
105
3050
2011-12
129
3874
FUNDS SANCTIONED/RELEASED
YEAR
SANCTIONED (IN LAKHS)
RELEASED ( IN LAKHS)
2005-06
7.00
7.00
2006-07
370.00
370.00
2007-08
Nil
Nil
2008-09
83.22
83.22
2009-10
512.82
512.82
2010-11
720.00
380.00







METHODOLGY
TNA by RD
Workshop for developing modules
and session plans
Reading material preparation
Pool of Resource persons from
among practitioners
Allotment of Course Directors
Evaluation
Course Completion
COMPUTER BASED TUTORIALS
(1) FARM POND
(2) DUG OUT POND
(3) STORAGE FARM POND
(4) SUNKEN PIT
(5) EARTHEN BUND
(6) STONE BUND
(7) ROCK FILL DAM
(8) LOOSE BOULDER STRUCTURE
(9) DIVERSION DRAIN
COMPUTER BASED TUTORIALS
(10)DEEP PLOUGHING
(11)BOULDER REMOVAL
(12)SAND APPLICATION
(13)SCRUB JUNGLE CLEARNACE
(14)APPLICATION OF DESILTED SOIL TO
FIELDS
(15)LAND LEVELLING
DOCUMENTARY FILMS
(1) e-MMS
(2) e-FMS
PUBLICATIONS
PO/APOs Manual
(2) Technical Manual
(3) Field Assistant Manual
(4) Social Audit Cartoon books
(5) Process Manual for DPR Preparation for
IWMP
(6) Manual for Artificial Ground water
Recharge
(7) Technical Assistant handbook
(Non-tech TAs
(1)
WATERSHED EVALUATION
(1)
(2)
(3)
(4)
(5)
(6)
(7)
(8)
Dr.R.SURENDRA KUMAR
Prof.R.RATNASWAMY
Dr.K.KESAVA REDDY
Dr.M.YADAGIRI RAO
Dr.J.KRISHNA REDDY
Sri.N.PASCAL
Dr.Poulomi Banerjee
N.S.Dhama
 Mid-term evaluation of DPAP,DDP,IWDP :
48 were completed
 Final Evaluation of 58 watersheds were
completed
 Mid-term evaluation of 4 community
model watersheds implemented by
ICRISAT in four states is being taken up
Sl. Name of the
No
State
Name of the
District
Name of the
TDET model
watershed
Name of the
block/
Taluk/
Tehsil
Names of the
project villages
1
Maharashtra Ahmednagar DolasaneBambalewadi
Sangamner
taluk
(1) Dolasane
(2) Bamblewadi
2
Rajasthan
Dob-Nevaj
Jhadol tehsil
(1) Atwal
(2)Dob
(3) Nevaj
3
Madhya
Pradesh
Raisen
PadarlyaSiyalwada (or)
Garbhan Nadi
Silwani
block
(1) Chor Pipliya
(2) Rampura
(3)Dungariya Khurd
(4)Siyalwada
(5)Gaganwada
(6)Padariya Kalan
4
Tamil Nadu
Dindigul
Ammainaickanur Nilakottai
taluk
(1)Kannimanagar
(2)Pottikulam
(3)Nakkampatti
(4)Sadaiyandipuram
(5)Rajathanikottai
(6)Gobalapuram
LAB-TO-LAND INITIATIVE (KEYCAP)

Ministry of Rural Development, Government
of India had organized a workshop on 22nd
and 23rd July 2010 at New Delhi to strengthen
local self governance and accelerate rural
development and also called for a convergence
and coordinated approach to reach out to the
people
and
remove
all
barriers
to
communication. In this national workshop a
concept of lab-to-land initiative was mooted to
demonstrate full achievement of objectives of
all welfare and development programmes
sponsored by both Central and State
Governments in rural areas.