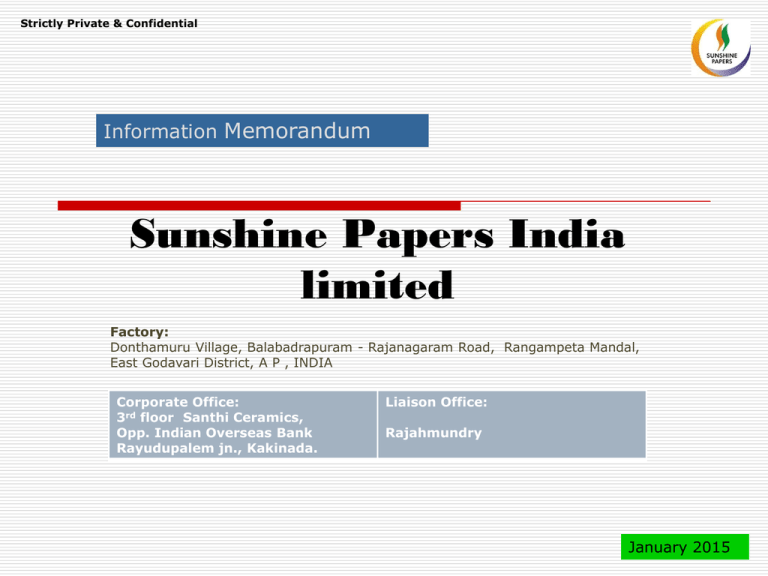 Strictly Private & Confidential
Information Memorandum
Sunshine Papers India
limited
Factory:
Donthamuru Village, Balabadrapuram - Rajanagaram Road, Rangampeta Mandal,
East Godavari District, A P , INDIA
Corporate Office:
3rd floor Santhi Ceramics,
Opp. Indian Overseas Bank
Rayudupalem jn., Kakinada.
Liaison Office:
Rajahmundry
January 2015
Paper Machine
Tissue Machine
Concept

To Set up Export Oriented Tissue Paper Mill (EOU) to produce
International standard Premier quality Specialty Tissue paper
using imported primary & secondary fiber with latest and fully
atomized paper machine.
Project Scope

Capacity :
15,000 TPA Tissue Manufacturing Facility

Product :
Tissue Paper in Rolls, Sheets & Converted Tissue

Location :
Donthamuru village, Balabadrapuram – Rajanagaram Road, Rangampeta Mandal, East
Godavari District

Estimated Project Cost :
Rs 55 Crores ( US $ 9 million)

Raw-Material
Primary Fiber (Wood Pulp ) and Secondary Fiber (Recycled Fiber / Waste Paper)
Gas for the Power Plant

Future Strategy :
Add 250 TPD Board Manufacturing Facility
Promoters
The Core Promoter Management team consists of professionals having
vast experience in India and abroad in project mgmt, technology &
engineering, fiber mgmt, marketing & commercial, etc. The core team
has over 140 man-years of direct experience in general management,
Paper Making, Paper Marketing Financial Management and networking
T Raja Kishore
Managing Director
P. Venkat Reddy
Director Finance
T. Satya Prasad
Director
B. William
Director - Admin
Prasad Reddy
Director
V S T Mallikarjuna Rao
Director Technical
Location
Land:
The company has acquired 29 acres of land at Donthamuru village,
Balabadrapuram - Rajanagaram Road, Rangampeta Mandal, East Godavari District.
Advance Paid for another 9 Acres adjacent land and Registration is under process.

Location Advantage:

Proximity to the National highway, Railway Station & Airport (Rajahmundry)
25 Kms, Sea Port (Kakinada) 35 Kms.

Abundant water available in the site and also near by lake and canal

Effluent Disposal: Already built drainage is passing adjacent to the site, which
facilitates for the disposal of effluent if any.

Availability of trained man-power

Proximity to Natural gas
Raw-Material

Raw-materials required are Primary Fiber (Wood Pulp / Virgin Fiber) and
Secondary Fiber (Recycled Fiber / Waste Paper) for the paper unit and Gas /
Coal for the Power Plant
Wood Pulp
The annual requirement of wood pulp is estimated at 3,000 tpa and this will be
imported from Europe, North / South America, and Indonesia
Waste Paper:
Requirement of waste paper is estimated at 20,000 tpa .We shall procure
waste paper from USA and Europe.
Gas
Efforts are on to secure 1500 mmbtu Natural Gas sanction. Ministry of
Petroleum and Natural gas. referred the proposal to Bagyanagar Gas
Authorities for further action.
Product Mix

Product Profile
The paper machine will have an installed capacity of 15,000 TPA of
Tissue paper.



Soft tissue
Soft Tissue for Conversion
Hard Tissue
20 Tons per day
5 Tons per day
25 tons per day
Company has the flexibility to change product-mix to cater to the
changing market demand/ requirements from time-to-time to maintain
and improve profitability.
Marketing Arrangements
 Export – 70%
Tissue Paper in Jumbo Reels and Sheets to Identified Prospective converters in
Middle East & Africa
 Domestic – 30%
Tissue reels/sheets/converted tissue packs through established distributors /
convertors
Market Scenario
Global tissue paper business is $30 billion, and volume is over 20 million t. North America and
Europe account for over 60% of consumption.
World average per capita consumption of tissue paper is 3.4 kg. India's per capita tissue paper
consumption is dismally low at 0.01 kg as compared to China at 4.5 kg and 23 kg in North
America.
The Indian tissue paper market is at an inflexion point and is expected to grow at a CAGR of 20%
in the next 3 – 5 years, with the organized segment growing even faster. This growth will be
driven by increasing hygiene awareness, disposable income and deeper penetration of organized
retail.
World tissue paper demand is forecast to grow by 3.2%/yr up to 2010. The annual increase is
about 780,000 tones, and the market is expected to reach 28.3 million tones by 2010.
The growth corresponds to the combined capacity of 26 medium-size (30,000 t/yr) or 13 large
(60,000 t/yr) tissue machines per year.
Growth prospects are best in China and other Asia, where economic growth, rising standards of
living, rapid growth of travel, hotel businesses and fast food chains all contribute to the demand
growth. The eastern European market is also likely to grow clearly above average during the next
10 years.
Product Usage

Product Usage
Tissue paper is a thin, strong, translucent paper used in sanitary products, such as toilet tissue,
paper towels, facial tissue, kitchen towels and napkins
At-home" Tissue market accounts for about 63% of the entire tissue market and away-fromhome" market, represents the remaining 37%.
Tissue Paper targeted customers are wholesale to janitorial supply companies, hotels, offices,
restaurants, schools, and the government. A small quantity of tissue is used in absorbent
products (such as diapers, wipes, and feminine hygiene products) and is also used for wadding
and as a base stock for waxing and wrapping. .
Tissue paper consumption patterns vary between regions. Toilet paper is the main product in all
regions except Middle East, where facial tissue dominates for religious and cultural reasons.
Tissue paper is a consumer product, and branding is a vital part of its marketing. In addition to
manufacturers' brands, the leading retailers have introduced their own private-label brands. In
Western Europe, about half of all consumer tissue is sold under private labels. In some countries
like Germany and Switzerland, the share of private labels is already well over 60%. In North
America and many other regions, the share of private labels is much smaller, though gradually
increasing. The consolidation and globalization of retail chains support this development
Project Cost
The total project cost is estimated at Rs 55 Cr. The total cost has been arrived based on the initial estimates
by company's Technical consultant and indicative quotations received by the company. A summary of the
Cost of project is furnished in the table below:
Project Cost Estimates
Rs in lacs.
Land
1000.07
Building& Civil Construction
613.17
Plant & Machinery (Imported)
1317.00
Plant & Machinery (Indigenous)
1011.30
Engineering Design
210.00
Misc Fixed Assets
68.46
Contingencies
311.24
Deposits
105.00
Preliminary and Preoperative Expenses
484.13
Margin Money for Working Capital
253.65
Total Project Cost
5458.01
Means of Finance
The project is proposed to be funded at a Debt/ Equity ratio of 1: 2 and
the financing pattern for the project is proposed as under:
Means of Finance
Rs. In Lacs
Equity
Promoters / Strategic Investor / Private Equity:
Debt
1858.01
3600.00
Financial Institutions / Banks
Total Project Cost
5463.68
Project Profitability
Summary Profitability
Statement
INR Lacs
2016
2017
2018
2019
2020
2021
2022
Capacity
MT
15,000
15,000
15,000
15,000
15,000
15,000
15,000
Total Production
MT
5250
10500
12000
12000
12000
12000
12000
Capcity Utilization
%
35%
70%
80%
80%
80%
80%
80%
Net Sales
Rs.
2715
5226
6392
6622
6754
6889
7027
Cost of Production
Rs
1767
3823
4641
4826
4925
5026
5133
Cost of Sales
Rs
1586
3616
4562
4809
4915
5016
5122
Profir before Interest
Rs
976
1313
1496
1469
1488
1515
1540
Profit before Tax
Rs.
705
729
961
1011
1110
1217
1309
Net Profit
Rs.
705
729
961
1011
1110
1217
1309
NP as % of Sales
%
26%
14%
15%
15%
16%
18%
19%
Cumulative cash accruals
Rs.
544
670
1177
1819
2567
3422
4669
BEP (%) of Installed capacity
%
18.37
47.82
42.42
38.53
35.30
32.34
30.12
2.00
1.37
1.65
1.78
1.99
2.27
5.99
DSCR (Gross)
DSCR Average
IRR
2.31
21%
Current Status
Sr.
No.
Activity
Expected Date
Completion
1
Acquisition of Land
Completed
2
IEM
from
Ministry
of
Industry
No.765/SIA/IMO/2008 Dated14/3/2008
3
Project Technical Feasibility Study by APTICO
Completed
4
Arrangement of Water
Available
5
Temporary Power for Construction –
6
Registered with Vizag Special Economic Zone for 100% EOU Status
Completed
7
Consent from AP Pollution Control Board
Completed
8
Advance paid for additional land for future expansions
Under process
9
Applied with concerned authorities for building and other constructions
10
Applied under single window clearance from Govt.AP for incentives,
&
Commerce
vide
letter
Completed
under process
Under process
Under Process
of
Project Implementation schedule
Sr.
No.
Activity
1
Acquisition of Land
Completed
2
Statutory Approvals
Completed
3
Design & Engineering
Completed
6
Building Construction
May 2015
December 2015
7
Arrangement for Water
Completed
Completed
4
Machinery Indent
May 2015
July 2015
5
Machinery Delivery
July 2015
January 2016
8
Overhauling & Erection
January 2015
March 2015
9
Recruitment of manpower
March 2015
January 2016
10
Raw Material Purchase
February 2016
March 2016
11
Trial Production
April 2016
May 2016
12
Commercial Production
June 2016
June 2016 onwards
13
Release of first batch of finished goods
June 2016
Date
Commencement
of
Expected Date
Completion
June 2016 onwards
of
Justification

Tissue is a Specialty Paper and generates higher revenues

Usage of Tissue Paper is growing at a rapid speed all over the World

Per Capita consumption of Tissue paper in China, India, Africa and Rest of Asia is
below 2 Kg as against per capita consumption of 22 kg in North America and 13
kg in Europe and Japan.
This indicates significant growth potential for Tissue Paper in Asia, Africa and
China

New volumes to depend on imported fiber due to shortage of wood supplies in
India and thus making premier grades of Specialty varieties such as Tissue paper
generates higher revenues and project is more viable.
Proposal

Total Project Cost: 55 Cr, Equity: 18.5 Cr and Debt: Cr36

We Invite Promoters to invest 5 Cr and join us as co-promoters on mutually
agreeable terms.

In addition to the basic works done so far, we take the responsibility of arranging
Cr Debt from Overseas funding / Indian Banks / Suppliers Credit from Machinery
suppliers.

Considered conservative workings such as highest possible manufacturing cost
and lowest possible end product price for project profitability and under any
circumstances profitability will be at par or higher than what is envisaged in the
projections.
THANK YOU
Compared to using virgin wood,
paper made with 100% recycled content
Uses 44% less energy,
Produces 38% less greenhouse gas emissions,
41% less particulate emissions,
50% less waste water,
49% less solid waste and of course
100% less wood.
Think Eco-Friendly
- Management, Sunshine Papers India Limited.