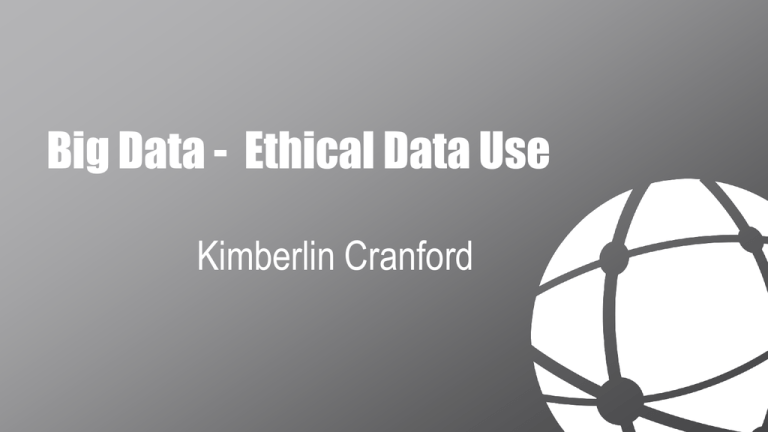 Big Data - Ethical Data Use
Kimberlin Cranford
Ethical Use in the Era of Big Data






Landscape has Changed
Attitudes about Big Data
PII, Anonymous, De-identified
Sensitive Data Evolving
Governance of Big Data
Privacy by Design (Privacy Engineering)
Attitudes About Big Data
20 Years of Consumer Attitudes
60% Pragmatist
30% Fundamentalist
10% Unconcerned
Examples of Big Data individuals can understand…
Search is Big Data for consumers.
Digital Advertising is Big Data for consumers.
Big Data Benefits
Corporate uses
Fulfill a transaction
Improve operational efficiency
Develop new products/services
Market and advertise products/services
Satisfy a legal obligation
Societal uses
Research
Free Speech
Risks of Big Data
Traditional Harms
• Financial
• Physical
New Harms
• Emotional
• Intrusion
• Reputation
Big Data Types
Covered Information
Choice
PII
Personally Identifiable
Information
Device Identifiable
Information
SANI
/
DII
De-ID
X
X
De-Identified Information
AGI
Aggregate Information
/
Pseudo - anonymous
PII
Personal
100%
SANI
Pseudoanonymous
ANI
Anonymous
Ease of Technical Re-identification
0%
Sensitive Data Evolving
Historically Sensitive Commercial Data
 Identification
 Financial
 Medical
 Children
New Categories of Sensitive Commercial Data
 Precise geo-location
 At-risk populations (children & elderly)
Finances
Identification
Medical
Biometrics
Facial Recognition
Location
Social Networks
 Teens - raise the age for COPPA from under 13 to 18
 Elderly over 60
 Social network information (public & non-public)
 Biometrics & Facial recognition
 Modeled Data
At Risk Populations
Governance for Big Data
Federal Laws and Regulations
General (FTC Title V)
Sector Specific (GLBA, FCRA, HIPAA)
Use Specific (CAN SPAM, TCPA, DNC)
Data Specific (DPPA, COPPA, CPNI)
State Laws and Regulations
Consumer Protection Laws
Do-Not-Call Laws
Data Breach and Security Laws
Website Disclosure Laws
Industry Groups and Self-Regulatory
Groups w/ Codes of Conduct
 International Association of Privacy Professionals (IAPP — a worldwide organization)
 Direct Marketing Association
 Digital Advertising Alliance
 Interactive Advertising Bureau
 Network Advertisers Initiative
 Email Sender and Provider Coalition
 Coalition for Sensible Public Record Access
 Policy and Economic Research Council
 National Business Coalition for Ecommerce & Privacy
 US Chamber of Commerce
 State Chambers of Commerce
 Conference of Western Attorneys General
 Mobile Marketing Association
 Information Accountability Foundation
Privacy By Design / Privacy Engineering
 Should be part of organizational strategy
 Privacy and data protection: should be embedded throughout the
enterprise and the life cycle of products and services
 Google's Red Team
"All of Acxiom's products and services have been
 Yahoo's Paranoid Team
created based upon these key principles."
 Apple's App Review Team
 MIT program, Harvard program
 (computer) Code is Conduct
Information Governance =
Accountability & Measurement
 Line of business accountability

Leadership required to be accountable for the operational compliance of their products, solutions, services
 Client Credentialing: Legitimate entity, legitimate use

on-site inspection possible
 Vendor Screening and Accountability Program

You are your vendor's keeper
 Privacy by Design/Privacy Impact Assessment


Understanding and applying the rules to business processes is complex – yet critical
Computer Code is the Conduct
 Individual employee accountability & training

Achieve excellence - each employee accountable for applying rules, issue spot, report problems
 Assurance Reviews


11
Internal audits on data products
Functional Area/Line of Business Audits
 First ever Consumer Access Portal – launched 9/4/13
 Clear and public articulation of Acxiom's ethical data use position
 Internationalization: country by country approach to globalize ATD
 In the works:
 Adding more core data to the portal
 Increase value for those participating
AboutTheData
• Launched 9/4/13





AboutTheData
# of visitors: 630K
% returning users: 17%
% opt out: 2%
% creating accounts: 37%
% editing:11%
Big Data and Ethical Promise
Clients
Media
TRUST
Hyper-Transparency
Consumers
Policy Makers/
Regulators
Thank you!