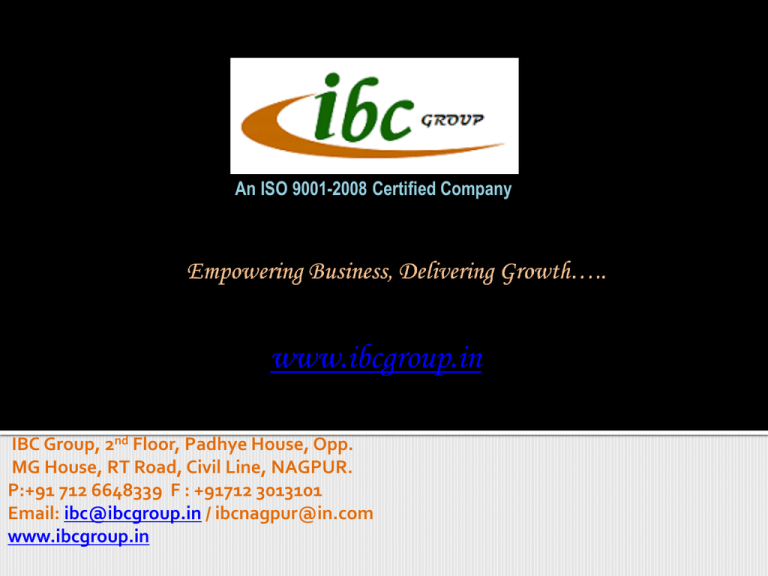 An ISO 9001-2008 Certified Company
www.ibcgroup.in
IBC Group, 2nd Floor, Padhye House, Opp.
MG House, RT Road, Civil Line, NAGPUR.
P:+91 712 6648339 F : +91712 3013101
Email: ibc@ibcgroup.in / ibcnagpur@in.com
www.ibcgroup.in
IBC Group, is the leading multi-services company, offering a wider range of
solutions customized to various verticals and horizontals. IBC Group's portfolio
delivers value by Accelerating Customer's ROI. It's benefits include rapid delivery,
operational excellence, and a better understanding of the customer experience
. Headquartered in Central INDIA at Nagpur, Maharashtra, IBC is a supplier of
Coal & Minerals, Coal Washery Operation, Logistic, Liasoning and Handling and
other Management & Engineering Solutions.
Being advantageous in geographical location and transportation, the Company has
Mission Statement To constantly and
consistently strive to deliver quality and
operational excellence to meet or exceed our
commitments. Be the best for Customers,
Employees and Associates . Quality
Statement Our dedication to excel in Quality is
our prime mission. Our journey is Total Quality
Management, fully satisfying our customers
requirements through a process of continuous
improvement and achieve customer delight by
providing Customer Centric, Cost effective,
Timely and Qualitative Services.
 COAL & MINERALS TRADING
 COAL WASHERY OPERATION
 LOGISTIC, LIASONING & HANDLING
 AGRO
 ENGINEERING & INFRASTRUCTURE
 INDIAN BUSINESS CONSULTANCY (IBC)
 IBC IMPEX PVT. LTD.,
 IBC INFOLINE
 IBC AGRO LTD.,
 AAI SALES CORPORATION
 GURSUKH ENERGY INDIA PVT. LTD.,
 MAA TARANI ENERGY PVT LTD.,
IBC Group not just Sourcing, Liaisoning & Trading Group, but also a reliable
partner who promises to make valuable difference to it's clients business. Tidy
Mart established wide network with some Industrial experts. We are here to
assist you in every possible way to merit your trust and confidence in us by all
means. You have discovered an easy access to the rich reserve of COAL &
Minerals.
It is bent on enhancing its partners' competitive advantage and profitability.
Combinations of cost effective, flexible and viable solutions are what we offer
our partners. At no point of time our clients are under the impression that they
are working through us, as an extended enterprise is the image we portray. CoTrading and not Trading is our motto. With an in depth, knowledge of
international markets and possession of a strong on the ground presence in the
INDIA.
IBC Group is a Trading Group that is singularly focused on helping leading
firms improve supplying, procuring and grow their business by operate through
us. Here we have a very good, a handpicked team of dedicated operatives, as
much for their abilities in human relationships as for their qualifications and
specialized skills in this industry.
IBC Group leverages its experience in the domain of coal
preparation to offer effective solutions in the area of Conventional
Coal Washery with smooth Operational.
The coal preparation division has rich experience in projects
that involve construction and technical renovation, besides
expertise in the design and consultancy for new coal
preparation plants . We have experienced and highly skilled
personnel for the Washery Operation.
What's more, we also bring in expertise in the analysis of coal
The IBC Group, engaged for Transportation of
Coal From Mines to Client End, Shifting the
Material yard to yard , Siding to yard, and other
state Transportation. continues to expand our
diverse portfolio of service-sensitive, specialty
operations to meet your unique needs. Whether
you need some or all of our transportation
solutions, our Transportation has the capacity to
deliver your material with Quality & Quantity
(Q&Q) in low cost. We believe that trusted
partnerships with our customers and drivers
develop close working relationships that are
essential in order to be successful as we move the
goods of our great country. Our success revolves
around this value.
Other than this we do liason with Coal INDIA,
MCL, SECL, SCCL, WCL and RAILWAY.
The Company handles all aspects of plantation
from Acquisition to Management. It also has
the resources to pool in experts in the different
aspects of Agriculture for the different Crops
on a needed basis . The company's associate's
covers all aspects of plantation development
contracts, establishment of nurseries, planting
of cash crops, supply of chemicals and
fertilizers . We have recently acquired Five
Hundred Acres land for season crops & BioDiesel Plantation.
 At IBC Engineering Services we
specialize in taking on your toughest
technical
problems
because
we
understand that you don't just want
answers; you want the right answers.
 Problem solving is what we do and
what we deliver. It is our commitment
to provide the most comprehensive
design, analysis, and testing services
with an unsurpassed level of
engineering integrity and skill. This
devotion to quality stems from the two
basic principles on which the company
was founded - technical excellence and
a passion to serve.
we are having an excellent team for
operation of Coal & Iron are Washery
and Captive Power.
Coal Washery of 4.00 MTPA in Orissa
Coal Washery and Coal Blending Unit of 1.90 MTPA in Chhattisgarh.
Coal logistic HUB in Chhattisgarh.
Bio Mass Power Plant of 10 MW in Maharashtra.
Coal Washery of 0.9 MTPA in WCL Area.
4.80 Lac MT Coal Supply MOU with Reliance Power, Mumbai
6.60 Lac Mt Coal Supply MOU with Birla Corporation Ltd, Chanderia and Satna.
BHARATA COAL,
INDONESIA
KJSL COAL WASHERY,
KORBA(CG)
Reliance Power
Delhi
Jharsuguda
Sambhalpur
Bilaspur
Chandrapur
Mangalore
Head Office.:
IBC Group
2nd Floor, Adv. Padhye house,
Opp. MG House, RT Road,
Civil Line, NAGPUR -440001 (INDIA)
Phone :+91 7126648339
Fax No.:+917123013101
E mail :ibc@ibcgroup.in
ibcnagpur@in.com
Raipur Office :
4th Floor,Gursukh Tower,
Main Road, Katora talab,
RAIPUR (INDIA) 492001
Ph: +91 771-4218736
Email: ritesh@ibcgroup.in
amit@ibcgroup.in
THANKS….