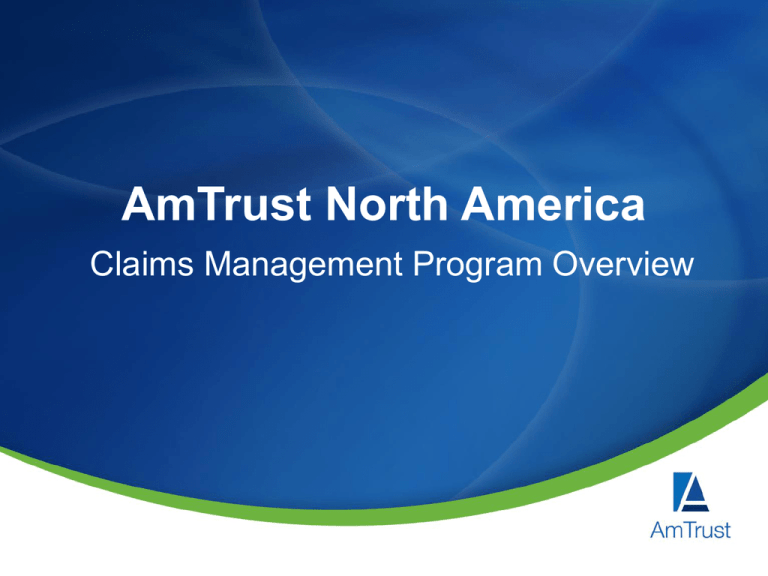 AmTrust North America
Claims Management Program Overview
Claim Office Locations
AmTrust has 16 Claims Offices Countrywide, including 8 Regional Operations
AmTrust Claims Management Program
AmTrust prides itself on handling claims expertly and expeditiously. We work closely with our
insured's and agent business partners to deliver high levels of customer service and maximum
results.
Key Features:
•
Experienced staff assigned by claims type, licensed adjusters on staff in applicable states, average
experience level is 21 years for workers' compensation and 24 years for casualty claim staff
•
State of the Art Windows based Claims Management System
•
Appropriate adjuster claims workloads, enabling effective management of claims
•
AmTrust best practices used for claims work units, internal audit program to assure compliance
•
National In House Anti-Fraud, Subrogation, Salvage and Legal Bill Audit Units allow for strong focus on
questionable claim investigation, claims $$ recovery and vendor cost control
•
National relationships with Rx, Medical Provider and Investigative vendors expedite claims processing
and mitigate claims costs
•
Qualified panel of defense attorneys who support our philosophy of aggressive and quality defense
•
24/7 claims reporting via phone/fax/email
•
Self service Web Portal for access to claim information and loss run generation
AmTrust Claims Management Program
Our claims management philosophy is grounded in conducting timely and detailed fact based
investigations to determine liability/compensability, nature & extent of injury and potential
financial exposure. All claims are carefully managed to bring them to timely disposition.
Activities that support our philosophy:
• Initial 3 point contacts, 24 hours for employer/employee/doctor, 24 hours for insured and claimant contact on
casualty claims
• Fact Investigation, recorded statements used to freeze facts and support ongoing investigation and claims
management, on site investigation used when necessary
• AmTrust best practices used by adjusters, audited by AmTrust claims management
• Acute reserve and settlement awareness, timeframes and authority levels are closely controlled and set on
individuals experience and technical skills
• Defense attorneys closely monitored and follow AmTrust litigation management practices
• Strong pursuit of subrogation and second injury fund relief when applicable
• Interaction with underwriting when trends or other claims issues detected
• Automatic system generated file diaries to adjuster and Supervisor for file update
AmTrust Claims Management Program
Claims Operations – Where we go from here !
•
Claims Operations Manager will assist with claims program setup, system access training and will
remain in place for general troubleshooting
•
Claims Welcome Kits will be sent at account inception containing first report instructions, statutory
posting notices, managed care network panel if applicable, Rx program information and designated
adjuster contact info.
•
Key Contact Points:
•
Claims Reporting: Toll Free (866) 272-9267, Toll Free Fax (775) 908-3724, Email
amtrustclaims@qrm-inc.com
•
Claims Kit Inquiries/Issues including physician panel changes: Lisa Johnson, (888) 239-3909 x
298313 / lisa.johnson@amtrustgroup.com
•
Web Portal: www.amtrustgroup.com. Pre-registration is required.
•
Specific claims inquiries: Contact applicable claims adjuster – see information on web portal or
mailed acknowledgement for contact information.