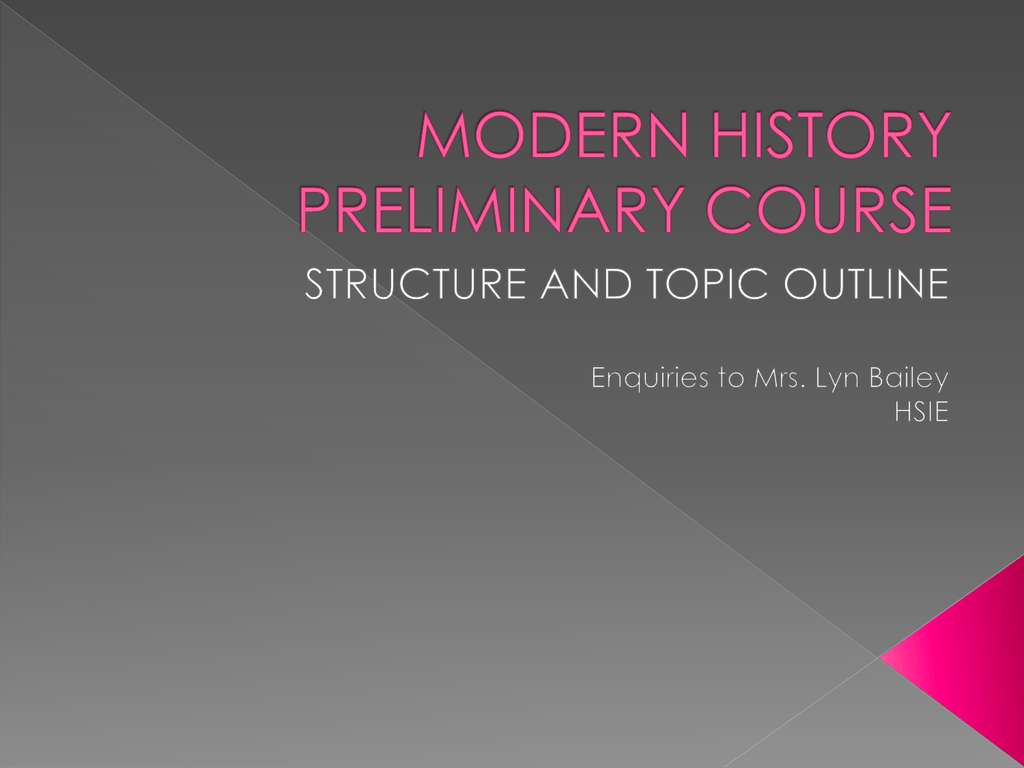 Modern History is designed to enable
students to acquire:
 Knowledge and understanding
 the skills associated with historical enquiry
 the skills to critically analyse and
synthesise historical sources
 appreciate the forces that have shaped
the modern world
The course requires 120 hours of study in
three parts:
 Part 1: Case Studies – 50%
: at least 2 case studies
: ONE must be from
Europe, North America or Australia
: ONE must be from
Asia, the Pacific, Africa, the Middle
East
or Central/South America

Part 2: Historical Investigation – 20%
 Can be integrated into any aspect of
the course and need not be completed
as one project.
 May be conducted individually or as a
group


Part 3: Core Study: 30%
The World at the beginning of the 20th
century
Students will investigate the core study
using a source-based approach as
preparation for the first HSC topic.
Term 1 –
 Case Study no. 1 –
THE CIVIL RIGHTS MOVEMENT IN THE USA
IN THE 1950s AND 6Os

then
The Assassination of JFK
Finish Historical Investigation – JFK
And a Historical Investigation of your
choice
Then
Case Study 2:
Decolonisation in Indochina

Core Study
The world at the beginning of the 20th
Century
By studying these topics you will be
examining the key features, individuals and
events from the recent past (18th century to
the present) which have shaped societies
throughout the modern world.
 You will examine the concepts of change
and continuity over time
 You will investigate historic events using a
range of primary and secondary sources
and assess their value in the process of
historical enquiry


Term 1 – SOURCE STUDY – CIVIL RIGHTS

Term 2 – Historical Investigation

Term 3 (early!) – Extended Response
Indo China

Term 3 (late!) – Final Exam










14 days
Spring vacation 2014
Travel – flights/train/coach
Accommodation - hotels
Activities: visits to Hanoi, Halong Bay, Ho Chi Minh City, Hue, Hoi An
(perhaps a side trip to Cambodia)
To do what?
1) Experience the culture, political and social history of Indochina to
support units of work studied in both Year 11 and 12 Modern History
2) by visiting temples, and both ancient and modern historical sites
including the Cu Chi Tunnels and the official American War museum
To be immersed in this wonderful Asian culture
In the planning stage at present! Details of costs and itinerary should be
available early in term 3 2013.