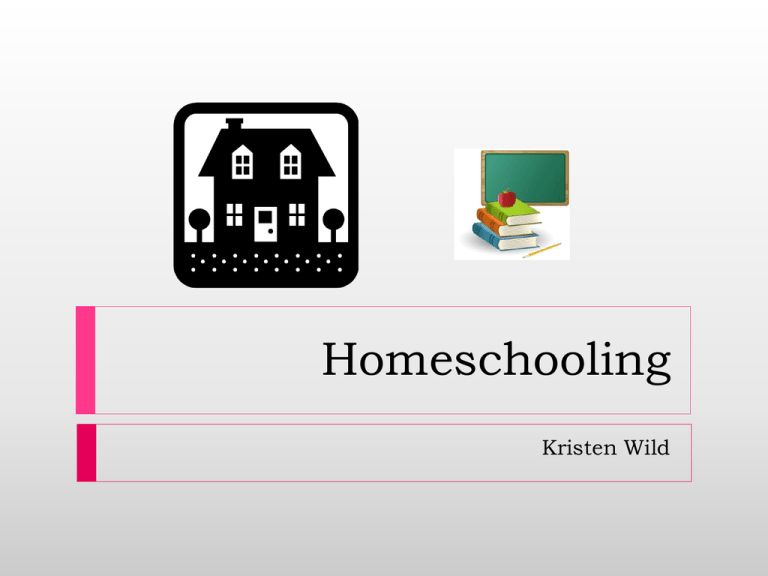 Homeschooling
Kristen Wild
Homeschooling

To teach or be taught at home



"to teach somebody at home, or be taught at home rather than in
the public school system" (Encarta Dictionary)
How Many Children are homeschooled?
About 1.1 million in 2005



About 2% of total schoolchildren
29% increase from 1999 to 2005
Predicted that 3 million will be homeschooled by 2010

Secondary education

Mid 90's
 Internet
 Easy access to sources
 Connected homeschooling families

Top 3 Reasons in 1996 and 1999
Give children a better education at home
Religious reasons
Poor learning environment at school
1.
2.
3.


Low test scores and safety (drugs, peer pressure)
Other reasons



Special needs
Want to form close relationship with child/family
reasons
Opportunity cost

Pre- 19th century homeschooling was the norm

1970's revival in homeschooling

The secularization of public schools lead parents to
send children to private schools or homeschool for
religious reasons

Deviant practice - truancy

1980's parents united to establish legal rights to
homeschooling

Legal/political alliance plus support networks

Small interest group and lobbying

Homeschooling became legal in every state



"Legal status with minimum regulation."
Made data collection difficult
Elementary and Secondary Education Act 1994


Required full time teachers to be certified in their subject
area
Hundreds of thousands of calls to Congress
representatives

No Child Left Behind

Congress made homeschooling an exception
from "Revisiting the Common Myths about
Homeschooling" by Michael H. Romanowski
HOMESCHOOLING
DOES NOT PROPERLY
SOCIALIZE A CHILD SO HOMESCHOOLED
CHILDREN LACK SOCIAL SKILLS


*MYTH! There are some homeschooled social
misfits, but there are social misfits in public school as
well!
Parents work hard to provide interaction with other
children and activities outside the home.



98% involved in more than two activities
Average of 5.2 activities
Scored higher on all levels of the Piers-Harris
Children's Self-Concept Scale

Girls less likely to feel insecure when their peers did not
agree with their opinions/ideas
HOMESCHOOLING
LACKS ADEQUATE
PREPARATION TO YIELD GOOD CITIZENS


*MYTH!
First generation

2/3 self-employed

0% unemployed or on welfare

71% regularly volunteer for a community service agency

76% voted in the last election (vs. 29%)

81% involved in a community organization (vs. 50%)

94% believed that being homeschooled made them
independent

79% say that it helped them interact with diverse groups
of people
HOMESCHOOLED
CHILDREN DO NOT HAVE A
DIFFICULT TIME GETTING INTO COLLEGE AND
HANDLING THE ACADEMIC CHALLENGES


*TRUTH!
Hundreds of colleges and some ivy leagues give
homeschoolers information for admission and
financial aid



Some have special admission process
Actively recruit homeschoolers
Score above or at national average on standardized
tests


ACT 1997 superior in English and reading and overall
composite score
Same with logic/mathematical
MOST PEOPLE HOMESCHOOL ONLY FOR
RELIGIOUS REASONS
M
Y
T
H
!
Part-time Homeschooling

Increasing in popularity

Arizona Kyrene school district

CASA Vida (Community-Assisted Schooling
Alternatives)




6 hours a week
Access to library & other community resources
Enrichment
Trust
…in North Carolina

NC state Constitution


Only full time public school students have
access


Every child has "equal access" and "an opportunity
to receive a sound basic education" in public
school" (Plecnik 2007).
Excluded from athletics and core classes
Testing ground

Pay taxes!
Discussion

Any questions?

Were you homeschooled or know someone that
was homeschooled? Share your experiences.

Before our presentation, did you believe in any
of the myths?

Did you learn anything that you would like to
share with others?
References

Eley, M.G. (2002). Making the homeschool connection. Educational
Leadership, 59(7), 54-56.

Homeschool. (n.d.) In MSN Encarta Dictionary online. Retrieved
March 27, 2009, from
http://encarta.msn.com/dictionary_/homeschool.html

Isenberg, E.J. (2007). What have we learned about homeschooling?
Peabody Journal of Education, 82, 387-409.

Plecnik, J.T. (2007). Equal access to public education: An
examination of the state constitutional & statutory rights of
nonpublic students to participate in public school programs in
a part time basis in North Carolina & across the nation. Texas
Journal on Civil Liberties & Civil Rights, 13(1), 1-30.
Continued

Romanowski, M. H. (2006). Revisiting the common myths about
homeschooling. Clearing House, 79(3), 125-129.

Stevens, M. L. (2003). The normalisation of homeschooling in the
USA. Evaluation & Research in Education ,17, 90-100.

Sorey, K. & Duggan, M.H. (2008). Homeschoolers entering
community colleges: Perceptions of admission officers. Journal
of College Admission, 200, 22-28.

Wichers, M. (2001). Homeschooling: Adventitious or detrimental for
proficiency in higher education. Education, 122(1),145-151.