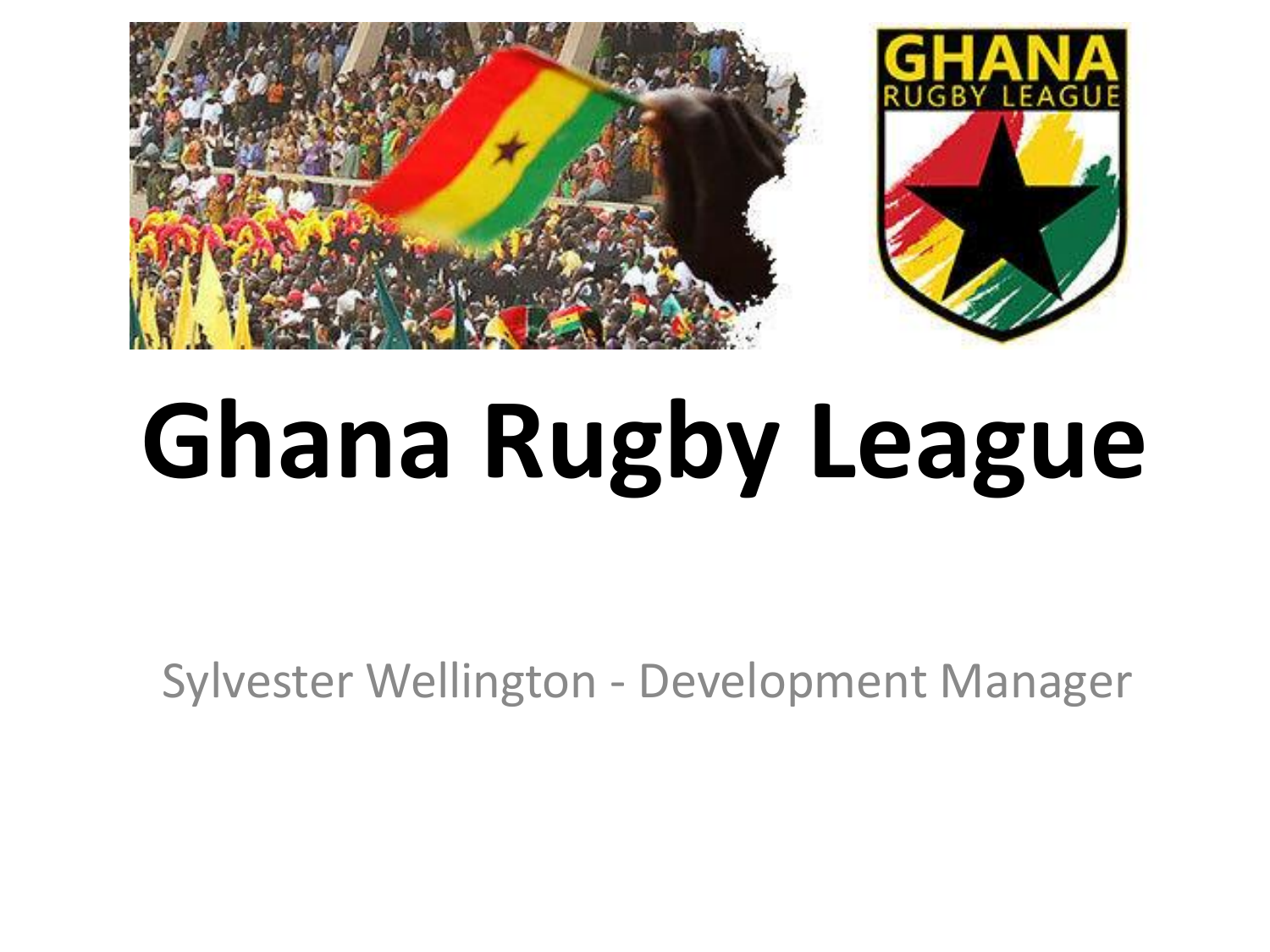 Ghana Rugby League
Sylvester Wellington - Development Manager
Introduction – Sylvester
• • • • Educational Background Sporting Achievements Came across the job through a Facebook advertisement.
Interview with RLEF and UK SPORT in March – Appointed Rugby League Development Manager for Ghana.
GHANA
• • • • Capital – Accra Population Regions Importance of sport
The Concept
• Ground breaking development initiative – Beginning with developing Grass Roots Rugby League in Ghana before extending across West Africa.
Experiences
• • • • • Impressions of Ghana Exposure to Rugby League Schools: – Accra Academy Senior High School (Form 1 & 2) – Kids for Christ Academy Primary School (All classes) Also visited many schools in the Greater Accra and Eastern Region including Oyoko Methodist Senior High School, amongst others. Communities: – In a short space of time, we managed to gain a lot of interest from local communities about the introduction of Rugby League in their area and the creation of local teams and leagues.
Progress
• • • • • Media Advertisement (UG Radio etc.) Military Services – Made connections with military personnel regarding the introduction of Rugby League within the services.
ISSAG (International School Sports Association of Ghana) GES (Ghana Education Service) Undergone intensive coaching, playing, match officiating, media and administration practical work since spending the past month in England.
Future Plans
• • • • • Planning to create Senior & Junior leagues Ghanaian Championship The formation of a National team. Continue to promote RL in Ghana and extend its boundaries to the rest of West Africa. Thank you for listening.