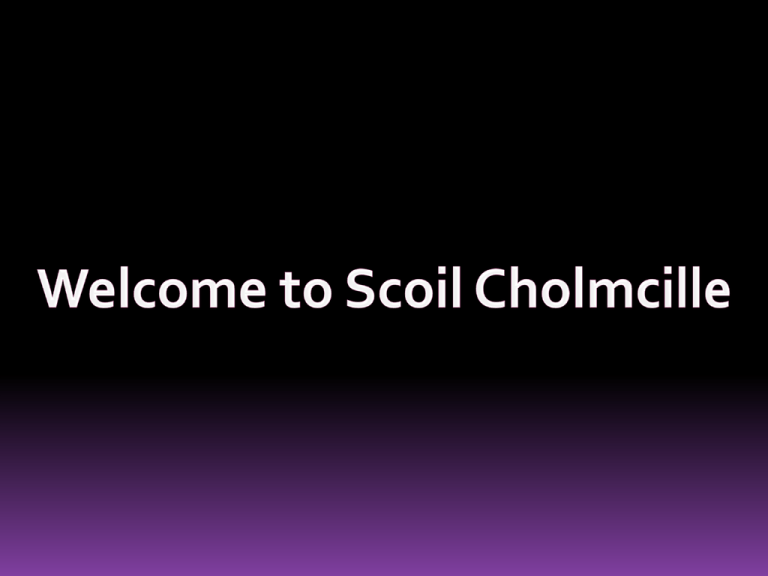 Our school is situated on the Convent Road, Letterkenny, on a
beautiful green, elevated site overlooking the Swilly Valley.
Pupils come to our school from a wide geographical
area and from a wide variety of religious faiths including
Catholic,Muslim, Christian,Pentecostal and Islam. All
intermingle and learn from each other, guided by our moral
compass of respect, tolerance and inclusion of all.
The Curriculum
Scoil Cholmcille engages pupils in the full range of subjects
required by the Irish Primary Curriculum as well as an
introduction to French, German and the Creative Writing
process. The following subjects are taught by a dedicated team
of hard working and caring team of teachers: Mathematics,
English, Science, Physical Education, Gaeilge, History,
Geography, Music, Art, Drama and Social, Personal and Health
Education
In addition, Specialist Poets, Authors, Environmentalists and
Sports Coaches teach: Swimming, French, German, Poetry,
Creative Writing, Agility and Fitness skills, Gaelic, Rugby,
Soccer,
Rounders, Basketball, Tag Rugby, Games, Breakdancing,
Cartoon Drawing and Table Tennis, among others.
Parental Involvement
We enjoy an excellent relationship with parents who are
very welcome in the school. There is close contact
between teachers and parents who are kept informed
through letters, newsletters, the school web and formal
parent teacher meetings. There is an active Parent Teacher
Association.