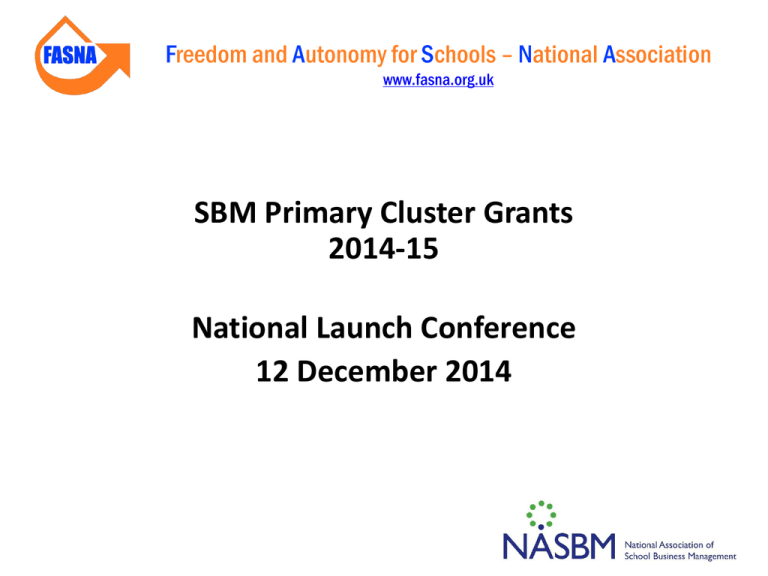 Freedom and Autonomy for Schools – National Association
www.fasna.org.uk
SBM Primary Cluster Grants
2014-15
National Launch Conference
12 December 2014
Freedom and Autonomy for Schools – National Association
www.fasna.org.uk
Conference objectives
 To give Clusters the opportunity to share emerging
practice and explore ways of dealing with common
issues
 To clarify DFE expectations of Clusters
 To update Cluster SBMs on national policy
developments
 To clarify the support available to Clusters from
NASBM and FASNA
Freedom and Autonomy for Schools – National Association
www.fasna.org.uk
10.45 - 10.50am
Formal welcome & introductions
10.50 - 11.15am
Developing the school business management
profession in an autonomous educational system
11.15 - 11.30am
The SBM contribution to national policy
implementation
11.30 - 11.40am
Coffee break
11.40 - 12.00pm
Buying collaboratively
12.00 - 12.20pm
Buying collaboratively – Table discussion
12.20 - 1.00pm
Lunch and networking
Freedom and Autonomy for Schools – National Association
www.fasna.org.uk
1.00 - 1.15pm
'In at the deep end' – how to make a success of the
Cluster SBM role
1.15 - 2.15pm
Making a success of the Cluster SBM role:
identifying priorities and measuring impact
2.15 - 2.30pm
Meeting DFE reporting requirements
2.30 - 2.45pm
Final questions and burning issues
2.45pm
Close of conference
Freedom and Autonomy for Schools – National Association
www.fasna.org.uk
Presenters and Facilitators
 Carl Fagan – Senior Manager, Funding Policy Unit, Department for
Education
 Helen Lumb – Commercial Skills for Schools Lead, Department for
Education
 Stephen Morales – Executive Director, NASBM
 Tom Clark – Chair, FASNA
 Sarah Ray – Chief Operating Officer, FASNA
 Liz Walters – Training and Development Director, NASBM
Freedom and Autonomy for Schools – National Association
www.fasna.org.uk
Presenters and Facilitators








David Allen – Associate Practitioner, NASBM
Jane Durkin – Associate Practitioner, NASBM
Wendy Farrier – Associate Practitioner, NASBM
Peter Melville – Associate Practitioner, NASBM
Nina Siddle – Associate Practitioner, NASBM
Charles Turvill – Associate Practitioner, NASBM
Helen Albrow – Policy, Research and Resources Lead Officer, NASBM
Louise Burkinshaw – Training Coordinator, NASBM
Freedom and Autonomy for Schools – National Association
www.fasna.org.uk
Joined-up leadership:
Head Teachers AND Governors
AND School Business Managers
Tom Clark, Chair, FASNA
Stephen Morales, Executive Director, NASBM
Freedom and Autonomy for Schools – National Association
www.fasna.org.uk
NASBM is the leading professional association for school business
management professionals, with over 2500 members
Our core objectives:
Representing and building the reputation of SBM professionals
Supporting our members to carry out their role more effectively
Assisting members to develop their career
Setting the standard for the SBM profession
We aim to be: impartial; authoritative; collaborative; sector- led;
responsive.
Freedom and Autonomy for Schools – National Association
www.fasna.org.uk
FASNA is a 'not for profit' membership organisation
with charitable status, which seeks to promote and
secure autonomy for schools and evidence its success
Member schools include VA schools, Foundation
schools, Trust schools, Type 1 'sponsored' academies,
'Converter' academies, primary, secondary, and special
schools
Members include Headteachers, Governors,
Clerks to Governors and School Business Managers
FASNA is apolitical
Freedom and Autonomy for Schools – National Association
www.fasna.org.uk
Present landscape
Freedom and Autonomy for Schools – National Association
www.fasna.org.uk
There are 4296 academies






1879 secondary schools
2260 primary schools
129 special schools
28 alternative provision
71% of all academies are 'converters'
Academies are not all the same – 'sponsored' or 'converter';
'stand-alone' or in MATS; or in larger 'chains'
 In addition there are over 2,500 independent schools, 3,750
VA schools and 736 Foundation Schools, so roughly 11,229
'autonomous schools'
Freedom and Autonomy for Schools – National Association
www.fasna.org.uk
Present Landscape
 Government has created a market of 'free' schools,
academies ('sponsored', 'converters' and 'chains'), UTCs,
studio schools, trust schools, foundation schools,
community schools and independent schools
 There is a crowded 'middle tier' – RSCs, LAs, Trustees,
Governors, NLEs, LLEs, Teaching schools, NLGs,
sponsored 'chains' of academies, MATS, commercial
offers – which is more school-led than ever before
 Patience is required for system leadership to grow and
mature
 'Regulators' include DfE, EFA, Ofsted and league tables
Freedom and Autonomy for Schools – National Association
www.fasna.org.uk
Standards have become more rigorous and
narrower:
 'Floor' and 'bar' raised
 'Satisfactory' is 'not satisfactory'
 Accountability frameworks different and tougher
 This is true for ALL schools
Freedom and Autonomy for Schools – National Association
www.fasna.org.uk
Challenge to Governors
Governance – the 30 year default –
Volunteers, usually parents, with single school perspective
becoming…
 'Non-executive directors of autonomous not-for-profit
public companies'
– a multi-school framework and perspective
 A movement away from the stakeholder model:
a movement towards 'skill-sets' but also true for
all schools
Freedom and Autonomy for Schools – National Association
www.fasna.org.uk
Effective Governance
Does your Governing Body PASS the test?
Is it:
 Professional in practice and membership?
 Accountable with robust structures?
 Strategic in operation and outlook?
 Skilled in challenging and supporting?
Freedom and Autonomy for Schools – National Association
www.fasna.org.uk
The continuing future
There will be:
 Some big external 'chains'(some perhaps commercial)
 More local 'chains' of academies, led by schools
 100s, if not 1,000s of small schools needing to collaborate to
remain viable
 Demand for real value for money under procurement deals
 Risk of financial implosion ('perfect storm') – NI, Pensions, Post
16 funding
 NO sight of National Fair Funding
 NO MORE MONEY
Freedom and Autonomy for Schools – National Association
www.fasna.org.uk
The continuing future
If Labour is elected:
 Fewer (or no more) 'converter' academies
and not 'subsidised'
 Definitely no more 'grants' of up to £175K to convert
 Some kind of 'local management', LAs or Regional
arrangement
 Some freedoms – curriculum, school day, services but
not full range of academy freedoms
 NO MORE MONEY
Freedom and Autonomy for Schools – National Association
www.fasna.org.uk
Joined-up future
Joined-up leadership
Headteachers, Governors and School Business Managers
For SBMs status and remuneration comes with
co-professional responsibility for strategic direction and
pupil progress, not just managing the finances
Freedom and Autonomy for Schools – National Association
www.fasna.org.uk
Strong school leadership is not about one person or
one set of skills





Schools need play to their strengths
Schools need to trust and embrace the specialists skills of all their Leadership Team colleagues
Schools need to nurture the talents of their best managers without the fear of being undermined
Schools need to learn how to effectively manage, delegate and encourage engagement
Strong school leadership through triangulation – we are better together!
Head Teacher
Effective
Engagement =
School
Effectiveness
School
Business
Management
Effective
Governance
Freedom and Autonomy for Schools – National Association
www.fasna.org.uk
Why schools need specialists
Schools are business operations
Specialist expertise is needed to complement teaching and learning
and effective governance
As school autonomy and operational complexity increase school
business management finds itself centre stage
The sector faces significant challenges but the new emerging
opportunities are equally exciting
Freedom and Autonomy for Schools – National Association
www.fasna.org.uk
Leading School Business Management Professionals will
need to ensure they….
Engage in the
wider
education
agenda
Share
responsibility
for the
strategic
direction of
school and
student
progress
Appropriately
challenge
Governors and
Head teachers
Demonstrate
authoritative
knowledge
and lead on
key areas of
school
operations
Manage
increased
accountability
Develop
innovative
approaches to
ensuring
financial
sustainability
Ensuring
operational
transparency
Freedom and Autonomy for Schools – National Association
www.fasna.org.uk
Together we are stronger!
Greater
depth of
expertise
Greater
reach
School Business
Management, Headship &
Governance
Appropriate
challenge and
accountability
Sector-led
System
Leadership
Greater
capacity
Broader
perspective
Freedom and Autonomy for Schools – National Association
www.fasna.org.uk
NASBM/FASNA Dual Membership Offer
for SBM Primary Clusters in receipt of DfE Grant
Dual membership benefits include:









Membership of two associations uniquely dedicated to your profession and the sector
Member-only e-bulletins, news updates and policy briefings
Access to the member-only resources from both FASNA and NASBM
An influential national voice with Government
A trusted support network – school-led support from FASNA Members and NASBM
Associate Practitioners
An online professional community providing access to networks of school business
managers across the country
Termly member magazines: 'The Voice' from NASBM and 'Academy Magazine' from
FASNA
Membership discount on training and National Conferences
Free attendance at a NASBM Regional Conference and regional briefing
Freedom and Autonomy for Schools – National Association
www.fasna.org.uk
Developing your professional practice
Effective Financial Management Guide
Effective Governance Guide
Key questions, actions, information, case studies www.fasna.org.uk
 SBM Professional Standards Framework – Take part in NASBM's
national consultation in summer 2015
 NASBM Fellowship Status – Apply from December 2014
 Understanding the SBM qualifications – Contact the NASBM Advice
Centre
To find out more visit www.nasbm.co.uk
The SBM Contribution to National Policy Implementation
Carl Fagan
Funding Policy Unit,
DFE
SBM PC Grant Conference
12th December 2014
Review of efficiency in the school system (2013)
•
The Government gives schools around £40bn a year in revenue funding.
•
Schools revenue funding remains has been protected in this parliament and remains
protected in real terms in 2015-16.
•
We must spend this effectively to deliver the best quality of education and best possible
outcomes for pupils
•
School leaders are the right people to decide how to spend the funding allocated to them.
•
In DFE, it is our role to create a framework within which schools can improve their own levels
of efficiency, while still maintaining the freedom to take the decisions that are right for them.
A Review of Efficiency in the Schools System 2013
The characteristics of the most efficient schools
Our research determined that the most efficient schools:
1.
Deploy the workforce effectively, with a focus on developing high quality teachers
2.
Make use of evidence to determine the right mix of teaching and education support staff
3.
Employ or have access to a skilled school business manager who takes on a leadership
role
4.
Make good use of financial benchmarking information, to inform the school's own
spending decisions
5.
Make use of school clusters, sharing expertise, experience and data, as well as accessing
economies of scale when making shared purchases
6.
Manage down back office costs and running costs
7.
Have in place a strong governing body and leadership team that challenges the school's
spending
The holy trinity- an efficient and well-run school
SBM
Heads/
Principals
Governors
The Department's Priorities
Create a
school led
system
Develop a
great
workforce
Protect
vulnerable
young people
Raise
standards
Prepare our
young people
for life in
modern Britain
Future challenges
General
Election
The deficit
School
budgets
Rising costs
Premises
Recruitment
A couple of questions…..
•
What do you think are the most significant
challenges in your cluster?
•
How could we help you to foster a greater
culture of efficiency at your schools?
carl.fagan@education.gsi.gov.uk
Buying Collaboratively – how
to make it work for you?
Helen Lumb
Commercial skills for schools lead
Why collaborate
•
Become an intelligent customer
•
Achieve procurement
efficiencies
•
Meet deadlines by sharing tasks
•
Get better services by knowing
what works for your schools
"Walk in your users shoes"
Variation in spending?
The current climate
So………… where can we start?
Save money time for a
financial health
check?
Pareto Example
Lets try it………...
• Thinking about the previous questions –
does the same situation apply in school?
• Think about the associated admin costs,
yours and your team ?
• Where would your Pareto line be?
• Can you identify Top 10 suppliers
• Identify 5 things that you might do.
Kraljic
KraljicModel
Model
H
Significant
Value for school
output –e.g.
Broadband
Access, school
MI modules
L
Leverage
Items
Strategic
Items
Non
Critical
Items
Bottleneck
Items
Risk – item scarce, few
suppliers or delivery
difficult
H
Gap Analysis
What can you do?
•
Analyse expenditure
•
Review your contracts
•
Identify opportunities for rationalisation
•
Deliver admin savings
•
Collaborate across key strategic spend areas
•
Benchmark and compare
http://www.education.gov.uk/schools/performance/
What to consider?
•
Risk
– What level of risk are we willing to take or will a higher level of risk
give us more options?
•
Are there any implications for senior leaders or Governors?
•
Better planning will make for an efficient and secure, process with
fewer legal risks
•
Award to one supplier only
•
Manage your contract
•
Accountability issues
We've taken the work out of finding good
deals in key spend areas…
The Department supports the development and delivery of
procurement efficiency savings in schools. Through:
•
working with partners to deliver the best procurement
deals for schools on specific goods and services and to
address procurement issues, change industry practice
and raise awareness of the pitfalls of poor procurement
practice
•
continuing to ensure schools can access support to help
them make informed procurement decisions
•
raising awareness of efficient purchasing methods
through our website and our partners.
Examples of spend areas…
•
Energy
•
ICT / Microsoft licenses
•
Insurance and Risk Protection Arrangement
•
Benchmarking products and services/Banking/acquiring services
•
Professional services: legal, due diligence and audit
•
Food
Examples of quick wins
•
''By using the new CCS RM1599
framework the school is saving 90% on
the new Xerox MFD agreement plus over
80% on the Service contract.'' Benthal
Primary School, Stoke Newington,
London
•
We've accessed the new RM1599 Lot 1
framework and we're saving over £1,500
a year. The greatest savings have been
on the new colour capable device, 34%
less for lease rental contract and 51%
lower for the service contract. We're
glad to say the service has been
excellent and we can now fund other
vital resources." Meadowgate School
Benchmarking Data Intelligence
•
Develop a benchmarking tool to help schools
/Academies identify typical costs for
commodities and services to help procure
better deals
•
Working with CCS, JDP Procurement and a
School Reference Group to identify and
analyse a quarterly basket of school goods
and services to agree "target prices"
•
Pilot with a Schools Reference Group – Dec
2014
•
Help Schools/Academies to negotiate better
deals
Public Sector Procurement –
what does it mean?
EU Procurement Directives – Financial
Thresholds
From 1st January 2014
EU Procurement Directives and
The Public Contracts Regulations 2006
For Schools & Local Authorities thresholds
are:• £172,514 Goods & Services (£111,676
for DfE)
• £4,332,012 Works (i.e. Buildings)
Regulations do not apply in full when the
estimated value of contract is below
threshold
but Treaty principles do
New EC Procurement Directives
Revised directives agreed by
EC June 2013. Anticipated to
be UK law by spring 2015
Changes to UK public sector
procurement regulations
are being highlighted to
schools in
www.buyways.co.uk
Cabinet office training
www.gov.uk/transposing-euprocurement-directives
Core changes to the new Directives
•
'Most economically advantageous tender' (MEAT) will become the
standard award criterion replacing "lowest price".
•
This includes:
– Quality,
– Environmental & social
– Innovative characteristics
– Transparency in sub-contracting
– Rules on abnormally low bids
"Light Touch" regime for Education &
Social Services
•
Exemption negotiated for Education & Social Services (& Health) to
use a "light touch" regime for services under 750,000 Euros.
•
The UK is required to put in place "appropriate procedures" for the
award of contracts under this process in the UK Regulations
•
The Cabinet Office has consulted on this & we await their proposals
Build your procurement skills
•
BuyWays – free eLearning for schools
giving a basic introduction to
procurement
•
six modules in the course, including the
Procurement Cycle, EU Legislation and
the new rules applying to procurements
from spring 2015, and Contract
Management
•
case studies to help you learn about reallife procurement, and short review
sections where you can test your
knowledge
Buying Collaboratively
Useful links
Procurement deals and
information
Buying
collaboratively
https://www.gov.uk/government
/collections/buying-for-schools
For school leaders, school business
managers, back office staff and
governing bodies in all schools
November 2014
https://www.gov.uk/government
/publications/schoolprocurement-buyingcollaboratively
helen.lumb@education.gsi.gov.uk
In at the deep end
A personal journey - 2009 to 2013
David Allen
NASBM Lead Associate Practitioner
December 2014
Content
• Background
• My experience
• Some things to have on the radar!
Norfolk – A Royal Rural County
9 Primary Schools
1 High School
Approx
1200 Pupils
1 Children's Centre
Where to start?
•
•
•
•
Governors – we need a Business manager
Heads – we need a Business manager
Assistant head – we need a Business Manager
Admin Team – we need a Business Manager
Deputy Head "I am not sure we need a Business Manager"
NCC Traded Services "You do not need a Business Manager"
Teachers "What's a Business Manager?"
What would you like me to do?
£500 000 Sports Development
Grant
Make us a lot of money!
It was as new for them as it was for me!
Not everyone will 'get it'
Self funding & sustainable
The Business Process
• Successful companies
Know your customer
Develop your product
Establish a quality
delivery
Fact-find
Establish service
Build capacity
Local issues?
• Mixed year groups in Primary schools
• Teaching Heads with significant in-class
Become an advocate.....
commitments
• Falling rolls and Budget implications
is part of the solution
• 'Collaboration
Long term Sustainability
and
not part of the problem'
• Ageing
infrastructure
• Development of IT
• Flat management structure
• Succession planning
• Changing LA role – change in services provided facilitation v's
Provision
Developing strategic direction
Demonstrate joined-up thinking…
Engage in whole school 'system'
leadership
Purposeful
leadership
Focus on
teaching
and
learning
Raising pupil
achievement
Effective
use of
resources
…Together we create an environment where success is inevitable...
For your journey…
1.
2.
3.
4.
Be an advocate of what you do…
Understand the Bigger Picture…
Listen, think and do…
What does collaboration really mean to you, your schools, your
governors?
5. How strong is your bond and vision?
6. Are you clear that business management is part of the wider collaboration
strategy?
7. Think short, medium and long term.
8. Are your tasks goals realistic in year 1, challenging in year 2 and a recipe
for success in year 3?
9. Have you allowed for training and development time?
10. How will you monitor progress against your objectives?
Value professional networking
So what about
collaborative
purchasing?
Haven't you got
a prescription
for that?
I think I poured it on my
cornflakes!
The changing landscape of
'school organisation'
Free School
Trusts
Youth
services
Further
education
Social
services
Through Schools
School Companies
Police
Health
services
Locality Clusters
Partnerships
Collaborations
Academies
Faith School Federations
Community
Federations
Special Schools
Academy Chains
What next?
• Feel empowered
• Opportunity knocks
• Choose your own adventure
The Evaluation Process
Carl Fagan
Funding Policy Unit,
DfE
SBM PC Grant Conference
12th December 2014
The SM PC Grant
• Over 700 expressions of interest
• 106 Applications
• 72 successful
• 48 Appointments made so far
• 21 payments made to schools/LAs in October
• Around 280 schools set to benefit from the Grant, the
appointment of a new senior, strategic SBM and from
working in a cluster.
• Very unlikely to be a SBM grant in 2015-16.
Future challenges
General
Election
The
deficit
Spending Review 2015?
School
budgets
Evaluation Process
• Mid year assessment of grant (mandatory)- Feb-Mar 2015
• 12 month grant assessment- autumn 2015
• 24 month evaluation- autumn 2016
Looking at
• cost/time savings
• efficiency improvements (i.e. getting more for less)
• improving grant applications
• revenue generation
• saving head teacher time
• impact on classroom
• sustainability
Should be completed by responsible person at lead school i.e. the person who signed the Grant Offer Letter.
Ministers will be VERY interested in the evaluation of this project
Recommendations for a future grant so far
• Schools need a LOT more time in order to join together in
clusters, agree a governance model for the SBM and make
an application;
• We can afford to be more flexible about numbers of
schools in the cluster;
• We can afford to be more flexible about match funding.
Questions
• Can you see any issues with us collecting this information
as set out?
• How can we make changes to the grant scheme to make
it more effective?