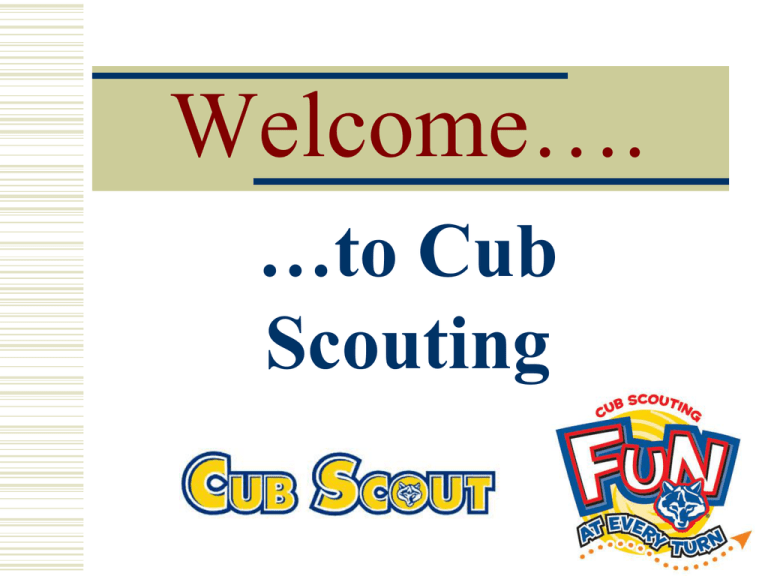 Welcome….
…to Cub
Scouting
What is Cub Scouting?
FUN with a purpose!
Character-building
Citizenship training
Year-round family program designed for boys
who are in 1st through 5th grade.
1st Grade
2nd Grade
3rd Grade
4th & 5th Grades
Cub Scout Membership
 Boys and parents join a Pack which meets
monthly.
 Boys are assigned to a Den based on their
grade in school, which meets 2-3 times a
month.
 Parent-led Committee that runs Pack meets
monthly.
Advancement Plan
 Boys need recognition for achievements.
 Provides age-appropriate fun for boys.
 Involves and strengthens family.
Bobcat
Arrow of Light
1st Advancement Earned
Highest Advancement Earned
Pack Activities & Calendar
School Night for Scouting
Cub Scout Launch
Holiday Party
Pinewood Derby
Blue and Gold Banquet
Crossover Ceremony/Graduation
Summer Camp!
Pack Organization
CUB SCOUT PACK ORGANIZATION
Chartered Organization
Chartered Organization Representative
Pack Committee
Cubmaster
Tiger Cub Den
Den Leader
1st Grade
Wolf Den
Den Leader
2nd Grade
Bear Den
Den Leader
3rd Grade
Webelos Den
Den Leader
4th & 5th Grade
Pack Leadership






Cubmaster
Tiger Den Leader
Wolf Den Leader & Assistant
Bear Den Leader & Assistant
Webelos I & II Leaders & Assistants
Committee Members
Adult Training
Required Training is
available online @
myscouting.org
 Youth Protection
Training
 Position Specific
Ongoing/Additional Training
 Indoor Sessions (twice/year)
 University of Scouting
(once/year)
 Roundtable (once/month)
Every Scout Deserves a Trained Leader!
Help and Support
Council website, www.lewisandclarkbsa.org,
provides links to:
 District events and news
 Program ideas and resources
 New Den Leader Kit
 Council Calendar
How is Scouting financed?
 Registration
 Annual Popcorn Sale or other money-earning
projects
 Dues (optional)
 Friends of Scouting
 United Way
Fill Out Applications
 Please complete your son's Cub Scout
application and your adult application
 Cub Scout fees:


Application Fee $15/year
Boy's Life Magazine (optional) $12/year
 Adult fees:

Application Fee $15/year
Thank You
 For joining the Cub Scouting program.
 For agreeing to work with your son in his
den and with his advancement program.
 For supporting the pack and their activities.
 For turning in your application forms and
fees.