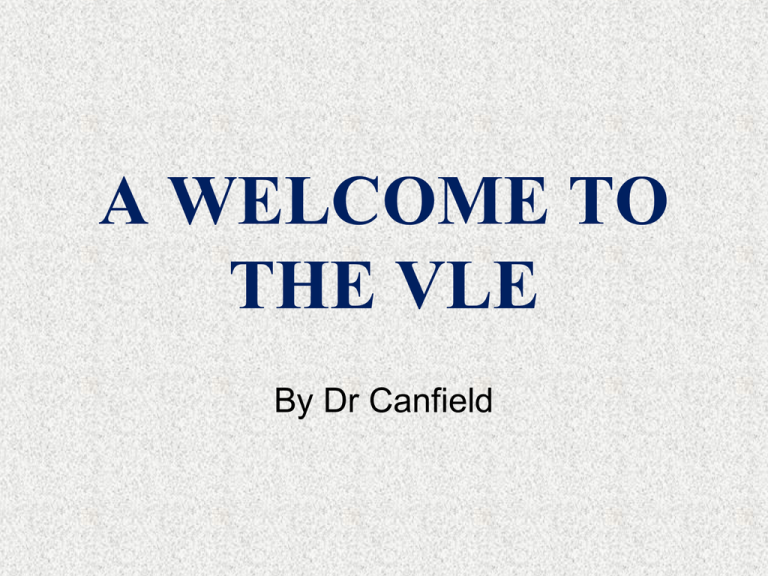 A WELCOME TO
THE VLE
By Dr Canfield
Purpose of this assembly
What is the VLE?
VIRTUAL LEARNING
ENVIRONMENT
• Logging on to the VLE?
• What can the VLE do?
Chatham Grammar School for Girls VLE
Teachers will use the VLE to:
• provide materials which are specifically targeted towards
individual students or groups
• support the learning of individual students
• make learning more accessible and more fun for students
• provide resources which can be accessed from any computer
any where at any time.
Learners will use the VLE to:
• extend learning beyond the classroom & school day
• access learning resources which support both class work and
homework
• learn at their own pace and in their own style
• access their learning at any time and from any computer eg
during times of absence
• communicate with teachers and/or peers using chat and
discussion tools
Finding the VLE
• School intranet
• School website (Links)
• By following the link:
www.skillspace.com/cgsg
Useful Information
Subject Resources
Subject Resources - Chemistry
My Space
You can personalise "My Page"
My Space – My Page
My Space – My Page – edit My page
My Space – My Digital Locker
My Space/My Digital Locker – Add a new file
Resize Images before you upload
Discussions and Blogs
Chat rooms
Acceptable Use
• Examples of banned words:
*Bum
**
*Sucks
****
*Loser
****
*Bitch
****
*Assessment
********
The VLE is helping to
make learning
accessible, different and
fun for everyone. It's
time to join in the fun!