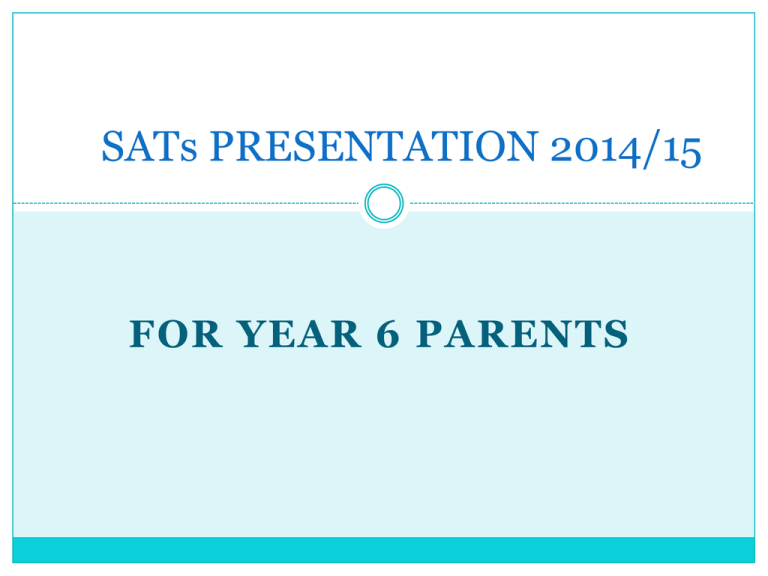 SATs PRESENTATION 2014/15
FOR YEAR 6 PARENTS
Aims of the session:
 To ensure that parents are aware of
the SATs tests in Maths and Literacy
undertaken by Year 6 children next
year
 To ensure that parents are aware of
the help and support available
When: 11th – 14th May 2015
Timetable for Level 3-5 Tests:
 Monday: English Reading Test
 Tuesday: English Grammar, Punctuation
and Spelling Test
 Wednesday: Mental Maths Test and
Maths Paper 1
 Thursday: Maths Paper 2
 Friday: Science Tests x 2 (internal)
11th – 14th May 2014
Level 6 Tests (afternoon)
Monday: English Reading Test
Tuesday: English Grammar,
Punctuation and Spelling Test
Thursday: Maths Paper 1 &2
English SATs
There are two tests:
• Reading Comprehension paper –
time limited – 1 hour
• Grammar, Punctuation and Spelling
paper – 45 minutes (new in 2013)
Content of Reading Paper
Three texts (not linked by a theme)
Types of questions:• Short answers
• Several line answers
• Longer answers
• Other answers, e.g. tick, draw lines or put a
ring around your answer
Writing
 This year writing composition levels
will be judged through teacher
assessment alongside the tests.
 'Technical' aspects of English will be
assessed by the grammar, punctuation
and spelling externally marked test.
English Grammar, Punctuation & Spelling
Test
 Paper 1: 40-50 short answer
questions including multiple choice
questions and short open resonse
questions where a word or short
sentence is required.
 Paper 2: spelling dictation test – 20
spellings in 20 spellings
Maths Test
 There are 3 separate tests
 Two non-calculator papers:-
Paper 1 – (45 mins)
Paper 2 – (45 mins)
• Mental Maths (20 questions/20
mins) – CD – 5 x 5 sec, 10 x 10sec,
5 x 15 sec
Science
No externally marked science
test this year.
There will be a teacher
assessment level reported to
parents along with other test
results.
SATs Levels
Most children at the end of KS2
should reach Level 4
A small percentage may
achieve level 3 or level 5
Level 6 English and Maths
tests are optional this year
How can we help your child?
 At school:
In
the weeks leading up to the tests
the children will have revision
sessions and the opportunity to
have a go at answering questions in
the SATs format.
SATs style questions will reinforce
learning carried out in class
How can you help your child?
 Use revision guides published by CGP –
orders can be placed for next day delivery.
Check the website:
http://www.cgpbooks.co.uk/pages/
home.asp
 Encourage your child to revise using some of
the suggested websites.
How can you help your child (cont)
 Make sure you know what homework is set and
encourage your child to do it
 Encourage your child to read widely
 Find opportunities for your child to use numbers
in everyday situations – the weekly
shopping/cooking
 Encourage your child to follow up interests and
talk about them
 Help your child to be ready to learn and not tired
 Make sure that your child does not miss any of the
tests
Study websites
Here are some websites our Year 6 pupils might find helpful with KS2 SATs Revision!

Literacy:
The English area of the Bitesize website is packed with activities and questions
to help you prepare for the National Tests in English.

http://www.bbc.co.uk/schools/ks2bitesize/english/
These revision pages have been put together by Woodlands Junior School to
help students with their revision.

http://www.woodlands-junior.kent.sch.uk/revision/engindex.html
Skillswise aims to help adults improve their reading, writing and maths skills. It
is targeted at Level 1 of the adult Basic Skills Literacy & Numeracy
Curriculums for England, Wales and Northern Ireland.

http://www.bbc.co.uk/skillswise/words/grammar/

You might like to try some spelling practise on this BBC spelling site
http://www.bbc.co.uk/schools/spellits/home_y6flash.shtml


and this site too
http://www.amblesideprimary.com/ambleweb/lookcover/lookcover.html
For spelling practice, Ambleside Primary offer an automated Look, Cover, Write, Check
word bank. Really useful for brushing up on Key Stage 2 spellings.
In 2013 the government introduced a new Grammar, Punctuation and Spelling test. You
What to do if your child is ill
during the SATs week.
 Inform the school as soon as possible –leave
a message on the answer-phone.
 If your child can manage to come to school
for the morning please ensure they do so.
 If necessary dose the child with a pain relief
substance to lower any temperature
 Your child may then go home after the test
Results
 In July the school will send you a report
telling you what National Curriculum
level your child has achieved in the
Maths and English tests along with
teacher assessment judgements and a
teacher assessment level in Science.
 In very exceptional circumstances the
school may decide to appeal if we feel
that the grade achieved is too low.
Stress and Feeling the Pressure
 We do appreciate that it is a stressful time
for children (and their parents!)
 Try to remain positive – a positive mental
attitude is a powerful tool
 Don't push the children too hard. Maybe
have a weekly timetable to use for revision.
 Have some sort of incentive for the child
once the SATs are over
SATs Party
 Friday afternoon party (15th May)
Parents
will be asked to contribute an
item of food and drink for the party
A list will be sent home in advance to
let you know what to provide.
In School After SATs
 What happens:
 School
Production
 Sports Day and other sporting activities
 Induction day(s) at their secondary school
 Activities provided by Willink School
 Projects specifically designed for Year 6 to
investigate
Any questions?
Please feel free to ask any
questions now or speak to one
of us later.
2014 Papers are available for
you to see.