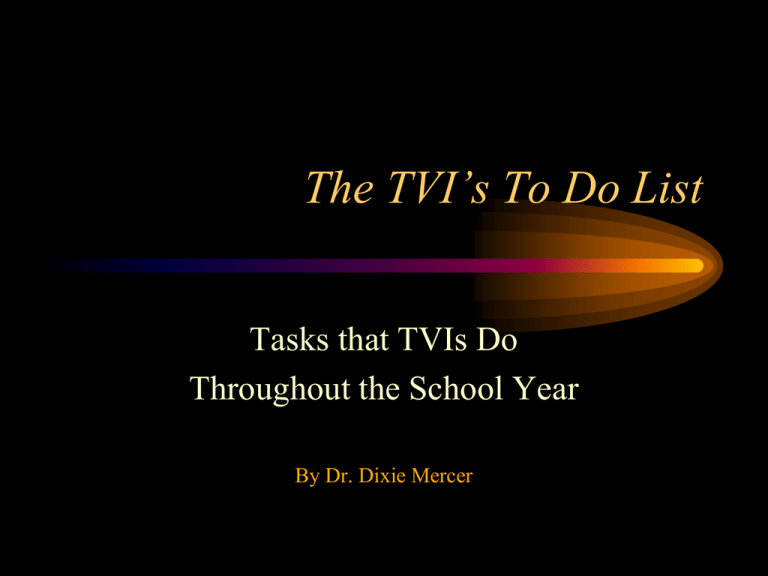 The TVI's To Do List
Tasks that TVIs Do
Throughout the School Year
By Dr. Dixie Mercer
Inservice Week
• Attend inservice meetings as required by
district.
• Wherever possible, make presentations to
groups of teachers on campuses where your
"high need" students are enrolled.
As Soon as Possible in August
• Meet with each Principal, Educational
Diagnostician, and teacher to introduce
yourself.
• When you call on them, be sure you leave a
folder which contains:
– your contact information
– a list of the typical roles that you perform
– any additional information that they may need
regarding your services
First Week of School
(if not before)
•
•
•
•
Textbooks are delivered to campuses.
Low vision devices delivered.
Collect schedules for each student.
Review folders to fill in dates for ARDS,
FVEs/LMAs, etc. needed
• Be sure your materials production system is
stocked and ready, including braille
production.
• Contact parents to introduce yourself
Second Week of School
• Begin direct services and consultation.
• Put together student notebooks that contain:
–
–
–
–
–
student information sheet
last FVE/LMA
eye report
notes on services
etc.
Third Week of School
• Contact the VI Specialist at the Education
Service Center and find out:
– When the Regional Plan meetings and/or VI
teacher's meetings are in your region
– Information about workshops being offered
– If they have you on their listserv
• Look on TSBVI's website for information
re: special courses offered throughout the
school year.
Fourth Week of School
• Update information for the APH registry.
• TRY to have a fairly standard schedule in
place which can be distributed to principals,
Diagnosticians, and parents.
Every 3-6, or 9 Weeks
• Document student progress on their IEPs.
First Week after Christmas Break
• Evaluate student's performance on IEP
Goals for information on ESY.
• If you haven't gotten a copy of the APH
Registration, start looking for it.
February
• Deafblind census
• Begin to look for applications to TSBVI
Summer School.
• Begin arrangements for service for ECI
students during the summer months.
March
• Review caseload for the following year, and
prepare to order state adopted text books.
• Before and after Spring Break, be sure that
you have current levels of performance on
each of your students for ESY purposes.
April and May
• Review caseload time allocations for the
following year, and develop a preliminary
schedule.
• Meet with your Special Ed. Director to
review the "State of the VI Program."
• Confirm service arrangements for ECI
students.
End of School
• Collect equipment for inventory, repair and
storage.
• Prepare for ESY, especially if you are going
to be the teacher -- YOU SILLY PERSON!!