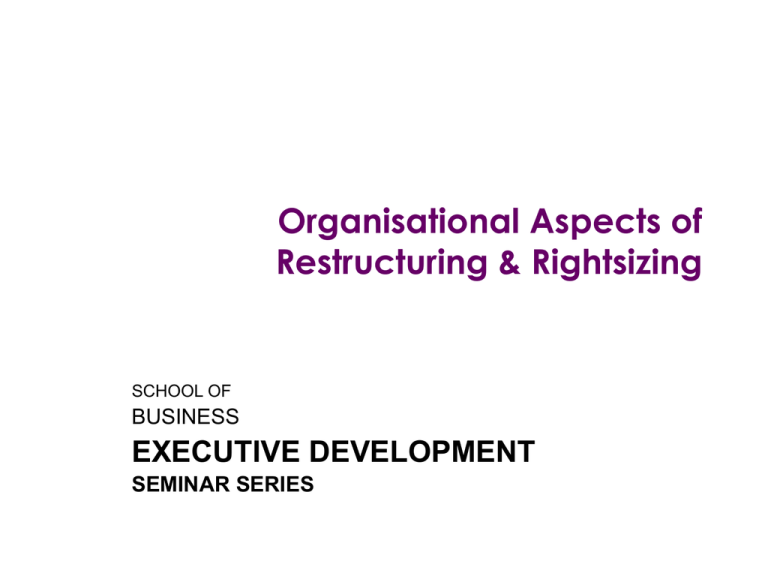 Organisational Aspects of
Restructuring & Rightsizing
SCHOOL OF
BUSINESS
EXECUTIVE DEVELOPMENT
SEMINAR SERIES
Changes
The Promise of a Rose Garden
• Change is inevitable, destruction is the order of the
day……..
• The Rose Scenario
– Re-imagine……Tom Peters
Changes
I'm uncomfortable when I'm comfortable.
- Jay Chiat
Tenure of CEO
• 2003 – 7.6 years globally
• 2003 – 57% of new CEOs in ASX top 200 companies
were from outside
Booz Allen Hamilton/BCA study 2004
Why?
•
•
•
•
•
•
Corporate performance
Competition
Business rationalization
De-regulation
Merging
Acquisition
Process
•
•
•
•
Rumours
Partial facts
Formal announcement
Individual notice
Issues with Merger/Acquisition
•
•
•
•
Determination of key posts
Selection of staff
Cultural alignment
Alignment of terms and conditions of employment
Organisational Implications
•
•
•
•
•
Redistribution of power
Leadership
Cultural revolution
Panic
Anticipation
Approaches
• Kill and heal
• Gradual transmission
The grieving process:
:
Denial — "It can't be true!" "I don't believe it!"
Bargaining — An effort to re-create events, to change life
back to what it was before.
Anger — Anger follows the initial acceptance of the situation.
Depression - The individual becomes apathetic, listless.
Acceptance — The individual comes to accept the reality.
Good HR practices
•
•
•
•
Enable employees' psychological preparation
Building trust – keep employee abreast of events
Outplace arrangement
Those who remain are watching the Management!
Thank You!