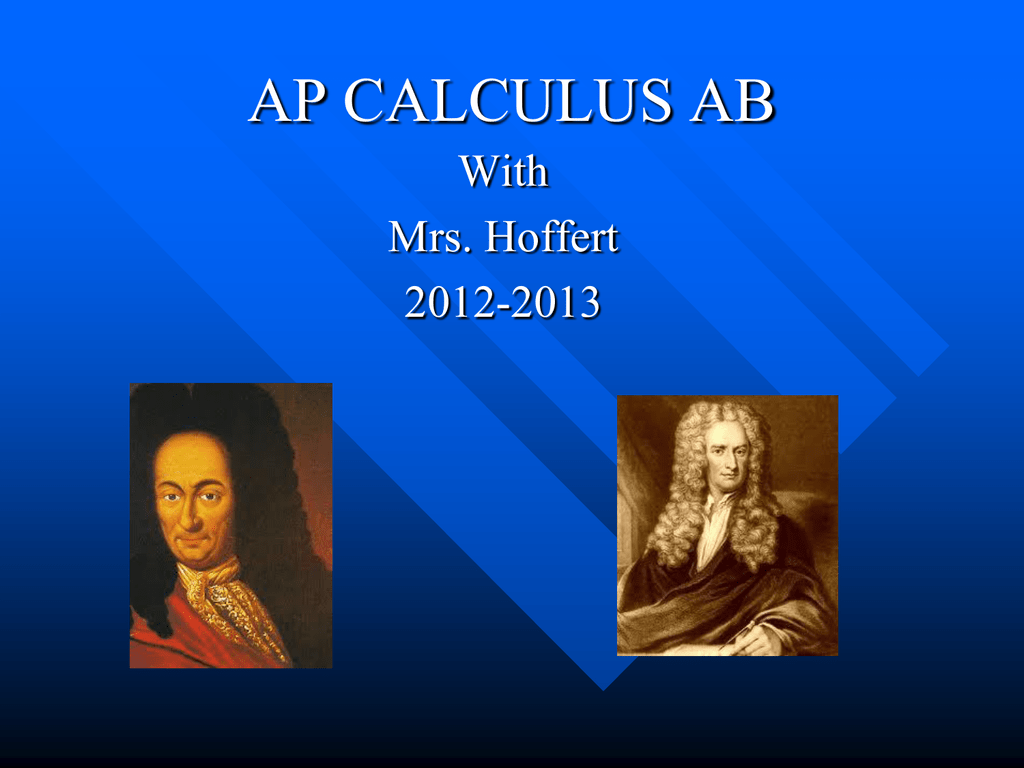 AP CALCULUS AB
With
Mrs. Hoffert
2012-2013
Course Expectations



BE HERE!
BE ON TIME
BE PREPARED
–
–
–
–
Take
Book
Notebook
Pen/pencil
Graphing calculator
» TI-84 required
the AP exam on Wednesday May 8th 2013!
Grading Policies


Total Points System
Class work
– Student responsible

Homework
– Daily
– AP Free Response questions
will be graded according to
the AP scoring rubric.

Quizzes
– Announced and
unannounced

Tests
– Announced (minimum 1 day
notice)
Homework
Every day
 In Notebook
 Randomly checked

– HW Quizzes
– AP Free Response Questions (FRQ)
Make-up Policy


Make up work is to
be arranged the day
you return to class.
If you know you will
be absent, get
assignments ahead of
time.
Home Access Center


Parental access to student grades are
available through the district website
Students are to use this also to check
grades
Web Page/Moodle


Mrs. Hoffert's teacher webpage
has general information and a link to
Moodle
Your daily course information is in
Moodle
– Resources for each chapter
– Solutions
– Check Moodle Daily!
EXTRA HELP




EHS Math Teachers are assigned tutoring duties during
several periods.
Students may sign out of any study hall to receive help.
Schedule is posted in my room. Study hall teachers should
also have a schedule.
Make an appointment with me if the study hall tutoring
cannot be utilized.
HAVE A TERRIFIC YEAR!