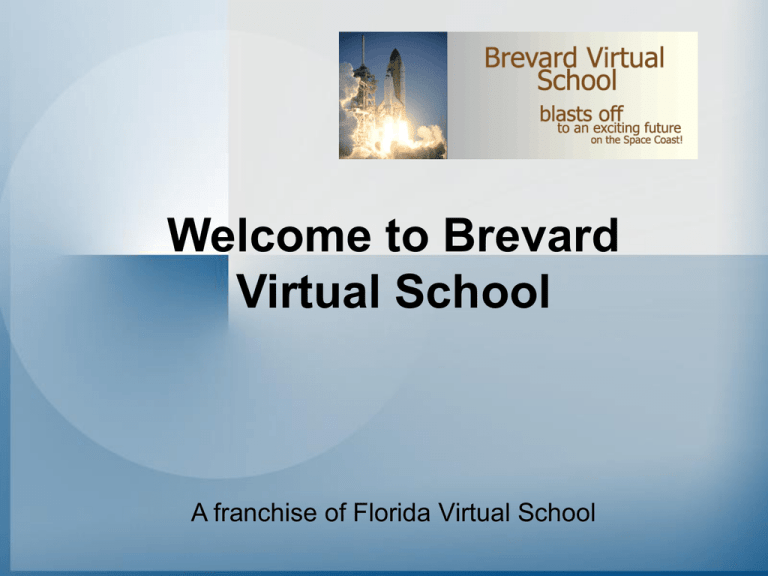 Welcome to Brevard
Virtual School
A franchise of Florida Virtual School
Brevard Virtual School
All courses are taught by Brevard
teachers, for Brevard students.
BVS is a franchise of
Florida Virtual School.
Welcome to Economics!
•
•
•
•
Currently teaching at Eau Gallie
High School and with BVS
Nine years teaching experience
Currently teaching Economics,
Economics Honors, and AP
Microeconomics
National Board Certified
I am Mrs. Heather Price,
your instructor.
Personal Information Verification
I need to verify information you entered during registration:
•
•
•
•
Spelling of your name
Grade level
Mailing address
Phone numbers
•
•
•
•
Student email
Parent email
School name
Counselor name
Your Internet Browser
Will you be using AOL to
access this course?
•
•
•
•
When using AOL, log into your
account.
Once logged in, minimize the page.
Double click on your Internet
Explorer icon.
Use Internet Explorer to navigate
the course instead of AOL, which
may conflict with our platform.
Your Support System
The best place to start when you have
a problem, is with me.
EMAIL
PHONE
If you do not need immediate
assistance, email me. I will
respond within 24 hours.
If you need immediate assistance,
please call me. I am available
most evenings until 8:00 pm.
hprice1@bvs.flvs.net
321-255-5857
Your Support System
As you begin working, it is important to know your BVS
administrative staff. They are all here to help you.
Dr. Walt Christy, Principal
Dave Goodman, Counselor
Hope Ascher, Co-franchise
manager
Elaine Sims, Registrar
Ginger Wright, Co-franchise
Manager
Your School
Counselor is an
important member of
this team. Students,
Parents, and the BVS
team will use your
counselor to help
ensure success.
Your Support System
Hope Ascher
Mrs. Ascher is like an assistant principal
who works with curriculum and the
guidance department. If you or your
parents have questions or concerns
with BVS, please contact her.
321-633-1000, ext. 390
Ascherh@brevard.k12.fl.us
Dave Goodman
Mr. Goodman is like your school
counselor. If you or your parents
have questions or concerns with
BVS, please contact him.
321-633-1000, ext. 272
Goodmand@brevard.k12.fl.us
Ginger Wright
Mrs. Wright is available for technical
support. If you or your parents are
experiencing technical difficulties,
please contact her.
321-633-1000, ext. 316
Wrightg@brevard.k12.fl.us
Elaine Sims
Mrs. Sims is the school's registrar.
She handles your registration and
other necessary paperwork. You
can contact her regarding
registration concerns or
emergencies.
321-633-1000, ext. 382
simsela@brevard.k12.fl.us
Getting Started in the Course
Before logging into your course, visit the BVS homepage.
Useful BVS announcements will be posted here.
http://bvs.brevard.k12.fl.us
Logging Into Your Course
https://brevard.flvs.net
Enter your
Username &
Password
Getting Started
Use the navigation bar to
move through the site.
Announcements for
the course
Course Information
Under "Course Information" you will find a tutorial for operating
within the course platform, "Educator Orientation". If you have
never taken a course with BVS or FLVS, you should
complete this tutorial before you begin your coursework.
Pace Chart
Pace Chart
Print your Pace Chart. Post a copy in your work space and in a public area, like
the refrigerator. This will help you to stay on schedule and finish the course.
Academic Integrity
To Start Working in the Course
To access
assignments
For each Module, begin
with the Introduction.
Module Checklist
Rubrics
Assessments
You can access all of
your assignments here
Submitting Assessments
When ready to turn in,
check "Submit for
Grading" and then click
the "Submit" button
The Gradebook
Assessments
Your current
average
Communication is
Essential
• Teachers will schedule monthly phone conferences with
students and parents.
• Monthly progress reports will be sent, via email.
– Your grade will be based on the work you have
completed.
– Grades will be temporarily lowered if you are behind pace.
• Announcements for BVS will be on the BVS Homepage.
• Announcements for the course will be on the Announcement
Page-the first page you see after logging into the course.
• Most information will be given via email. You must check
your email, within the course, on a regular basis. Twice a
week is recommended.
• Parent email addresses will be used to keep you informed.
Grace Period
Nine School - Day
Grace Period
BVS offers students a grace period, beginning with
the first day of your activation. This allows you to
withdraw from the course without penalty.
If you decide to withdraw from the course, contact
your instructor before your grace period ends.
BVS and Parents
Parents play an important
role in online learning.
You are encouraged to
access student accounts
and contact the instructor
and administrative staff if
you have questions or
concerns.
Questions??
Do you have any questions?
Feel free to contact me in the future,
if questions arise.
Welcome to Brevard Virtual School
We look forward to working
with you!