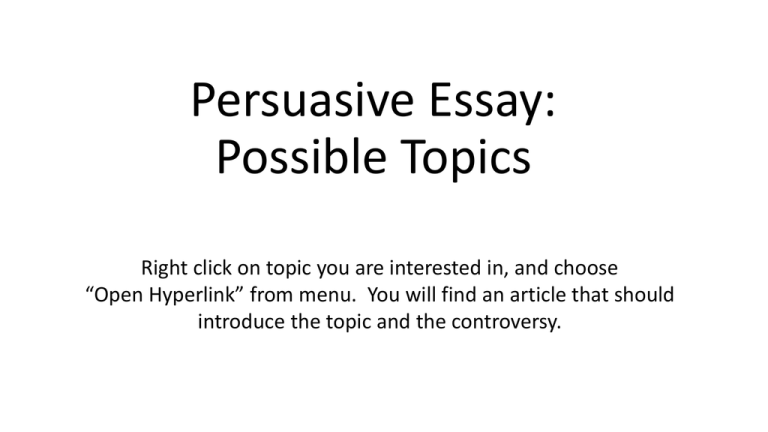 Persuasive Essay:
Possible Topics
Right click on topic you are interested in, and choose
"Open Hyperlink" from menu. You will find an article that should
introduce the topic and the controversy.
• If Football Is So Dangerous to Players, Should We Be
Watching It?
• Should the Government Limit the Size of Sugary
Drinks?
• Do You Think a Healthier School Lunch Program Is a
Lost Cause?
• Should Athletes Who Dope Have to Forfeit Their Titles
and Medals?
• How Concerned Are You About Climate Change?
• Do You Think a Longer School Calendar Is a Good
Idea?
• Is It Wrong for a Newspaper to Publish a Front-Page
Photo of a Man About to Die?
• Should You Care About the Health and Safety of Those
Making Your Clothing?
• Does Reality TV Promote Dangerous Stereotypes?
• Would You Feel Safer With Armed Guards Patrolling
Your School?
• Should Women Be Allowed to Fight on the Front Lines
Alongside Men?
• Do Violent Video Games Make People More Violent in
Real Life?
• Can Graffiti Ever Be Considered Art?
• How Should Children Be Taught About Puberty and
Sex?
• Does Buying and Accumulating More and More Stuff
Make Us Happier?
• Do 'Shame and Blame' Work to Change Teenage
Behavior?
• Do You Think Life Exists — or Has Ever Existed —
Somewhere Besides Earth?
• What Should We Do to Fight Sexual Violence Against
Young Women?
• Do You Think Child Stars Have It Rough?
• How Important Do You Think It Is to Marry Someone
With the Same Religion?
• Should There Be Stricter Rules About How Coaches
Treat Their Players?
• Do Bystanders Have a Responsibility to Intervene
When There is Trouble?
• Is Prom Worth It?
• Should Birth Control Pills Be Available to Teenage Girls
Without a Prescription?
• Should What You Say on Facebook Be Grounds for
Getting Fired?
• Would You Want a Bike Share Program for Your
Community?