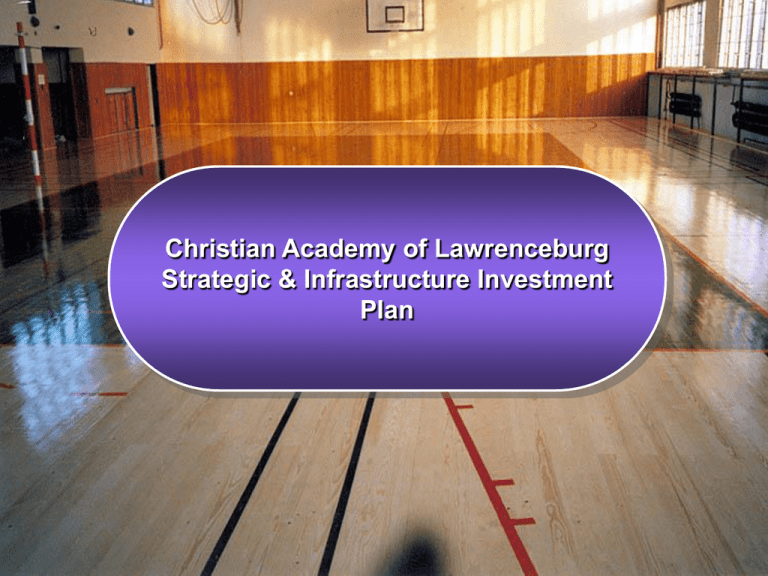 Christian Academy of Lawrenceburg
Strategic & Infrastructure Investment
Plan
Agenda
1. Introduction
2. Infrastructure
3. Facilities & Technology Plan
4. Current Systems
5. Phase I-III
6. Notes of Interest
Introduction
The Christian Academy of Lawrenceburg's Strategic Vision
2020 sets an investment strategy towards
infrastructure/mechanical systems and technology. This
investment is necessary due to the current age of the
mechanical systems that are both inefficient and consumes
significate maintenance/financial resources. Replacing
aged equipment will significantly reduce utility and
maintenance costs that will offset a large majority of the
debt servicing costs while concurrently providing significant
capital cost avoidance and advance the educational
learning environment.
Introduction
In August 2012 the Christian Academy of Lawrenceburg
obtained its current 46,000+ square foot facility with 7+
acres of adjoining property. This facility enables the
Christian Academy to pursue advancement in expanding its
current student base of 132 to approximately 500 students.
The facility while adequate in nature requires some
infrastructure investment to bring it in line with a 21st
Century Education Center of Excellence that the Christian
Academy has become.
Infrastructure
The 45,000+ square foot facility contains three separate
boiler systems along with two central heat pump systems
and window units that provide heat & a/c across the entire
campus.
The age of the boiler and ancillary systems vary with most
exceeding 30+ years. These aged systems have become
extremely inefficient, labor and maintenance intensive in
comparison with newer type systems.
The facility also contains 145+ windows of which most were
installed in the 1950's. Many have plexiglass inserts vice
glass.
Infrastructure
Infrastructure
The Christian Academy contacted the Perfection Group in
the summer of 2014. The Perfection Group provides
energy efficient life cycle solutions for infrastructures. The
major reasons supporting this measure are:
•
•
•
•
•
•
•
•
Aged and inefficient HAVC & mechanical systems
Maintenance & labor costs exponentially rising
Investment in facilities to promote an increased market share
Investment in facilities to extend the facilities life cycle an additional 25+
years.
Improve and maximize the educational learning environment
Advance academic achievement
Investment in the future of the community
It's the right thing to do for the students, parents, school and community
Infrastructure
The Perfection Group perform a detailed analysis on the
current infrastructure, mechanical systems, electrical and
lighting in the fall of 2014.
The data, findings and recommendation were presented to
the Board of Directors in the fall of 2014.
Infrastructure Plan
The Board of Directors agreed with the following
recommendations.
• Remove all existing mechanical systems associated with HVAC .
• Replace all mechanical systems with energy efficient system designed to
meet the current and future needs of the school to include building
automation control.
• Replace all 145 windows excluding the elementary wing
• Replace all lighting interior/exterior and gymnasium with efficient T-12 & T8
low wattage lighting technology
• Integrate educational technology in the classrooms (smart boards,
projectors, etc.)
• Upgrade electrical as required/needed
Boilers
A/C units
Lighting
Windows
Before
After
Windows
Before
After
Windows
Before
After
Windows
Before
After
Technology Plan
The school is working with Creative Image Technology on
the implementation of educational technology within all of
the schools classrooms grades Preschool-12th.
-Installation of interactive smart boards and projectors
- Expanded Wi-Fi capability
-Computer software and Hardware
-Audio enhancements
The technology implementation is proven to increase
interaction, performance in STEM fields along with
increased academic performance and a decrease in
behavior and or comprehension issues.
Phase I
Given the significance, scope and magnitude of this project
it comes with considerable financial cost. In order to model
the stewardship, responsibility and leadership that we
impart on our students, the Board of Directors has decided
on a phased approached to the project.
The Christian Academy is currently pursuing capital
investment to begin Phase I sometime in Late April 2015
with scheduled completion by August 2015. The following
in the areas identified for Phase I
Phase I
-Replacement of Elementary wing Mechanical/HVAC
system
-Replacement/rehab of main boiler
-Technology into every classroom
-Install new Mechanical/HVAC in gymnasium
-Replace Basketball goals in the gymnasium
-Repair, refinish and remark gymnasium floor
-Install (2) new scoreboard in gymnasium
-Replace all windows in gymnasium
-Replace (2) exterior doors in Preschool
Phase II
 Installation of Chill towers for Main two story building to
provide central A/C and fresh air intake.
 Replacement of main boiler, boiler lines, radiators and
heat registers
 Replacement of 139 windows in two story part of building
as well as hallways, cafeteria and kitchen.
Phase III
 Replacement of all windows in the elementary wing
 Replacement of all lighting throughout campus with low
wattage lighting technology.
Notes of Interest
The Phase I initiative will significantly decrease utility cost
and eliminate current maintenance expenditures with new
warranted equipment.
The pursuit of these and other school initiatives will result in
capitalization of the facilities capacity. Projections of
student growth are expected to rise at a minimum of 8%10% year to year reaching 200+ students in 5 years and
ultimately reaching capacity of an estimated 500 students
by year 10.