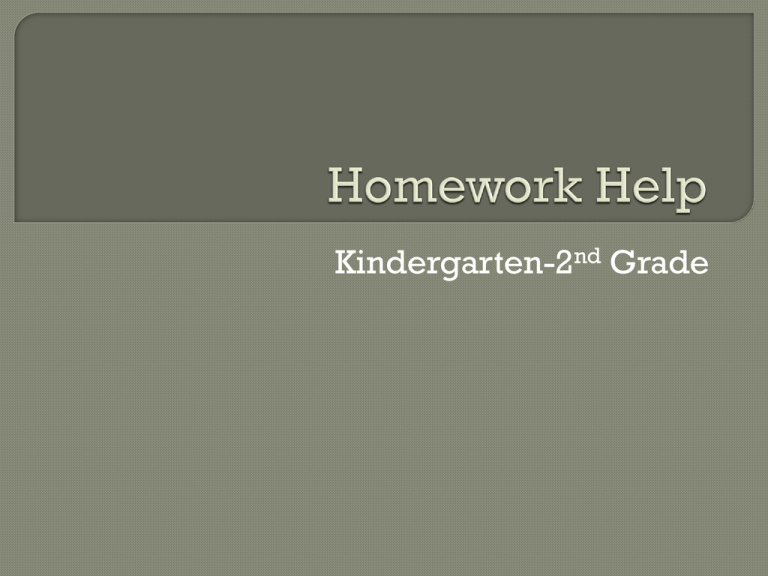 Kindergarten-2nd Grade
 Homework
is practice and/or review of
what we learned in class. It shouldn't be
a frustrating experience for students.
 Consistent
place to work
 At a table or spot where it is easy to write
 Use a clipboard if your child is tired of
sitting. Your child can lay on his or her
stomach or stand to work.
 Away from noise or distractions
 Create a Homework Box to keep in your
homework spot: pencils, colored pencils,
crayons, markers, scissors, glue, note cards
(flashcards)
 Consistent
time. After-school activities are
time consuming; however, please help your
child get into the routine of completing
homework.
 May be helpful to provide a break between
school and homework.
 Take a short break during homework if
needed.
 K-2 Homework should only take 20 minutes.
 Set a timer if that will help your child stay on
task during homework.
 Designate
who will help your child if he
or she needs help during homework
time. Parents can provide guidance for
homework, but the child should complete
the work.
 Remind your child to check back over his
or her work (parents may want to do this
in the younger grades).


Read with your child each night. After you or your child
read a book, ask some of these questions.
Fiction Questions:
Who are the characters? What were they like?
Where or when did this story happen?
What were the most important things that happened in the story?
Was there a problem? What was the solution?
What do you think the characters learned in the story? What does this
story teach us?
• What does this story make you think about?
•
•
•
•
•

Nonfiction Questions:
•
•
•
•
What is the book mostly about?
What do you remember about the topic?
What are the most important things to remember about the topic?
What else do you know about the topic? What does this book remind
you of?
 Remind
your child to write his or her name
on all homework.
 Homework should be neat and completed to
the best of the student's ability.
 Provide a snack before homework if your
child needs one. Provide a water bottle for
your child to have during homework.
 Consistency and structure may prevent
some of the homework excuses (ex. "It's too
easy or too hard!").