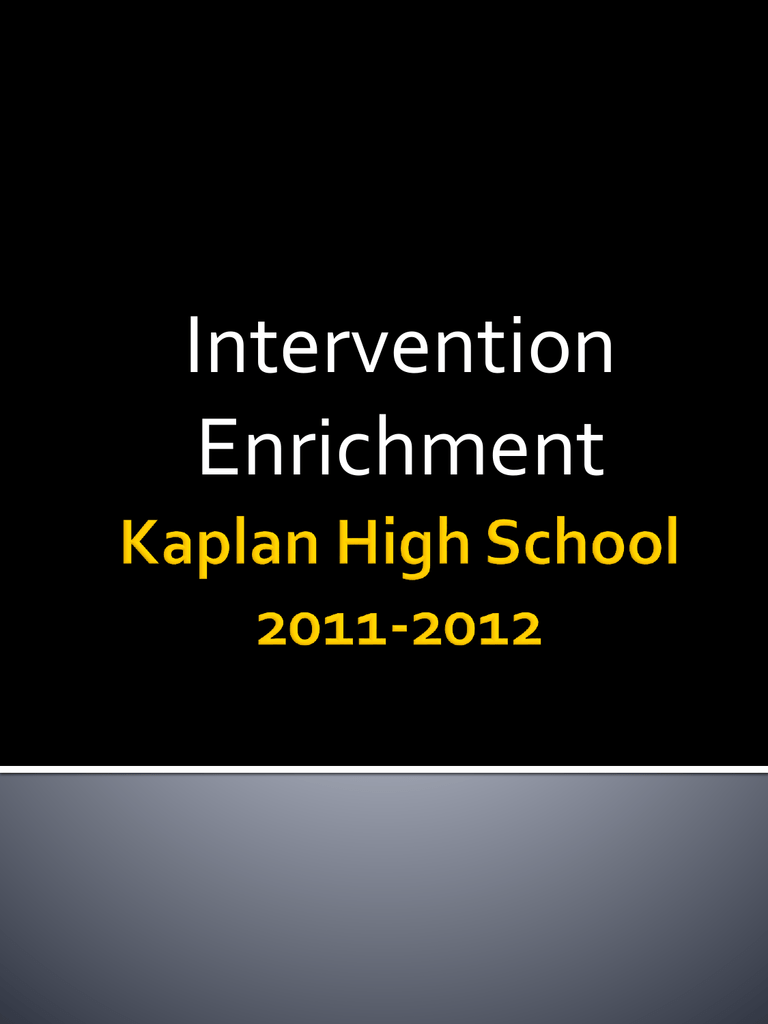 Intervention
Enrichment





Today all enrichment teachers will
submit on a slip enrichment and
description of interested course.
Students have submitted areas of
interest for enrichment classes.
Teacher and student suggestions will
be evaluated and administration will
meet with teachers after lunch to
decide on enrichment (individually)
Remember there are no lesson plans
required and no grades given for
enrichment. Choose something the
students will enjoy.
Tuesday students will have lottery signup – no more than 25 to an enrichment
class.
Do not pick an enrichment that requires too much set up - we
have 18 minutes.












ACT PREP
Art
Sewing or embroidery
RAP music or how to mix music
Guitar
First Aid(basic procedures)
Bible Club
Relaxation Methods
Study Hall (assistance)
Basic money management ( writing
checks, opening a bank account
etc.)
Pet Care (Animal Science)
Student 's favorite enrichments were: Desktop Publishing and Rock
University. They also said that Peer tutoring and PBIS peer mentors
were beneficial.



STUDY ISLAND will be a
mandatory session.
Credit recovery and LVS will be a
session.
Academic Core Teachers who the
2nd six weeks and thereafter have
LOW failure rates and have:
1. Incorporated differentiated instruction and
utilized Study Island
2. Targeted students in red group or retaught
whole group sessions
in Assignment Statistics Report.
WILL BE ABLE TO TEACH an Enrichment for 2 days
a week (due to remediation not needed)



On Friday of this week we will
have a trial run.
Week 2 of school all students will
report to enrichment.
Week 3 – intervention and
enrichment should both be
operational.
Use for struggling, retaking test(grade recovery)
and make-ups or individual tutoring.
 Must target at least 5-10 students- you should
generate an Assignment Statistics report and
target these kids. GRADES WILL BE
MONITORED to see if necessary students are
getting help. (large sessions can get inclusion
assistance)
 Inform student to attend and give pink
intervention pass and then put on submit
list(email or send to ISS by beginning of 5th)
5th, 6th and 7th students are put on the next day's
list.
 Priority days
Monday – English
Tuesday – Social Studies
Wednesday – Science
Thursday – Math
Friday – open (suggested target high level
students) or grade level meetings

(give preference if student is scheduled for more than one session on
assigned day. May release to go to other teacher if finished with you)
send remediation list to ISS by end of
5th period(by email) pink slip to
student – just don't tell them.
ISS will use a checklist to report to
office who has NOT submitted an
intervention list.
5th period ISS is to post list template
to MOODLE
5th period Office Aid will deliver
printed absentee list and copy of
intervention list to teachers who
want a hard copy. A list will also be
posted in the mall.
(Suggestions you may want to post a
list on your door).







Do not teach to the middle (mass.)
Set up your classroom into working
centers. For example test takers or
make-up students, peer tutoring, oneone teacher tutoring.
Establish procedures for how you will
operate.
Utilize Study Island
Do not overschedule students where
you can not control your class.
Administer to all NO SHOWS an after
school detention. If you need help
contacting a student – call
administration.
Do not allow student to sit in your
room unless you are visiting.
1.
2.
3.
4.
5.
6.
7.
8.
9.
10.
11.
12.
13.
14.
15.
16.
17.
John Phelan
Jeff Davis
Craig HebertMary Pat Lachaussee –
Danielle Greene
Shay Herpin –
Curtis Bufford –
Craig Blanchard
Stephen Loteif Alvin Romero Patty Richard –
Donald Richard –
Angela Grant –
Alyson Bourque –
Timmie Melancon
Tim Gabor –
Jenny Mire Estee' –
Not giving students a PINK slip just
telling them.
 Enrichment teachers not checking list
to take roll.
 Teachers not submitting list on time.
(changed to end of fourth-beginning of
fifth).
 Teachers not knowledge about



DIFFERENTIATING INSTRUCTION –
intervention should incorporate centers and
needed help for STRUGGLING students. –
make-ups are the last priority.
If students sign-up with you and NEED help
make sure you put their name on the list.
Give students a After School Detention if
they are a NO SHOW. If you need help
tracking a kid – buzz the office.


When an intervention teacher is
absent students go to
enrichment.
When an enrichment teacher is
absent – students must read
book for 20 minutes.
--This announcement will be made
before LUNCH.
 Students who skip go to after
school detention.
 There is no negotiating to skip
INTERVENTION.