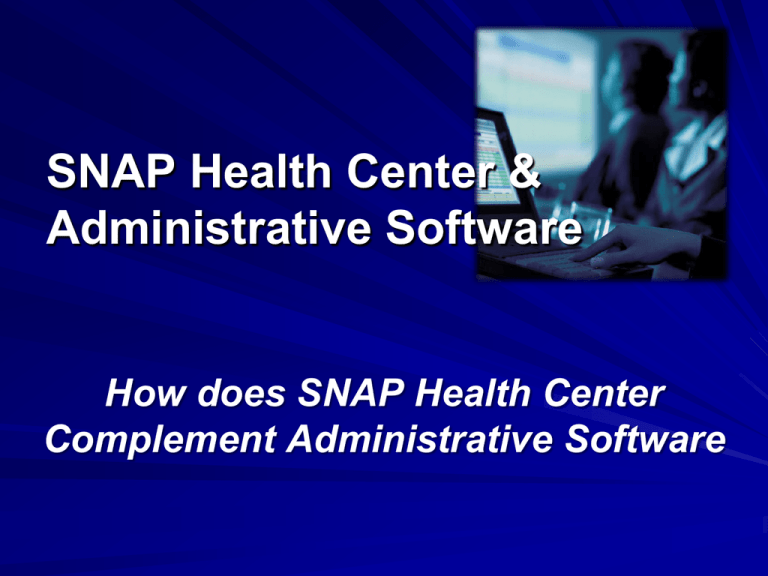 SNAP Health Center &
Administrative Software
How does SNAP Health Center
Complement Administrative Software
Secure, scalable, easy to
install, easy to implement,
easy to maintain….
SNAP Health Center Technology
SNAP was developed using Visual
Studio® and utilizes the software
Microsoft SQL Server® as its database
engine.
SNAP includes free MSDE 2000;
however, it may also be used with existing
MS SQL 2000/2005/2008 installs.
Microsoft Certified Partner
& ISV Solution Partner
SNAP Health Center meets all installation
requirements set by Microsoft® and has
passed the Microsoft® ISV Platform Test.
Demographic Data Synchronization
PSNI has a reputation for having some of
the most robust and easy to use tools to
import student data from your SIS.
Can SNAP Communicate with
Administrative Software?
SNAP Health Center includes three
import tools Express, a SIF Agent, and
SNAP Live. All three tools have
successfully interfaced with PowerSchool.
Express is a manual data import utility.
If student data can be exported to
a delimited or CSV file then the
data can be expressed into SNAP.
SNAP is SIF Compliant/Certified.
SNAP Live connects to any ODBC
compliant database and automatically, on
a user-defined schedule, copies
student data into SNAP Health
Center's database.
This new state-of-the-art automatic
student update tool can import up to 59
fields from your student information
system (SIS).
No School too Small,
No District too Big
SNAP is suitable for any school/district
size, and is scalable to meet the needs
of a growing student population.
SNAP can manage database volumes
for large districts with hundreds of
schools and infinite student populations
to smaller independent schools
Hardware Requirements
Stand Alone Systems
– OS: Microsoft Windows XP or higher
– RAM: 512MB Minimum
– Hard Drive Space: 500MB + 50MB/year/1000 students
Client Computer for Networks
– OS: Microsoft Windows XP or higher
– RAM: 512MB Minimum
– Hard Drive Space: 200MB
Server Computer for Networks
– OS: Microsoft Windows Server 2003 or higher
– RAM: 1 GB minimum
– Hard Drive Space: 500 MB + 50MB/year/1000 students
Installation
Options
• Standalone
• Networked
• Web-Enable
SNAP for the Web
One installation services entire district
Mix both client/server and Web access
Same full featured user interface
Operates on Mac / Windows / Linux
Security: 128 bit encryption
Technology's Role in
Improving Health Services
and District Performance
Technology in the
School Nurse Office
Decrease exposure to liabilities
Reduce errors
Improves quality of care
Increase productivity
Maximize efficiency
Improves communication between nurse,
parent, faculty, and administration
About 50,000 school nurses
are employed in America.
According to the Center for Disease Control
and Prevention, schools should have one
nurse for every 750 students (NEA).
School Nurse Ratio / Statistics
The workload of school nurses has
increased since 1975, when the federal
government mandated that schools
accommodate disabled students,
clearing the way for children with
feeding tubes, catheters and other
serious medical conditions to attend
school (FoxNews.com).
Summary Health Statistics for
U.S. Children: National Health
Interview Survey, 2006
• Nine percent of U.S. children under
18 years of age suffered from hay
fever in the past 12 months, 12%
from respiratory allergies and 13%
from other allergies.
• Four and one-half million children 3 –
17 years of age (7%) had Attention
Deficit Hyperactivity Disorder
(ADHD).
• In 2006, there were 9.6 million
children in the United States (13%)
who had a health problem for which
prescription medication had been
taken regularly for at least 3 months.
On a Positive Note…….
• In 2006, the majority of children in the
United States enjoyed excellent
health (40 million or 54%), and
another 21 million children (28%) had
very good health.
Even if the majority of students
are in overall good health, it still
does not prevent the daily
onslaught of visits that occur
throughout the day.
….and for some students,
the school nurse is the only
healthcare professional
they ever see.
A typical day can encompass…
Injuries
Preventing Infection
Home Accidents
Immunizations
Hearing & Vision
Testing
Screenings
mental, emotional,
and social problems
including arranging
for disadvantaged
students to receive
breakfast and clothing
and even helping
students cope who
critical home issues
A typical day may also include
caring for students
with diseases such
as diabetes and
asthma, and
special needs like
tube-feeding……
A typical day also includes a full
schedule of peak flow metering,
glucose readings and medication
administrations – many of which are
controlled substances,
such as Adderall, Ritalin,
& Vicodin
According to a 1999 Survey
of School Nurses
98% have saved a child's life
82% have identified an abused
child
67% have counseled a
depressed/suicidal student
(NASN, 1999)
Regardless of these alarming statistics,
school budgets do not change.
Sometimes hiring additional
nurses is not an option.
The funds are not available; budgets
have been stretched to their limits.
Each of the district's departments
have acute needs to be met.
If hiring an additional nurse
to meet the demand
of the students' healthcare
needs is not an option,
what options are there?
A nurse's office that
has the resources to
support efficiency can
increase productivity,
while creating a more
organized environment.
Technology and innovation
are part of every environment.
Imagine being with out some of
the software that is currently
being used in your office.
Secretaries & Administrative
Assistants could not perform
their work without a word
processor.
Accountants could not perform
their tasks without financial
software, Excel, or Quickbooks.
Administrators could not
analyze their industry or achieve
their goals without the reports
provided by software.
So…how could a nurse?
How could a nurse increase
efficiency, productivity and
maintain a legally compliant
office without the right tools?
How can the nurse keep up with
the growing population of the
student body and the increasing
complexities of childhood illness
and disease?
A Cost Effective Solution:
Why Choose
SNAP Health Center?
SNAP's Management Benefits
Cost-Effective Solution for Insurance Billing
Powerful Report Generator
SNAP's database is scalable, adaptable, and
compatible with all types of school settings.
Risk Management System
Advanced Legal Protection: HIPAA & FERPA
Compliant
SIF Certified
Microsoft Certified Partner & ISV Solution Partner
Leading Edge Technical Support
Superior Training Facilitators
Management Benefits
The school nurse may be required to report on
any number of topics, such as immunizations,
student visits, risk related incidents,
medications and screenings .
It could take hours of filtering through hundreds
(if not thousands) of Health Records and
logbooks to compile data
for a single report.
Management Benefits
SNAP Health Center is an ideal
reporting tool and solution, which
can generate over 200 reports.
A few examples of the diverse
reports available…..
 Office visits
 Frequent flyers
 Event logs
 Injury & illness occurrence
 Medication/treatments
 Immunization compliance
 Year-end reports
A few examples of the diverse
reports available…..
 Height/Weight and BMI
 Special needs
 Complete health records
 Incident
 Referrals
 Absenteeism
 Demographics
"School nurses must be aware of the
rules of evidence regarding
electronic documentation before
investing in software…Programs that
store health records must meet
criteria that exceed requirements for
educational records." Schwab,
Panettieri, and Bergren. (1998).
Guidelines for School Nursing
Documentation. NASN.
Is the All-In-One Administrative Software
FERPA or HIPAA compliant?
FERPA and HIPAA are the laws and
regulations that bind the school nurse's
office. These privacy laws for health
records can be quite stringent, complex,
and expensive if violated.
SNAP Health Center
Exceeds
FERPA & HIPAA
Requirements
Does your Software have
Advanced Legal Protection?
Silent Intrusion Alarm
System Access Tracking
Date & Library Audit History
Designated Medical Administrator
Protected Confidential Notes
PIN Requirements
Does your Software have
Advanced Legal Protection?
Secure Login – Password Protected
Screen Saver – with Password Protection
Routine Program Updates to Comply with
FERPA & HIPAA Laws
Medication & Visit Log Overwrite Protection
These state of the art
security features are an
integral part of
SNAP Health Center.
Who Handles the Tech Support?
Who will answer the support calls?
Can the Support Team provide RNs and
former School Nurses that can understand
in-depth nursing/medical questions and the
complex nature of individual state
immunization regulations?
Do software engineers and program
developers respond to the technical needs,
program issues, or questions?
Does the Software Test to State
Specific Requirements?
Does the company's nursing staff
continuously work to interpret each state's
individual immunization requirements, and
provide annual updates to download into
the program?
Will each student's immunization record
be evaluated against these requirements
for compliance?
PSNI's nursing staff will interpret
your state's requirements,
provide annual updates, and
validate for compliance; making it
easy for the school nurse to
download into the SNAP program.
Immunization Statistics
Has the Software been Designed to
Reduce Exposure to Liability?
Asthma, diabetes, and food allergies have
continued to rise among school-age children.
In addition, the increasing need to administer
medications for treating ADD, behavior
disorders, and chronic pain increases the
nurses' accountability for monitoring controlled
prescription drugs.
These issues subject the schools/districts and
nurses to various liabilities.
SNAP Health Center has been
specifically designed for the
school nurse office and offers a
variety of capabilities that reduce
exposure to diverse liabilities.
Med Order – Pill Count – Mosby
Go to Mosby Online
Risk Management
Risk Management reduces the workload
by having Health Center automatically
generate and send emails to all the
members of your risk management team.
The risk management component,
combined with the report generator
creates synergy by providing valuable
information for students at risk or for
other critical/common health issues.
Health Trend Notification
This innovative feature is
designed to monitor the
occurrences of symptoms,
absences, alerts/conditions,
including the signs of
H1N1, influenza, or
Influenza-Like Illness (ILI).
In real-time monitors office
visit entries, and
immediately identifies
symptoms and assesses
threshold.
Immediately notifies school
administration and/or the
health department.
Health Trend Notification
Completely customizable. Create your own
thresholds: select specific health indicators,
establish the number of occurrences, and
specify time-frame between occurrences.
Choose from multiple factors, e.g., symptoms,
absences, conditions and alerts; unlimited
number of factors.
Monitor any combination of schools
Choose your form of notification: customizable
email templates, pop-up windows, or both.
SNAP Health Center Components
Visit Component
Enter multiple students
simultaneously
Auto-generated incident
reports and letters
Time-saving visit
templates
Interactive 3-D body
image
Medication Component
Automatic medication
scheduling & PRN records
Quick access to Mosby
electronic drug handbook
Medication counts with
reorder alerts
Automatically charts blood
glucose/ketones
SNAP Health Center Components
Immunization Component
Quick and simple
vaccine data entry
Comprehensive statespecific compliance
checking
Calculated next
scheduled dose
Custom noncompliance letters
Screening Component
14 standard screenings
Unlimited number of
custom screenings
Quick group processing of
screening results
Automatic H/W and BMI
percentile calculation
Standard Features
HIPAA / FERPA compliant
Nursing-knowledge database
Complete student
demographics
Real time – Health Trend
Notification
Risk Management
Simple point and click interface
Multiple graphical flow charts
Health alerts with alarms
Document scanning and
retrieval
Over 200 professional reports
Customizable libraries
Customizable form letters
Optional IHP tool
Group processing
Electronic appointment
manager
Absentee tracking
Billable time tracking
Student pictures
Transferable records
One-click access to student
history
Multiple school calendars /
tracks
Health Screening Automation
SNAP Health Center has combined the
technology of Welch Allyn's SureSight™ and
Otovation's Amplitude®T4 to bring you an
automated screening solution for the most
efficient and accurate hearing
and vision testing available.