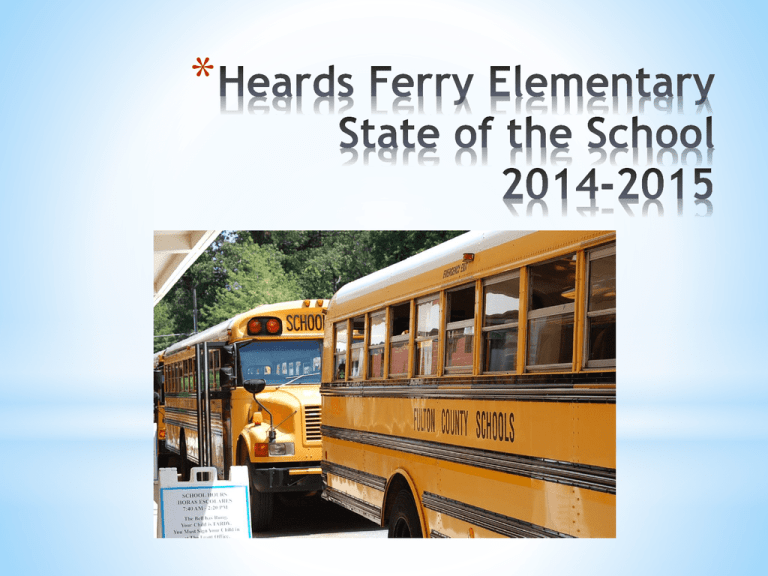 *
*Lisa Nash, Principal
*Whitney Shook, Assistant Principal
*Lori Dunagan, Curriculum Support
Teacher
*Amanda Futo, Counselor
*Stephanie Soldo, IB Coordinator
*
Heards Ferry Elementary
Central Learning Community~
The Heart of Fulton County
Schools
Superintendent- Robert Avossa
Area Superintendent- Gonzalo LaCava
Area Executive Director- Kirk Shrum
*
Heards Ferry Elementary
School's mission is to
challenge and support all
students to reach their
highest potential.
*
• Increase student achievement at
the highest level
• Increase students' inquiry based
learning
• Increase student ownership of
learning
*
1.
2.
3.
Increase collaboration and communication among
teachers by utilizing Professional Learning
Communities
Create a positive school climate for teachers, staff,
and students
Analyze data in order to celebrate successes, plan
for instruction, and remediate when necessary
*
•
•
•
•
•
Parent/Teacher/Student Compact
IB
PBIS/SOAR
Team Time
Open Communication
*
*83 Staff Members
*49 Certified Classroom Teachers
*11 Classified Paraprofessionals
*23 Support Staff
*All staff members are highly qualified
and certified in the field that they are
teaching
*
* SNPK-4
* PK- 21
* Kindergarten- 102
* SNK- 8
* 1st- 110
* 2nd- 113
* 3rd- 102
* 4th- 107
* 5th- 124
* Total Enrollment- 691
What is the role of the School
Governance Council?
*Governing body of the school.
*Approve the school strategic plan and
updates
*Approve the annual budget
recommendations
*Manage the Request for Flexibility
process
*Participate in hiring of the principal, in
the case of a vacancy
*Provide annual feedback on principal
performance
*School Governance Council
*3 parents/guardians elected by the
parents/guardians with children enrolled
at the school
*2 teachers elected by school employees
*2 school-based employees appointed by
the principal
*2 community members nominated by
the principal and approved by the School
Governance Council
*The principal (non-voting)
*
Becoming responsible citizens in a global community
developing inquiring, knowledgeable and caring young
people who help to create a better and more peaceful
world through intercultural understanding and respect!
*Learner Profile &
Attributes
* We must work together to develop these
character traits and instill these attitudes.
*
*Georgia Milestones (3rd-5th)
*ITBS (3rd and 5th)
*Common Assessments (K-5)
*Fountas and Pinnell (K-5)
*G-Kids (Kindergarten)
*ACCESS (ESOL)
*STAR Reading and STAR Math (K-5)
*SLO (student learning objectives) PK- 3rd
Common Core Georgia Performance
Standards in ELA , Reading, Math,
Science and Social Studies
Star Reading
Star Math
Balanced Literacy
Assessments
Reading Eggs
IXL
FASTT Math
Professional Learning Communities
Extended day 2 times a week which
provides tutorial and enrichment for
grades 2nd-5th (Jan-May)
Team Time every day from 7:408:10 to enrich and extend
curriculum for students
Differentiated Instruction
Small Groups
Common Formative Assessments
Computers in every classroom
Promethean White Boards
Data, Data, Data!
Higher Order Questioning
Engaged Students
Essential Questions/ I Can
Statements
After School Activities
Hands on Activities
Cooperative Learning
SOAR- School wide discipline plan
Standards-Based report cards in 2nd–
5th
Progress Skills Checklist in K and 1st
* What will you see throughout our
building during and after school?
Response to Intervention (RTI): The Georgia Student Achieve Pyramid of Interventions
Tier 4
Tier 3 – SST
Driven Learning
1-5% of
Students
Individualized Strategies
Research based strategies
targeting a specific area of
concern
4-5 times weekly for
30+ minutes
Tier 2 – Needs Based Learning
•
80-100%
of
Students
In addition to Tier 1, targeted students
participate in research based
interventions
• Additional small group instruction for
selected individuals (3-5 times weekly
for 15-20 minutes)
Tier 1- Standards Based Classroom Learning
• Differentiated instruction guided by frequent formative
assessment.
• Multiple options for taking in information
• Multiple options for making sense of the ideas
• Multiple options for expressing what they know
• Multiple arrangements and settings to foster
engagement and relevance
5-15% of
Students
*
Heards Ferry School Rules
S – Safe (follow procedures, keep hands and feet to self)
O – Outstanding (be a good example, be helpful, stay
organized and neat)
A –Accountable (be prepared, be responsible, be
attentive)
R – Respectful (raise your hand, follow directions the first
time, use appropriate language and tone, respect teachers,
self, and peers)
*
* Praise by the teacher/s
* SOAR Points Tickets
* Individual and Class
* Fun Friday for individuals
* Teams working to earn rewards
* Recognized on the morning news show
* Recognized in the school newsletter
* Positive Office Referrals by Administration
* Breakfast of Champions
* Student of the Week Certificates
*
Student information from teacher grade books and data entered
by administrators
* Attendance
* Discipline
* Transcripts
* Schedules
* Test Scores
* Report Cards
* Registration information
* Classwork – assignments, tests etc…(grades 2-5)
* To vote for SGC candidates
* Conferences
* Phone calls
* Emails
* Agendas/daily folders
* Thursday folders
* Newsletters- school and grade level
* School Messenger
* School website
* Eagle Alliance website
* Classroom teacher page on EA website
* Edmodo
*
*Data from
2013-2014
*
*Who took the CRCT?
*Who will take the
CRCT next year?
*Results from CRCT
*
Students
3rd
Percentage of students
who met or exceeded
98%
4th
100%
5th
99%
*
Students
Percentage of students
who exceeded
3rd
82%
4th
81%
5th
74%
Every Grade Scored
98% or Higher in
READING!!!!
*
Students
Percentage of Students
who met or exceeded
3rd
92%
4th
96%
75%
5th
*
Students
3rd
Percentage of Students
who exceeded
69%
4th
71%
5th
75%
Reading- 98%
English/Language Arts – 97%
Mathematics – 92%
Science – 91%
Social Studies – 93%
*
*
•The percentage of students exceeding in ELA
increased from 68% to 71%
•The percentage of students who exceeded in
Science increased from 69% to 75%.
Reading – 100%
English/Language Arts – 97%
Mathematics – 96%
Science – 97%
*
Social Studies – 97%
*
*4th saw a gain in meets/exceeds in
every subject except Social Studies
where they remained the same
*The percentage of students
exceeding increased in every subject
except Math and Science
Reading – 99%
Language Arts – 99%
Mathematics – 96%
Science – 94%
Social Studies – 94%
*
*
*The percentage of students exceeding increased
in every subject except in Science and Social
Studies
*The percentage of students exceeding in
Reading increased from 64% to 74%
*
* Volunteer in the classroom or school
* Science Day
* Attend Curriculum Night
* Community involvement
* School Governance Council
* Join Edmodo
* Join Eagle Alliance: Raises funds for HFES
* Eagle Alliance Funding
* Science Volunteer in the Science Lab
* Materials and supplies
* Technology (I pad carts and technology programs- IXL, FASTT Math,
AR, Reading Eggs)
* Professional Learning for staff (Writing, PBIS and PLC)
* Agendas/Thursday Folders
* Paper
* Odyssey of the Mind
* Math Online League
* Weekly Readers
* Science Weekly
* Poster Maker
*
*
* Updated Contact Information
* Computers available to join Eagle Alliance
website, EA teacher pages, Edmodo and
volunteer information
* 6:45-7:30-
Session with the teachers
* If you need to sign up to be a volunteer, please
go to the computer lab to register.
*
Approximate cost to provide
programming and academic support
at Heards Ferry per year:
$300,000
Approximate funding
provided by Fulton County:
- $160,000
___________
SHORTFALL:
= $140,000
PER-STUDENT COST
$140,000/700 STUDENTS = $200 per STUDENT
*
Science Lab • Daddy/Daughter Date Night • Six Plus One Traits of Writing Program •
Mother/Son Date Night • Fall Family Festival • School Store • Sneak Peek • Spirit Wear
• Talent Show • Spirit Nights • Book Fair • Hands on Heards Ferry Day • Building
Maintenance • Grounds Maintenance • RSVP Security System • Carpool • Teacher
Appreciation Events • New Family Events • School Calendar • Website Maintenance •
Field Day • Science Day • VIP Day • International Day • Media Center Programming •
Yearbook • Music Programming • Professional Development • Paper • Curriculum Nights
• Positive Behavior Intervention System • Field Trips • Printer Cartridges • Special
Education Support • Teacher Mini Grants • Classroom Stipends for Teachers • Drinking
Water • First Friday • Art Supplies • Media Center Supplies • Music Supplies • PE
Supplies • School Tours • Odyssey of the Mind • Student Government • Reading Program
• Online Math League • E-Library • IXL Math and ELA Program • Learning A-Z • New
Math Program • Moby Max • Weekly Readers • Reading Eggs • Science Weekly
…and more.