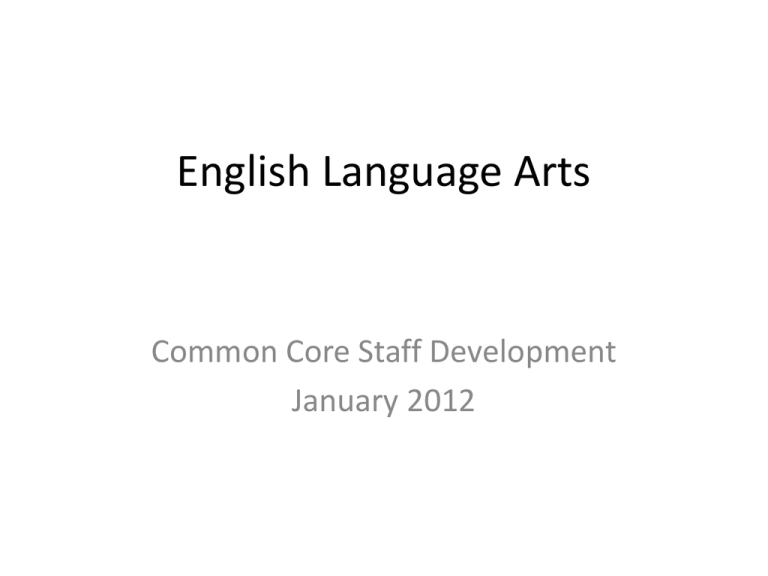 English Language Arts
Common Core Staff Development
January 2012
Six Shifts in Instructional Practice
Teacher's Role-Who is Doing the Most Thinking?
Tour Guide
Facilitator, Manager
Teach Perseverance Beyond Frustration Level
Slow Down….Go Deeper
Provide Rich Text…Is it Worth Re-reading?
How to Gain the Most Knowledge
Help Student Find Their Voice
1 – Balancing Informational and Literary Text
Main Idea/Details
Context Clues
Generalizing
Informational
Text
Literary
Text
Author's Purpose
Notations
Paraphrasing
2- Building Knowledge in the Disciplines
Language
Arts
Science
Technology
Math
Health
Social
Studies
Good
What am I doing to teach students to
read informational text closely?
Better
How do I go beyond what I am doing
now?
3- Staircase of Complexity (Reading)
Use more complex text
at each grade level
Digging Deeper!
Use complex, grade-level text
with ALL students
1- Throw them into it
2- Scaffolding
3- Leveled/Translated Text
4- Text-Based Answers
Text-based Answers
• Teachers will:
1. Choose good, interesting texts worthy of rereading.
2. Take time to show students how to cite specific
text to support answers
3. Provide opportunities for higher-order thinking
4. Develop students' fascination with the text by
making connections to real life
5-Writing from Sources
6- Building Vocabulary
3 tiers
Tier 3
Tier 2
Tier 1
Tier 1
Basic Words – Most cannot be demonstrated and do
not have multiple
meanings, but students will need to know them.
Sight words would be found at this
level.
Tier 2
Words occur in high frequency. Found in a variety of
domains.
Criteria:
• Importance to understanding the text
• Characteristic of mature language users
• Used across a variety of domains
• Potential for building rich representations of the words
(multiple meaning
words)
• Words that allow students to provide precision and
specificity in
describing the concept
Tier 3
Words with a low frequency of use, often limited to
special, specific domains.
They are best learned when a specific need arises.
(Content area words)
Words like: igneous, metamorphic, Revolutionary War,
economics
" A Quilt of a Country" By Anna Quindlen
America is an improbable idea. A mongrel
nation built of ever-changing disparate parts,
it is held together by a notion, the notion that
all men are created equal, though everyone
knows that most men consider themselves
better than someone. "Of all the nations in the
world, the United States was built in nobody's
image," the historian Daniel Boorstin wrote.
That's because it was built of bits and pieces
that seem discordant, like the crazy quilts that
have been one of its great folk-art forms,
velvet and calico and checks and brocades.
Out of many, one. That is the ideal.
How to Read the Document
English Language Arts Common Core
Crosswalk English Language Arts
Unpacking English Language Arts
How to Read the Standards
Ticket Out The Door!
As a group, familiarize yourself with the grade level
standards (common core, unpacking and/or crosswalk
documents)
Begin creating your English Language Arts pacing guide
Look for resources to supplement instruction
Create a meaningful, working document to turn in at the
end of the day. Each group may determine what this
document looks like.