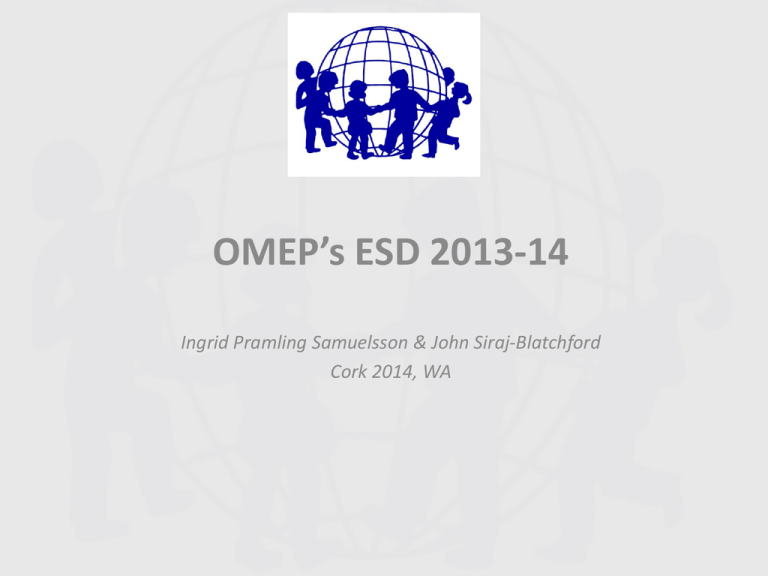 OMEP's ESD 2013-14
Ingrid Pramling Samuelsson & John Siraj-Blatchford
Cork 2014, WA
Three main issues
• Background report for UNESCO's conference in
Aichi-Nagoya, Japan ending the Decade for
Education for Sustainable Development
• The Education Rating Scale for Sustainable
Development in Early Childhood (ERS-SDEC)
• OMEP's World Project 2013-14; Equality for
Sustainability
• Future: OMEP's World Project 2014-16
UNESCO report – some conclusions
• Sustainable development an transformative and
holistic redefinition of Early Childhood Care and
Education (ECCE)
• Universal access to ECCE
• Quality Provisions for ECCE
• Further Wash from the Start
• Further actions to reduce violence against children
• The Rights of Young Children
• The Initial Education and Training of ECCE
Professionals
• Delegated funding for ESD and ECCE
The report has lead to
• OMEP being asked to run the work-shop in ECCE
together with the Association for the
Development of Education in Africa, in Nagoya
• Planning for further OMEP work in ESD took place
in a workshop in Gothenburg 9-10 June
– By going back to and revise the Gothenburg
recommendations from 2008
– OMEP working with other agencies
– Examples of practices
– Developing a new world project related to teacher ed
Equality for sustainability
•
•
•
•
•
•
•
13 countries participated, in total 87projects
Socio-economic/ relative poverty
Special needs and disability
Social Injustice (general)
Gender
Ethnicity (and indigenous peoples)
Participating countries; Australia, Brazil, Bulgaria,
Canada, Chile, Czech Republic, France, Kenya,
Japan, New Zealand, Peru, Poland, Slovakia,
Russia
Winners 2014
• "Children's ideas about families' access to food
from a perspective of wealth and poverty" - Dr
Libby-Lee Hammond, Dr Sandra Hesterman, Dr
Marianne Knaus and Mrs Mary Vajda (Australia)
• "Protección de la Madre Tierra" (Protecting
Mother Earth) - Jocelyn Uribe and Verónica Romo
(Chile)
• "Matarajio': Gender equality in Kenya" - Mercy
Murugi Macharia (Kenya)
• "All the children of the world" - Jarmila Sobotova
(Slovak Republic)
Two Fridges
The right to equality without distinction
of race, religion, origin, position.
The right to protection against discrimination and education in the spirit of
tolerance, peace and brotherhood.
Activity:1
People of the world
Such as we are all
'Matarajio': Gender
equality in Kenya
Wangari Maathai
Zoe Miles with children at
Cranborne Preschool UK
Ng'ondu
Preschool:
UK-Kenya
Partnership
Wangari Maathai
Protection of mother
earth
Early Childhood
Education Program
Universidad Central de
Chile
We are in the process of designing lines
of action and proposals for working with
children, staff, family and communities,
so they can adopt attitudes and actions
in favour of the environment, that
promote equality among people,
independent of their diversity, and that
are based on the wisdom of the
American indigenous peoples.
ERS-SDEC
• The scale have been piloted in 10 countries
(China, Turkey, Portugal, Korea, Sweden, USA,
Norway, UK, Chile, Kenya)
• Will soon be published by Springer!
The next step forward – our
suggestions
•
•
•
•
•
OMEP/UNESCO World Project – 2014-16
UNESCO Global Action Programme (GAP)
Developing video exemplars of good practice
Production of an ECERS-ESD Manual and DVD
Production of Resource Pack for initial and
inservice teacher education
• Project Workshops: South Korea (Jan 2015),
Washington (July 2015), TBC (July 2016)
OMEP in the
• Collective Consultation of NGOs on Education
for All
• Coordination Group 2014-2016
- my intention will be to promote attention to
early childhood education as the child's first step
to education for sustainability!