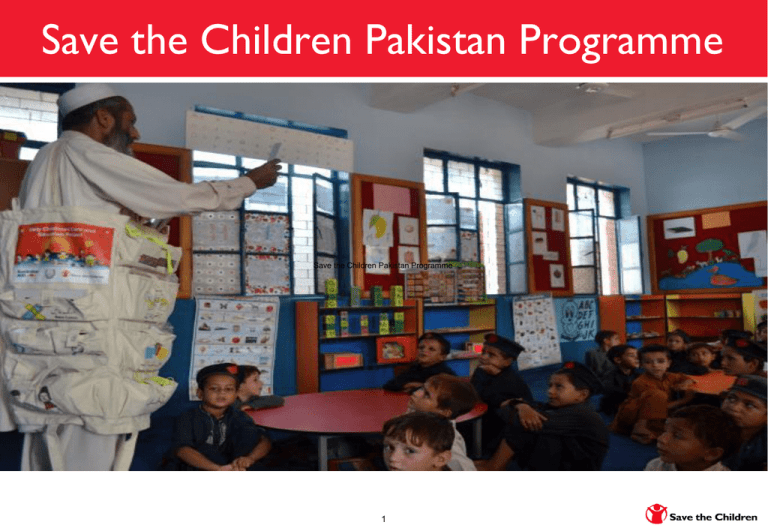 Save the Children Pakistan Programme
Save the Children Pakistan Programme
1
Synergies of ECCE projects with
ECCE National Curriculum and
ELDS
By
Education and Child Development Team
2
Education Strategic Theme Objectives
2014-2015
• Improved educational access and outcomes for young
children (3-8 years) by increasing opportunities for
their learning and development, and by improving
transitions into primary school
• Improved access to quality education and literacy and
numeracy skills for children, especially girls and
vulnerable children, increased opportunities for the
completion of Basic Education, and improved
transitions from primary to middle, and middle to
secondary school
3
Education Strategic Theme Objectives
2014-2015
• Improved health and nutrition status of children
through school health and nutrition services
• Improved livelihood skills leading to increased
income generation among youth engaged in
vocational and secondary education and
• Children affected by disasters have access to basic
quality education in a safe learning environment.
4
Save the Children's Projects
• PEPAS Program for Establishing Partner and Stability to
Intergraded Development In Battagram District
• BEP Balochistan Education Programme
• ECCE Early Childhood Care and Education
• CHAON Children's Action against Oppression and Neglect
• ACCESS Assisting Children Through Psychosocial
Counseling and Quality Education Support in School,
Peshawar, Swat\
• Tele Taleem – Literacy Boost - Ilm on Wheels
5
Pakistan Outreach
Buner
Battagram
Balakot
Peshawar
Abbottabad
Quetta
Mastung
Killa
Abdullah
Lodhran
Shahid Benazir
Abad
Save the Children's Intervention in
Pakistan……
Save the Children is working in Lower and Upper primary
schools from K.G – Grade 5
340 schools in Balochistan
660 schools and 40 Maddarris in Kyber Pakthonkhwa
130 Community based ECCE centers in KP
Middle & High schools for Girls
35 schools in Balochistan
ECCE Model (How we synergised)
• Alignment of NEP,ESP,NCECE & ELDS with
-Project documents, LFAs, M&E
framework and strategies.
- Thematic areas (SHN, Community
Outreach, LB/ELM).
- Cross cutting themes
(Gender, CP & DRR)
8
ECCE Framework of NCECE & ELDS:
Parental
involvement
Safe &
supportive/stim
ulating learning
environment
Caring
competent
trained
teacher
Key learning areas and
key competencies
Child
friendly
policies
Assessments
Interactive
learning
processes
9
ECCE Model: Learning Environment
Refurbishments/
construction of
ECCE
Classroom
Establishment of
learning corners
in ECCE
Classrooms/
homes
Provision of TLM
Stimulating
Conducive
Learning
environment
10
Establishment of
ECCE homes
ECCE Model: Learning Process
Indoor/outdoor
play way active
learning activities
Literacy Boost
program/ELM
Cooperative/
collaborative
learning
strategies
Action Research
Projects
Learning
process
11
ECCE Model: Teachers Training Cycle
TNA
Classroom
based on
job
support
Trg
material
approval
by TTEIs
and TTIs
Followup
TOT to
MTs/LTS
T.Trg by
MTS/LTS
12
ECCE Model: Assessments
On going
formative
assessments
Baseline/Midline/
Endline
Schools support
assessments by
team/HT/Teacher
QLE assessments
Assessments
13
ECCE Model: Parental Involvements
Awareness
raising programs
Parental sessions
Reading
Camps/Summer
Camps
PTC/Home
committees
training program
Parental
Involvement
14
ECCE Model: Child Friendly Policies
ECCE
Task
Force
Advocacy
program
Child
friendly
policies
15
ECCE Model: Good Governance
EMIS
system
HTs Trg in
supervision
&
Monitoring
Academic
Supervision
at district
level for
E&SE
16
ELM at
provincial
level for
E&SE
ECCE Model: Institutionalization
Mainstreamed ECCE in
Pre-service teachers
Training Curriculum
Setting up Resource
Centers of ECCE at
PITE, DCTE & E&SE
Building up
capacities of
DCTE & PITE
17
18
Thank You!