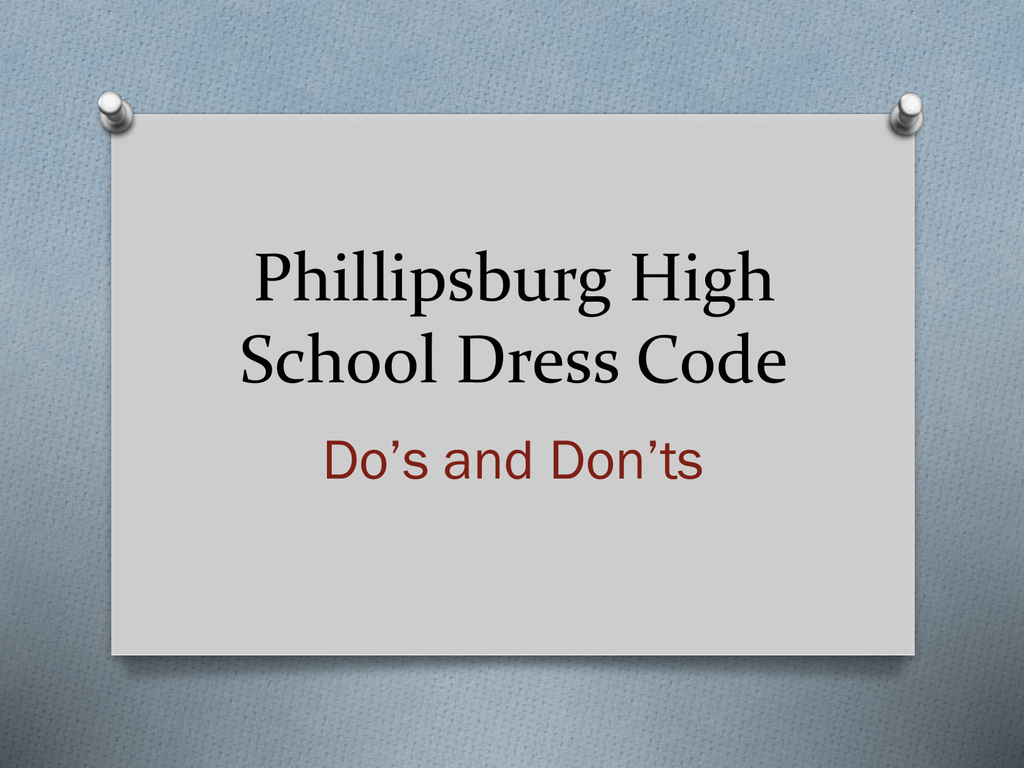 Phillipsburg High
School Dress Code
Do's and Don'ts
DON'T wear
tank tops
violating "Three
Inch" Rule
Shirts may not be
sheer
Do not wear midriff or
revealing clothes
DON'T wear pants, shorts and skirts
below the hip.
Undergarments must not
be showing
Buy the correct waist size
or a belt
DO wear pants correctly at the waist
DON'T wear skirts and shorts less
than "three inch" rule
Too short
Way too short
DO make sure skirts and shorts
measure "three inches" above knee
Skirts must be long
enough
Shorts must be long
enough
DON'T wear spandex clothing
and tights,
Spandex yoga pants are
not acceptable
A long top must cover
tights
Athletic shorts should not be
worn to school- JUST P.E.
(Do not pass three inch rule)
Clothing that advertises drugs, alcohol, gun,
weapon related, gangs, immoral, offensive, etc.,
Don't
Wear
Rubber flip flops, slippers, or cleats
should not be worn to school
Backpacks and sacks must be
placed in locker
May not carry a backpack
to class
Sport sacks should only
be carried to gym locker.
Hats may not be worn in the
school buildings
The pictures for the slides were courtesy of Student Council 2011-2012:
oldnavy.com, ae.com, loft.com, nike.com;
www.cen.forestlake.k12.mn.us, www.mt-vernon.k12.oh.us, and clipart.