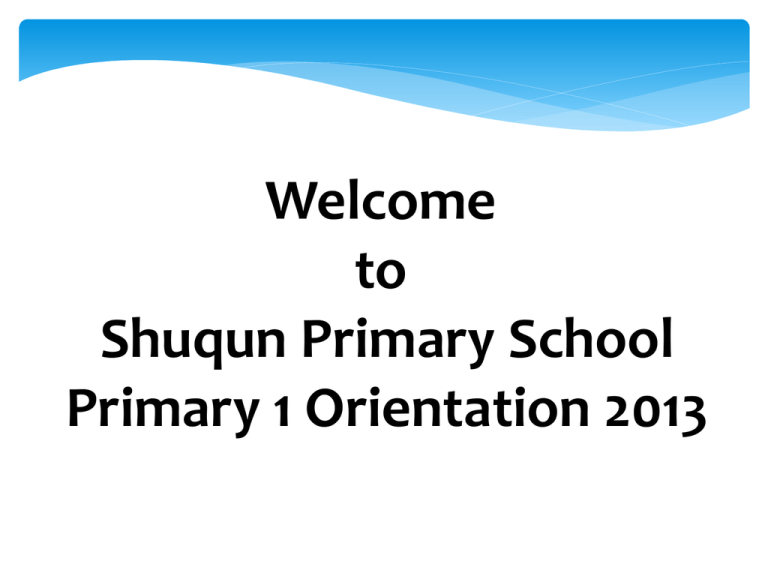 Welcome
to
Shuqun Primary School
Primary 1 Orientation 2013
• Welcome address by Principal
• Matters pertaining to Primary 1
• Talk on transition to Primary 1
• Briefing on School rules, expectations and
regulations
• Talk on dental health services in school
• Completion of Pupil Data Form
• Fetching of child from classroom
P1 Orientation 2013
Starting Primary School
Starting school can be liberating as well as
daunting for both of you.
Preparation
• Your child will face new places, people, rules
and relationships. This can be both exciting and
frightening.
• You can help by familiarising your child with
his/her new school environment right from today.
• Point out the school whenever you pass it.
• Tell stories about what you enjoyed at school
and the fun things you did.
• Find out about the daily routine from the teacher
and let your child know what to expect.
"Train a child in the way he
should go, and when he is old
he will not turn from it."
Shuqun Primary School
School Vision
A vibrant learning community, rooted in values and
ready to serve.
School Mission
To nurture a star in every Shuqunite, who places
community above self
School Core Values
'I CARE' Values –
Integrity, Care, Adaptability, Respect and
Excellence
C2015 Student Outcomes
Confident Person
Thinks independently
Communicates effectively
Has good inter-personal skills
Concerned Citizen
Is informed about
world and local affairs
Empathises with and
respects others
Participates actively
Self-directed Learner
Takes responsibility
for own learning
Questions, reflects, perseveres
Uses technology adeptly
Active Contributor
Exercises initiative
and takes risks
Is adaptable, innovative, resilient
Aims for high standards
School Direction and Focus
A, B, C Strategic Thrusts
A – A Star in Every Shuqunite
Academic Excellence , Leadership and
Character Development , Healthy Living
B – Best Place to Learn & Work
Capacity Building and Vibrant Learning
Environment
C – Community for Us, We for the Community
Service Learning , Community Partnerships
Shuqun Primary School
Strategic Plan (2011-2015)
Mission
Vision
Strategic Thrusts
Long Term Goals
Best Place to
Learn and Work
A Star in Every
Shuqunite
Leadership
Sub Thrusts
Academic
&
Excellence Character Devt
Improved
Academic
Results
Values
Healthy
Lifestyle
Pupils
Pupils actively
recognised for
engaged in
Leadership
healthy lifestyle
and
Good behaviour
Capacity
Building
Improved Staff
Engagement
In Professional
Growth
Vibrant
Learning Env
Improved
Pupil
Engagement
in Learning
QSE: 3.3
Recognition
Surpass
Comparable
Schs for PSLE
CDA
CHERSIH:
Silver
BENS: People
OE Niche
Sports
Top 4 placing for
2 Sports
Sch Climate
Engagement: C
Community for Us,
We for the Community
Community Community
Service Partnerships
Active pupil
Participation
in
Environmental
Education
and Service
Learning
Biytes: Above 3
EV Score:
Upper Band 2
SYF
Silver & Gold
Green Audit:
Lotus
Effective
partnerships
Sustained
partnerships
with
Selected
organisations
NE Devt
Award
KPIs
Student Outcomes: Engaged Learner , Rooted in Values & Ready to Serve
RESOURCES
ASSESSMENT
& REVIEW
Version 3 : May 2013
What goes into SQPS school
life ?
A wide
STAGE Curriculum
to customise
curriculum ( Basic
/Stretch / APEX)
Structured
Student
Leadership
Programmes
Leadership
and Character
Devt through
Outdoor
Education
Level based
Learning
Journeys and
OE Camps
range of
CCAs
Academic and
Non Academic
Enrichment
Programmes
Learning
Support
Programmes
Talent
Development
Programmes
Developmental
programmes for
Social &
Emotional
Learning
Parents as Partners in Education
• Be involved in your child's education and
development
• Ensure school attendance is not compromised
• Be in communication with your child's teachers
• Make routines of checking homework , packing
bag according to time-table, reading letters and
notifications from school
• Know your child's school schedule , upcoming
events etc
• Check Pupil Diary EVERYDAY and monitor
progress
Things to take note of …
• Monthly Letter from the principal
• Termly letter from the Head of Level . This
will include calendar of events for the term
• Assessment Workplan and other relevant
assessment information
• Any other programme or event , either a
Notification letter or Consent Form
• When in doubt , consult the school
/teachers !
Primary 1
2014
Mdm Morni Bte Ahmad
Level Head of P1
Contact: morni_ahmad@moe.edu.sg
65637129 (SQPS)
A Cluster
1A1
1A2
1A3
B Cluster
1B1
1B2
1B3
C Cluster
1C1
1C2
1C3
Terrific
Transition:
Supporting Your Child's
Transitions to Primary School
Ms Cristin Oh
Allied Educator (Counselling)
What do we mean by
"transitions"?
It is a
process of
adapting to
changes.
Slide #3
Terrific Transition
The move from preschool to
Primary School is one of the
most important transitions
a child will make.
Slide #7
Terrific Transitions:
Strong Connections Between
Home and School Can Help
Ease Children's Transition
Into School.
Slide #2
What Transitions means to Parents?
It means :
making sure that accurate information about
the child is given to the new school,
meeting and communicating with new teachers,
attending school programs,
adapting to school policies .
What Transitions Mean to the Child?
For young children, the transition to school is much more
than simply changing buildings or settings. It means
adapting to new sets of rules, regulations and
behaviours,
adjusting to a new peer group, and getting to know new
teachers,
learning to play and cooperate with other children,
paying attention for longer periods of time,
developing independent work habits.
Benefits of Facilitating
Transition
Slide #5

Children will like school and look forward
to school.

Children will show steady growth in
academic skills.

Parents will become actively involved in
their children's education.
Ramey & Ramey, 1994
Common Difficulty faced during
Transition:
School Anxiety
Separation Anxiety
During transitions, children
may feel
 Sad
 Confused
 Anxious
 Uncertain
 Overwhelmed
 Insecure
Slide #8
I don't want to go to school
today ……
Maybe
they may feel ill or really tired because
they didn't have a good sleep.
they feel worried about something at
home or at school
they want to stay in their own house and
forget about everything else.
someone is giving them a difficult time.
What Can Parents & Families
Not Say?
"How can the school be insensitive to
my child?"
"You're just a baby, how can they not
allow you to do …"
It was such a short time ago when you
were just a baby!"
"He's too little to ride the school bus!"
What Parents Can Do…
1. Know and manage your own wants and
expectations
2. Support regular school attendance &
attend school events
3. Discuss the link between success in
school and success in life .
(e.g. relate to movies, news articles, etc.)
What Can Parents Do?
Talk about the new routines and expectations
e.g. longer school hours, no play all the time, no more
afternoon naps, silent reading
Teach them what to do in case of emergency e.g.
missing school bus, forget to bring pocket $$$.
Teach them how to handle money and make
friends.
Teach independence skills e.g. tying of shoe laces,
taking care of own belongings.
Encourage your child EARLY
Remember his needs and habits.
Plan together with your child i.e.
develop a new routine for school and homework
Discuss and agree on rewards and
consequences, along with reasonable
rules.
Emphasize positive aspects of school
i.e. early familiarization of school environment
during holidays
Continuity Occurs
To ensure continuity, it is important
that schools and home help create
connections that support children
during the transition to school.
Slide #9
Contents:
1.
2.
3.
4.
5.
PERI
PAL @ Shuqun
STELLAR
PSG
Self-Help Groups (CDAC, Mendaki and
Sinda)
•
•
•
•
Sing songs
Listen to stories
Read aloud
Read fluently
and confidently
• Present their
ideas
• Write
stories/journals
•
•
•
Solve problems
using different
strategies
Explore numbers
and patterns
Make use of
manipulatives to
enhance learning
•
•
•
•
•
Listen to stories
Read fluently
Speak confidently
Write correctly
Understand
culture
Holistic Assessment
English
Mathematics
Mother Tongue
• Listening tasks
• Performance
• Reading tasks
Based
(oral/ running
Assessment
records/ poetry
• Mini Tests
recitation/ show
and tell)
• Picture discussion
• Writing tasks
• Mini Tests
• Listening Task
• Reading Task
• Picture
Conversation
• Poetry
Recitation
• Mini Tests
Term 1
1. Pupil's
Portfolio
2. Holistic
Report
Card
Term 2
1. Pupil's
Portfolio
2. Mid-Year
Report
Card
Term 3
1.Pupil's
Portfolio
2. Holistic
Report
Card
Term 4
1. Pupil's
Portfolio
2. Year-End
Report
Card
PAL @ Shuqun
Integrity, the Foundation
. People, our Focus . Learning, our Passion . Excellence, our Pursuit
36
Copyright © Ministry of Education, Singapore.
Objectives of PAL @ Shuqun
Outdoor
Education
Performing
Arts
Visual Arts
Sports
(1) Broad exposure & experiences through fun
and varied activities
37
Modules Planning
For Primary 1 students
PAL Modules
Sports
Outdoor Education
Visual Arts
Performing Arts
Term 1
Term 2
Term 3
Term 4



Modules Planning
For Primary 2 students
PAL Modules
Sports
Term 1
Term 2


Outdoor Education
Visual Arts
Performing Arts
Term 3

Term 4
Timetable
For Primary 1 and 2 students
Time
10 a.m. to 12 noon
12 noon to 12.30 p.m.
1 p.m to .4.30 p.m.
4.30 p.m. to 6.30 p.m.
Monday
Wednesday
Friday
Eng/Maths/
MT
A Cluster
Eng/Maths/
MT
B Cluster
Eng/Maths/
MT
C Cluster
Lunch
Normal Timetable
PAL Lesson
A Cluster
PAL Lesson
B Cluster
PAL Lesson
C Cluster
Admin
Things to note:
1. Make transport arrangements with
the bus company
2. Lunch
3. Extra pocket money
STELLAR
Strategies for English
Language Learning and
Reading
The STELLAR Vision
Children Who Love Reading and Have a
Strong Foundation in the English Language
STELLAR at Lower Primary
1. Shared Reading
Experiences
3. Language Activities in
Learning Centres
2. Shared Writing
Experiences
LSM – Learning Support Programme for Mathematics
Early support and intervention for P1 students who are identified
to be weak in basic numeracy skills. Students who are
identified for LSM will be taught on basic mathematical concepts
and skills to build good Maths foundation. LSM aims to build
students'confidence and positive beliefs about their ability to do
Math.
LSP – Learning Support Programme for English
Early support and intervention for P1 students who are
identified to be weak in Literacy skills. LSP focuses specifically
on the basic literary skills needed to help students learn to
read and spell. By getting the basics of reading and spelling in
place, the LSP also helps students learn in all their subjects.
Parent Support Group
(PSG)
As Member of the PSG
• Volunteer in school programmes/projects
• Network with other like-minded parents
• Have a better understanding of the school and its
programmes
• Learn & share skills through workshops
How can you contribute as a PSG
• Attend / support school events
• Provide constructive feedback for the betterment of the
school
• Offer professional & personal expertise to the PSG
• Organise workshops for parents & students
• Support and advocate the school's mission & vision
SELF-HELP
GROUPS
65 Tanjong Katong Rioad (436957)
Main Line: 6841 4889
www.cdac.org.sg
51 Kee Sun Avenue
Singapore 457056
Main Line: 6245 5555
www.mendaki.org.sg
Singapore Indian Deveopment
Association (Sinda)
No 1. Beatty Road
Singapore 20994
Main Line: 62985911
THANK YOU
Welcome to Shuqun
What Parents Need to Know
Student Development Department
School Hours
• Arrival Time : 12.30pm
• On Alternate Tuesdays - 1.30pm
(i.e. Even weeks: Wk 2,4,6,8 & 10 of each term)
• On PAL days, school starts at 10.00am
• Dismissal Time : 6.30pm (Mon-Fri)
• Recess timings for P1 : 3 to 3.30pm
Dismissal
• Teachers will lead students out to the void deck
of Blk 470
• Teachers will carry signs indicating the class
1B1
• Wait for your child/ward patiently at the void
deck
• Please do not pull your child/ward out from the
class line as he/she moves to the void deck
• No parking available for parents in the
school premises.
Dismissal
• Please be punctual in fetching your
child/ward at 6.30 pm.
• Parents who are late need to fetch their
children from the General Office
• Students who are taking the school bus
will wait for the bus at the concourse area
Student Handbook
• All students must purchase the student
handbook
• Contains all important information such
as:
– School contacts
– Holidays
– Academic information
– School rules etc.
School Rules
• The school rules can be found in detail in the
Students' Handbook
• Some rules to take note:
– Only plain white shoes/socks (covering ankles) are
allowed
– Only plain black hair accessories are allowed
– Only simple gold/silver ear studs/earrings are allowed
– All shirts, blouses and PE t-shirts must have a name
tag sewn on (to be ordered through bookshop)
School Rules
• Some rules to take note:
– Handphones are not allowed
Communication Between
Parents & School
• School Communication File
– Purple file
– School letters are filed in
– Parents to initial on top right hand corner as
acknowledgement
– May be checked periodically by teachers
Communication Between
Parents & School
• Student Handbook
– All students are to purchase the Student Handbook.
– Both parents and teachers can write notes in the
handbook as a form of communication
• E-mail address: sqps@moe.edu.sg
• SQPS website:
http://www.shuqunpri.moe.edu.sg
• Telephone calls via the office: 65637129
Entering the School
• Report to the security post
• Get a visitor pass
• Notify the General Office of your purpose
of visit and the staff will assist you
• Return the visitor pass before you
leave the school
How to Contact a Teacher
• Leave a message with the General Office
(Response may not be immediate)
• Email the teacher
– An introductory letter with teachers' email
addresses will be issued within the first week
of school
First Day of School
2 Jan, Thurs
• Parents are allowed to bring their children
into the school hall for the assembly
starting from 12.15 p.m. [only on this day]
• All parents must leave the school premises
after the assembly.
First & Second Day of School
Recess Arrangement [2, 3 & 6 Jan]
• 2.30 – 3.00 pm: 1A1, 1A2, 1A3, 1B1,1B2
• 3.00 – 3.30 pm: 1C1, 1C2, 1C3, 1B3
• P5 buddies will guide the P1 students for the 1st
THREE days (2, 3 & 5 Jan) during recess.
• Parents are allowed to enter the school to view
their children during recess only on first &
second day (2 & 3 Jan).
First & Second Day of School
Guidelines
• Allow your child to buy food on his/her own with
P5 buddies' guidance
• Stay within the cordoned area
• Leave the premises after recess
• We seek parents' cooperation and understanding
to adhere to the guidelines
• If you need help, please approach the
teacher on duty
Parenting Workshops
• 2 Jan, Day 1 - "Transition to Primary
School"
• 3 Jan, Day 2 – "Parenting with
Confidence"
Parents may register your interest at the
booth located in the concourse
Helping Your Child to
Prepare for School
• Ensure your child wears the name card issued
by the school till end of Term 1.
• If your child is taking the school bus, ensure the
bus number is written clearly on the name tag
• You may want to write your contact number on
the reverse side of the name tag
Helping Your Child to
Prepare for School
• Maintaining a manageable bag load
– Avoid using trolley bags as they are heavier and
harder to manage, especially along staircases.
– Teach your child to read the timetable and pack their
bags everyday.
– Bring only necessary items.
– Classroom lockers are assigned to students. Your child
may need a padlock.
– Avoid carrying large drink bottles. Fill the drink bottle
in school.
P1: Not more than 3.0kg
P2: Not more than 3.5kg
Helping Your Child to
Prepare for School
• Label your child's belongings with name
and class
– Insoles of shoes
– Wallet/purses
– Books
– Water bottles
– Pencil case
Helping Your Child to
Prepare for School
• School Attire
– On days with PE lessons, students can be in their PE
attire all day long (skirts are not required for girls)
– On days without PE lessons, students are to be in
their formal school uniform
– Name tags to be sewn on the uniform/PE T-shirt.
• 1-finger space above pocket (boy's shirt)
• 1-finger space above school crest (Girl's blouse & PE Tshirts)
Helping Your Child to
Prepare for School
• Home monitoring
– Play an active role in monitoring your child's daily
work and progress
• Putting structures in place at home
– A proper study area
– A timetable for work and play
– Always emphasize the importance of attending
school regularly
Importance of School Attendance
•
•
•
•
The Compulsory Education Act (Cap 51)
Absences may be covered by medical
certificates from doctors or letters from
parents (in certain cases)
Absences without valid reasons may affect
child's conduct grade and eligibility for awards
During exams/tests, absences MUST be
covered by medical certification by doctors
Importance of School Attendance
• The following examples of reasons for
absences are considered non-valid:
– Going on tours during school days
– Staying at home to take care of siblings
– Overslept
– Missed the school bus
Have a wonderful day!