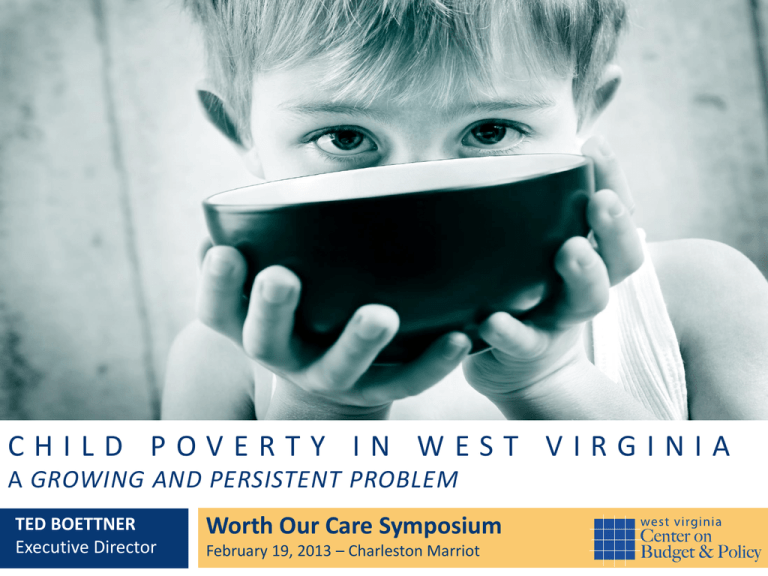 CHILD POVERTY IN WEST VIRGINIA
A GROWING AND PERSISTENT PROBLEM
TED BOETTNER
Executive Director
Worth Our Care Symposium
February 19, 2013 – Charleston Marriot
OVERVIEW

Why Does Child Poverty Matter?

How Do We Measure Poverty?

What Does Child Poverty Look like in West
Virginia?

How Have Policies Responded to Poverty?

How Should We Address Child Poverty?
Growing Up Poor
Poverty is not destiny, but it does place children at
greater risk for:
Physical problems, such as low birth weight, substandard nutrition,
poor motor skills, and more accidents and injuries
 Cognitive difficulties, such as poor academic performance,
especially among younger children, and higher drop-out rates in high
school
 Social and emotional problems, such as anxiety, difficulty getting
along with peers and adults, and low self-esteem
 Behavioral problems, such as engagement in high-risk activities like
smoking, alcohol and drug abuse, and early sexual activity, leading to
higher rates of teen pregnancies.
 Challenges in adulthood, such as poor health, lower earnings,
higher poverty rates and more criminal behavior

Timing, Depth, and Duration Matter



The children who are most harmed are those who live
in "deep poverty," defined as family incomes less than
50 percent of the federal poverty level, and those who
live in "persistent poverty" for multiple years.
Poverty during early childhood has a greater impact
on certain outcomes, such cognitive ability and high
school completion, than does poverty in later
childhood and adolescence.
Children of color experience deep poverty, persistent
poverty and early childhood poverty at higher rates
than white children.
Pathways impact child outcomes
Home environment
Family stability
Family income
Health and
mental health
Community norms
and conditions
Child
development
Implications of Child Poverty






The economic cost of child poverty in West Virginia is estimated at
$3.9 billion (2012 dollars).
Severe overcrowding of the state's prisons and rise in state
expenditures on corrections.
The state's substance abuse epidemic, which is currently being
addressed by the Governor's Advisory Council on Substance Abuse
and six regional task forces.
The state's high obesity rate and its related health problems,
including type 2 diabetes, cardiovascular problems, and bone and
joint problems.
The high teen birth rate and the health, economic and educational
challenges it creates for teen mothers and their babies.
Concerns about students dropping out of high school and the
consequences that has on future opportunities, earnings and
quality of life.
Measuring Poverty
Several Ways to Measure Family Finances

Federal Poverty Threshold & Guidelines

Supplemental Poverty Measure (SPM)

West Virginia Self-Sufficiency Standard

Deep Poverty and Low Income
Annual Income for Family of Three in
West Virginia, 2012
Median Family Income
$53,679
200% FPL (Low Income)
$38,180
*WV Self-Sufficiency Standard
$36,835
Federal Poverty Level
$19,090
50% FPL (Deep Poverty)
$9,545
$0
$10,000
$20,000
Source: U.S. Census Bureau
*One adult, one preschooler, and one toddler in Kanawha County. In 2012 dollars.
$30,000
$40,000
$50,000
$60,000
Deep Poverty & Low Income
Almost Half of Poor Children are
in "Deep Poverty"
Deep
Poverty
45%
Almost Half of All Children
are Low-Income
Below
200% FPL
49%
Source: 2011 American Community Survey
How many children live in poverty?
West Virginia
29.6%
25.6%
United States
25.3%
22.2%
18.5%
14.8%
10.4%
Under 6
Under 18
18-64
Source: 2011 American Community Survey
9.3%
65 and older
Who is more likely to live in poverty?
63%
Children whose parents
did not graduate from
high school
50%
Single Mothers
42%
African American
Children
71%
Children with
Unemployed Parents
What areas have more child poverty? ?
What areas have more young child
poverty? ?
Recession Increased Child Poverty
Child Poverty Rate, 2008-2011
United States
30.0%
25.0%
23.0%
20.0%
18.2%
West Virginia
25.3%
22.2%
15.0%
10.0%
5.0%
0.0%
2008
Source: American Community Survey, 2007 through 2011
2009
2010
2011
Historic Rates of Poverty
45.0%
40.0%
Under 18
65 & Over
All
39.2%
35.0%
30.0%
23.2%
25.0%
20.0%
19.1%
15.0%
10.3%
10.0%
5.0%
0.0%
1969
1979
Source: U.S. Census Bureau Decinnial Census 1970-2000 and 5-Year American Community Survey 2007-2011
1989
1999
2007-2011
Persistent Child Poverty
Key Characteristics of 21 Persistently
High Child Poverty Counties

Very Rural






21 County Average = 25.8%
WV Average = 42.4%

21 County Average = -4.9%
WV Average = 6.3%
Less Economic Diversity (2011)
Lower Life Expectancy (2006)



21 County Average = 71.2 years
WV Average = 72.1 years
Higher Rate of Uninsured
(2011)

Slower Population Growth


3 of 21 Non-Rural
Slower Job Growth (19692011)


21 County Average = 19.1%
WV Average = 17.4%
Higher Unemployment Rate
(2011)


21 County Average = 9%
WV Average = 8%
Policies and Programs that Address
Child Poverty in West Virginia
Policy Goal
Increase family
income and assets.
Improve access to
essential goods and
services.
Promote human
development of
children and
parents.
§
§
§
§
§
§
§
§
§
§
§
§
§
§
§
§
§
§
§
§
Examples of Policies and Programs
Temporary Assistance for Needy Families (TANF)
Supplemental Security Income (SSI)
Unemployment Compensation
Earned income tax credit
Child tax credit
Child and Dependent Care Tax Credit
WV Family Tax Credit
Minimum wage laws
Medicaid
Children's Health Insurance Program (CHIP)
Affordable Care Act
Women, Infants, and Children Program (WIC)
Supplemental Nutrition Assistance Program (SNAP)
Low-Income Home Energy Assistance Program (LEAP)
Housing Choice Voucher Program (Section 8)
WV Child Care Program
Head Start
Title I of the Elementary and Secondary Education Act
Home Visitation Program of the Affordable Care Act
Workforce Investment Act
States with Child Poverty Task Forces
How should we address child poverty?

Build leadership at all levels

Set a goal and work toward it

Choose priorities

Maximize current resources

Enact new policies

Ensure good results
Will you join us?