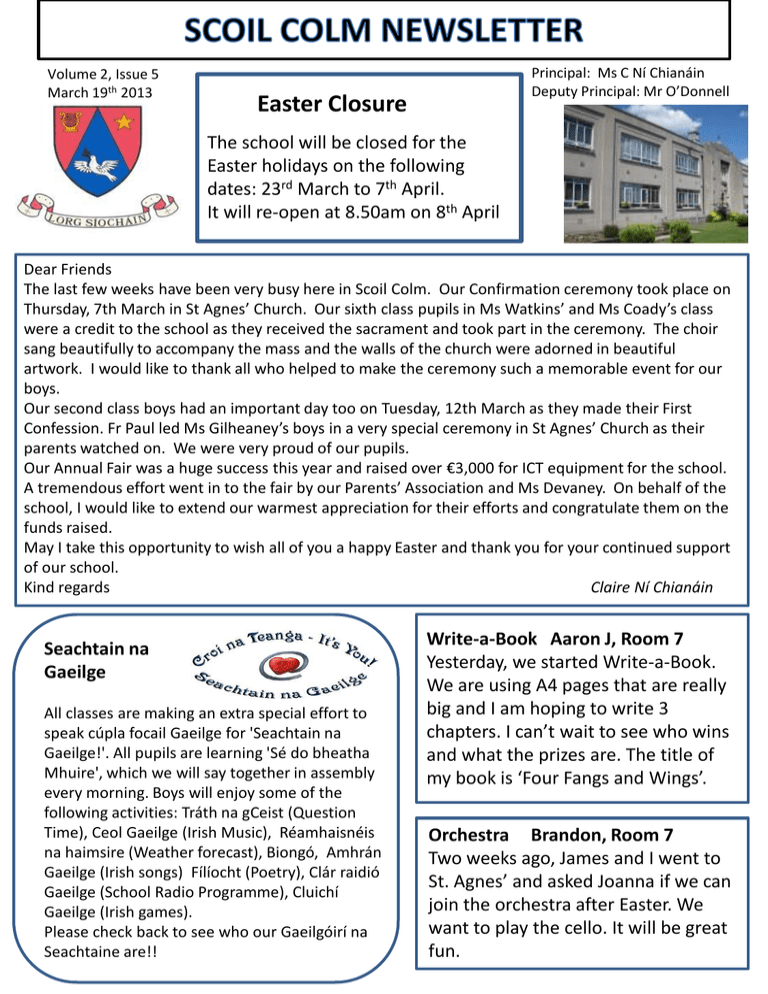 Volume 2, Issue 5
March 19th 2013
Principal: Ms C Ní Chianáin
Deputy Principal: Mr O'Donnell
Easter Closure
The school will be closed for the
Easter holidays on the following
dates: 23rd March to 7th April.
It will re-open at 8.50am on 8th April
Dear Friends
The last few weeks have been very busy here in Scoil Colm. Our Confirmation ceremony took place on
Thursday, 7th March in St Agnes' Church. Our sixth class pupils in Ms Watkins' and Ms Coady's class
were a credit to the school as they received the sacrament and took part in the ceremony. The choir
sang beautifully to accompany the mass and the walls of the church were adorned in beautiful
artwork. I would like to thank all who helped to make the ceremony such a memorable event for our
boys.
Our second class boys had an important day too on Tuesday, 12th March as they made their First
Confession. Fr Paul led Ms Gilheaney's boys in a very special ceremony in St Agnes' Church as their
parents watched on. We were very proud of our pupils.
Our Annual Fair was a huge success this year and raised over €3,000 for ICT equipment for the school.
A tremendous effort went in to the fair by our Parents' Association and Ms Devaney. On behalf of the
school, I would like to extend our warmest appreciation for their efforts and congratulate them on the
funds raised.
May I take this opportunity to wish all of you a happy Easter and thank you for your continued support
of our school.
Kind regards
Claire Ní Chianáin
Seachtain na
Gaeilge
All classes are making an extra special effort to
speak cúpla focail Gaeilge for 'Seachtain na
Gaeilge!'. All pupils are learning 'Sé do bheatha
Mhuire', which we will say together in assembly
every morning. Boys will enjoy some of the
following activities: Tráth na gCeist (Question
Time), Ceol Gaeilge (Irish Music), Réamhaisnéis
na haimsire (Weather forecast), Biongó, Amhrán
Gaeilge (Irish songs) Fílíocht (Poetry), Clár raidió
Gaeilge (School Radio Programme), Cluichí
Gaeilge (Irish games).
Please check back to see who our Gaeilgóirí na
Seachtaine are!!
Write-a-Book Aaron J, Room 7
Yesterday, we started Write-a-Book.
We are using A4 pages that are really
big and I am hoping to write 3
chapters. I can't wait to see who wins
and what the prizes are. The title of
my book is 'Four Fangs and Wings'.
Orchestra Brandon, Room 7
Two weeks ago, James and I went to
St. Agnes' and asked Joanna if we can
join the orchestra after Easter. We
want to play the cello. It will be great
fun.
Page 2 of 4
Students' Page
My First Penance By Kian, Second Class
My First Penance was on Tuesday 12th of
March. It was on in St. Agnes' Church. I
did a reading. I read a story about the
Good Shepherd. I was very happy. My
mam came to the church to see me. She
brought me up to Father Tom to say my
confession. Father Tom was nice. I said a
prayer after my confession. After that, we
went home and I had no homework! I'm
looking forward to my First Holy
Communion now!
Scoil Colm Newsletter
My First Penance By Daryl, Second Class
Yesterday it was our first Penance. It was
in the church in Crumlin Village. We
walked there from Scoil Colm. Our
families met us there. Father Paul, Father
John and Father Tom were there too. I
had a special prayer to say. It was a prayer
of the faithful. I felt a bit scared saying it
but I did very well. I said my confession to
Father John. It was a very nice day. We
got no homework because we were very
good!
The Dragons' Den
On Friday we went to the Dragons' Den. It was in a very
high building. Most of it was made of glass. I could see
Croke Park and the Aviva Stadium. It was very fun. We all
went to someone different. Then we all came back to
one room. We were put into groups of 4. Our group
came up with the Super Rocket Arcade. We put in 13 or
14 different activities. It looked very cool. Then we went
back to school. We got a lot of sweets and a prize of a
book and a highlighter and a pen. We also got a
certificate and a new computer for our school.
Cian T, 4th Class
Dragons' Den
Two weeks ago on Friday our class went to Dragon's
Den. We were on the bus for about half an hour.
When we got there we sat down in a big room. Next
we went to a bigger room and got mentors. We all
made changes to our ideas. Our group idea was a
kids fun house. And when we were finished we
presented them to the four dragons. Then they gave
us a book, pens, a certificate and a COMPUTER for
the school.
Cian V, 4th Class
Junior Achievement – Global Pioneer Investments
We would like to extend our sincere thanks to Global Pioneer Investments and their staff for hosting Ms Clarke's
fourth class pupils as part of Junior Achievement. At the end of the "Dragons' Den" where our boys presented
their ideas to the "Dragons", Global Pioneer Investments generously donated a brand new computer to our
school. We are extremely grateful for this gift. On behalf of everyone at Scoil Colm, we would like to say a huge
"thank you" to all at Global Pioneer Investments.
Page 3 of 4
Students' Page
Scoil Colm Newsletter
The Plastic Bottle Greenhouse
Reece, 4th Class
The whole school had to bring in empty bottles. Hubert cut the end of the bottles and put them on long sticks
then stuck them together. The greenhouse is nearly done and he put a table made of bottles in it. I got a picture
in it. It is COOL!
Crumlin College Physical Activity Project
'Room 7 are thoroughly enjoying their physical activity with Crumlin College. They are experiencing new sports
and games. So far, they have completed kick-boxing, obstacle courses, penalty taking, hand ball and a variety of
new games.'
New P.E.
James, Room 7
In Ms. Murray's class 5th class, we are doing P.E. with
the Crumlin College. It is really fun because we do
obstacle courses. We start in the hall at 9.15. The first
day we did a mix of sports. On the second day, we did
boxing and kick-boxing and on the third day we did an
obstacle course. At the start, we played 'stuck in the
mud' and I really wait to do it for the rest of the week!
P.E.
Johnaton, Room 7
Last week, we started P.E. with the Crumlin College.
We started off doing obstacle courses. The second day,
we did boxing, kick boxing and obstacle courses. We
didn't have it on Friday because we had G.A.A. We had
Catherine and Judy in on Monday and so we did it on
Tuesday. We played hand ball. It was great fun.
Fun P.E.
Kevin, Room 7
We have started doing P.E. with Crumlin College. It is
great fun. We do boxing, kick-boxing, exercises such as
press ups, jumping jacks and planks. We do obstacle
courses, play 'stuck in the mud', and play hand ball.
Handball is where you put a ball on a cone. It is 4 v's 4
players. You cannot run around with the ball, you have
to stand in the one place and shoot or pass it. It's great
fun.
Crumlin College
Karl, Room 7
My class and I are doing P.E. with people from Crumlin
College. It is really fun. They are really nice and I love
doing the activities. The activity that I like the most is
the obstacle course. I'd like to thank Ms. Murray for
letting us do P.E. with Crumlin College.
Page 4 of 4
Parents' Page
Road Safety Reminder
Kindly remind your son to cross the
road safely with the Lollipop Lady,
especially if dropping your child off
by car. Particular care is needed on
wet mornings.
Scoil Colm Newsletter
Trócaire
We would like to remind students that all Trócaire
boxes should be returned to the school by
Thursday before the Easter break so that we can
pass them on to Trócaire on your behalf.
Parents' Questionnaire – School Self-Evaluation: Thank you to all parents who took part in our questionnaire on
reading. The results will help us to plan for literacy in the future.
WSE: On 15th April 2013, the Inspectorate of the Department of Education and Skills will undertake a Whole
School Evaluation in Scoil Colm. This is a routine process which is undertaken in every school in the country.
During the inspection, inspectors evaluate the quality of school management and leadership, the quality of
teaching, learning and assessment, and the school's own planning and self-review. At the end of the inspection,
the inspectors provide oral feedback to the school community and a printed copy which is available on their
website.
THE CONFIRMATION By Liam, Room 9
On Thursday the 7th March my class made our
Confirmation in St. Agnes's Church. We started with
reading and songs. My favourite part was the songs
and the orchestra.
The service took two hours and Monsignor Clarke and
Fr. Paul celebrated the service. Afterwards, I went
greyhound racing with my family. I had a brilliant day.
CONFIRMATION PREPARATION By Conor, Room 9
Over the past year my class and I prepared for our
Confirmation. The songs and prayer we learned were a
bit hard to remember but we all managed to learn them
all in time.
A week before the Confirmation we had a practice with
the girls from St. Agnes School. We also made our
confession on the 27th of February. Now we were ready
for our Confirmation. We had a really nice day.
CONFIRMATION CELEBRATION By Daniel, Room 9
On Friday the 8th March a group of us from Ms.
Coady's and Ms. Watkins' class went to Dundrum
Shopping Centre. We met lots of other boys from
Ms. Coady's class who were also there. We were
supposed to go to the cinema but we were late
because we had got split up. We were all
disappointed that we missed the movie, so instead
we all went to KFC for lunch and it was very tasty!
After lunch we went to Hamley's toy store for a
laugh! When we went in we saw a giraffe as big as
the school and the price was €4,000!!! Cian and
Taylor bought a giant helicopter, so after we were
finished in Hamley's we went to the Gadget Store
and bought lots of things and then we all went
home. It was a great day and I would love to do it
all over again!
Important Rules Mark, Room 7
Ms. Ní Chianáin came in to our class yesterday to talk
about three important rules.
1.
Be on time
2.
Have your journal signed
3.
Wear your uniform
Please note that some boys always obey these rules.
ENROLMENT FOR SCHOOL YEAR 2013/14
If you would like a place in Scoil Colm for
your son for the school year 2013/14,
please contact the school office on 014562622 or Therese on 086 3013632.
Reminder: To ensure the safety of our
pupils, please ensure that they are not in
the yard area before 8.40am. Thank you.
School Website
www.scoilcolm.scoilnet.ie
Please use our website for information
in relation to important school dates.