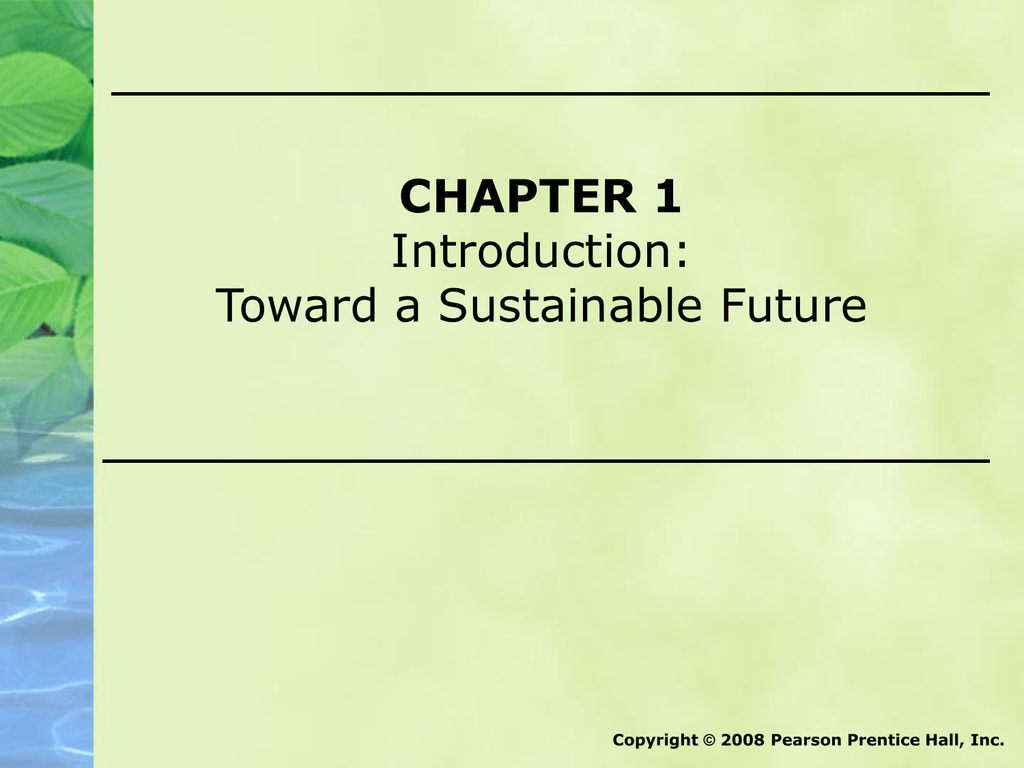 CHAPTER 1
Introduction:
Toward a Sustainable Future
Copyright © 2008 Pearson Prentice Hall, Inc.
1.1 - Lesson of Easter
Island
• Small island in Pacific Ocean (near Chile)
• Once was a paradise with 30,000 people
• Dutch arrived in 1722 and found a barren island with less than 2,000
people
WHAT HAPPENED TO THE ISLAND?
Lesson of Easter Island
• Used all their resources to live (used trees to help them make rope
and move their enormous statues)
• Soil eroded, causing faster runoff and poor farming conditions
• Less food and resources led to war and starvation
WHAT CAN WE LEARN FROM THIS?
The Lessons of Easter Island
• Society fails to care for
the environment and
sustain it
• Population increase
beyond carrying
capacity
• Disparity between rich
and poor widens
• Disease and war cause
societal collapse
• Resources are depleted
and sustainability not
attainable
How to Prevent a Global
Version of the Easter Island
Disaster
• Understand how the natural world works
• Understand how human and natural systems
interact
• Accurately assess the status and trends of
crucial natural ecosystems
• Establish long-term sustainable relationships
with the natural world
Rapid Human Population
Growth
•The world's population is now over 7 billion!
•It continues to grow at 76 million persons per year.
•By 2050, we could reach 9.1 billion people worldwide.
•Unfortunately, 1.1 billion people experience extreme
poverty.
•They cannot meet their basic needs for food, shelter,
and clothing.
Rapid Human Population
Growth
Rapid Human Population
Growth
•Global economic production continues to rise.
•However, income is not keeping pace, especially in
developing countries.
•Developing countries need to stabilize population
growth, while stimulating economic growth.
What does this mean for ecosystems
worldwide?
Indicators of Decline of Vital
Ecosystems
• Depleted water supplies
• Drinking water, irrigation, pollution
• Agricultural soils degraded
• Lack of nutrients, erosion
• Oceans over-fished
• Fish populations have no recovery time
• Forests cut faster than they can grow
• Leads to erosion, CO2 increase in atmosphere,
lack of products (paper, wood)
Conceptual Framework for
Millennium Ecosystem
Assessment
Global Atmospheric Changes
•Scientists are looking at pollution on a global scale.
•Pollution doesn't follow man-made boundaries.
•Global Climate Change
•Increase in atmospheric CO2 traps infrared energy
from the sun.
•Earth's surface temperatures increase.
•Leads to widespread climate changes.
•Kyoto Protocol
•1997 - reps. from 166 nations met in Japan in an
effort to reduce CO2 emissions.
•U.S. withdrew from the agreement in 2001
(ironically, we are the biggest emitter on the planet)
•Political and economic influences, short-term and
long-term, for all nations.
Global Atmospheric Changes
Contributors to Loss
of Biodiversity
• Habitat alteration
• Destroys resources for
organisms
• Exploitation
• Harvesting, poaching
• Pollution
Loss of biodiversity…
• causes ecosystem collapse
and affects the services
they provide (ex. filtering
water, cycling nutrients,
etc.)
1.2 - Three Strategic Themes
• Sustainability: interactions with the
natural world that we should be working
toward
• Stewardship: the ethical and moral
framework of our actions
• Science: the basis for our
understanding of how the world works
Unifying Themes
Stewardship
• Recognition that a trust has been given
• Responsible care for something not
owned
• Desire to pass something on to future
generations
• Often needs to come from the "Avg.
Joe"
• Personal Stewardship Ethic
• Ex. – recycling, buying a hybrid car, turning off
lights, lessen your footprint!
Environmental Justice or
Racism?
• Placement of waste sites and
hazardous facilities in nonwhite
communities
Steps in the Scientific Method
1. State the problem
2. Gather information/research the problem
3. Form a hypothesis (if…then statement)
4. Experiment
• Independent variable - what you are testing
• Controls - things you keep the same
• Dependent variable - results of the
experiment
5. Gather Data/Observations
6. Conclusion (support or refute your hypothesis)
1.3 - Ecosystem Capital
•Goods and Services
•Goods - Renewable resources
•Services - breakdown of waste, regulate
climate, nutrient cycles, etc.
•Exploitation
•Oceans, forests, agricultural soils, water
•Protection
•Related to politics and economics
•The gov. has to step in with policies and
incentives ($$$$).
Ecosystem Services and Human
Well-being
Policy and Politics
• Human decisions that determine what
happens to the natural world and the
political processes that lead to those
decisions.
• Purpose of public policy is to promote the
common good.
Globalization
• The accelerating interconnectedness of
human activities, ideas, and cultures.
•
•
•
•
Health improvements
Global markets
Improved crop yields
Dilution or destruction of cultural and
religious ideals.
Globalization - Pros and Cons
• Pros
• Environmentally friendly consumer goods
• Economic reorganization of the world
• Cons
•
•
•
•
Worldwide spread of emerging diseases
Dispersion of exotic species
Trade in hazardous wastes
Spread of persistent organic pollutants
1.4 - The Environment in the
21st Century
• If we do not change direction, we will
end up where we are heading.
• Everyone needs to do their part
(governments, industry, sm. business,
homeowners, students).
• Environmental degradation can be
slowed and we can be sustainable, but
it will take a global effort and time!